Eight Harvard seniors were elected class marshals this month, taking over a post that will have them guiding their class not only through its senior year, but also after graduation.
"What really convinced me I'd run for class marshal is the sense that our class needs to be brought together," said Amma Ghartey-Tagoe, who was elected first marshal. "We all get very focused in the work we need to do. We don't take the time to look up and say 'Hi' to the person walking down the hall."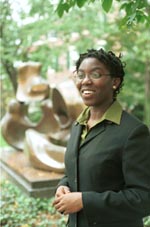 Elected to serve with Ghartey-Tagoe were Second Marshal Rachel Leah Brown, Third Marshal Thomas Christopher King, Fourth Marshal Andrew Chung, Fifth Marshal Xunhua Wong, Sixth Marshal Howard Wells Wulsin, Seventh Marshal Matthew Shea O'Hare, and Eighth Marshal Kenneth Nji Ebie.
The marshal election was held in two stages during the last week of September and the first week of October. The first election narrowed the original 76 candidates to 16. The eight marshals were selected from the 16 candidates to emerge from the first week's voting.
Though in the past the marshals each had different duties, today's first marshal serves as class president and the rest essentially share vice presidential duties, according to Diane Jellis, associate director for classes and reunions of the Harvard Alumni Association.
"The position of first marshal is analogous to president of the class. The ranking means very little after that," Jellis said.
The marshals' main duty before graduation is to plan class events, including Class Day and other events leading up to graduation. After graduation, the marshals' main duty is to organize class reunions.
Ghartey-Tagoe said she is sure the Class of 2001 will have memorable events, but said it isn't up to her to decide what they will be. Her role, she said, is to facilitate discussions so that the class as a whole has a say in what their farewell year to Harvard will be like.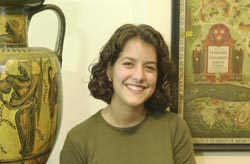 "The most important aspect of this position is bringing people together," Ghartey-Tagoe said. "This is a team effort, not just a marshal effort."
Several of the new marshals said they are honored to have their names attached to the first class to graduate in the new millennium. They said they look forward to giving new life to the class spirit they saw during their freshman year, when all the freshmen live together, but which gets diluted when they move into the Houses to live with the other classes.
"Amid all of the pressures of theses, job searches, and fellowship applications, I want every Harvard senior to have a great time their last year here," Brown said. "I have had such a positive experience at this university that I'm incredibly flattered to have my name attached to our class."
One added benefit, Matt O'Hare joked, is that the post — and the lifelong duties it holds — insulates one somewhat from the vagaries of the economy.
"Now I know I'll never be unemployed," O'Hare said.