In December 1999, Harvard women's basketball coach Kathy Delaney-Smith was diagnosed with breast cancer. In March 2000, the Gazette chronicled Delaney-Smith's fight. Today, we revisit her to see how she's fared.
Suddenly, cancer is all around Kathy Delaney-Smith.
After fighting her own breast cancer for nearly a year, the Harvard women's basketball coach sees it everywhere. That's partly because her own awareness of the disease has been heightened, but it's also partly because cancer has come calling on the Delaney family again.
Just after the radiation treatments for her own breast cancer ended last spring, Delaney-Smith found out that her younger sister had been diagnosed with the disease.
Her sister's cancer required more radical treatment: a mastectomy where Delaney-Smith needed removal of the cancerous lump, and six chemotherapy treatments instead of Delaney-Smith's four. It has proved a difficult time for Delaney-Smith, whose strength facing her own illness has inspired her players, fellow coaches, and others who came to know her story.
"That was harder for me than my own health problems," Delaney-Smith said. "She has had a lot of unpleasant surprises."
Diagnosed with breast cancer last December, Delaney-Smith endured surgery and chemotherapy while she coached her team into contention for an Ivy League title. The season ended short of that goal and Delaney-Smith admitted that the daily practices, the preparation time required for each opponent, and the travel for road games took its toll on her.
Instead of resting after the season, her daily regime had to accommodate radiation treatments that stretched through June. After the radiation, as Delaney-Smith helped her sister with her illness, she found out that a friend, Brenda Reilly, associate athletic director at Central Connecticut State University, had died. Reilly had been diagnosed with ovarian cancer at the same time Delaney-Smith was diagnosed with breast cancer.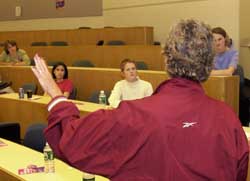 All together, the summer after her treatment ended was much more difficult than she had envisioned during her treatment.
Today, Delaney-Smith's prognosis is good. The surgery, chemotherapy, and radiation appear to have removed the cancer cells from her body. She's at the beginning of a five-year stint on the drug tamoxifen, designed to prevent a recurrence of the cancer. Her once-straight hair — which fell out during chemotherapy — is growing back curly, something she's not quite sure if she likes.
The illness has had other effects as well. It has brought Delaney-Smith, her husband Francis Smith, and her son Jared closer together, she said. It has made her determined to take better care of herself and she said she turns invitations down more than she did before.
"I think I've changed," Delaney-Smith said. "I can't imagine this kind of thing happening to anyone and not have it change your life."
Delaney-Smith says she knows so many other courageous people fighting cancer, she isn't sure why she's been the center of so much attention. But her story, combined with her outspoken attitude, make her an important spokeswoman.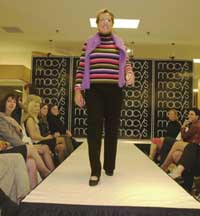 Basketball coach Delaney-Smith finds herself in an unfamiliar spotlight as she models at the American Cancer Society's Making Strides fashion show. "Kathy has been a fantastic spokesperson for us. This is a very personal issue and she took it public," said Helene Palmer, regional executive for development of the American Cancer Society's Massachusetts chapter. "She's such a fantastic speaker. She's so matter of fact about it, but she's funny as well."
Breast cancer is one of the most deadly cancers in women, second only to lung cancer as a cause of cancer deaths, according to the American Cancer Society. In Massachusetts alone, 4,400 women are expected to be diagnosed with breast cancer this year, and 1,000 will die of the disease.
Early detection, such as happened during a routine exam in Delaney-Smith's case, is critical in fighting the disease.
Delaney-Smith has told her story on numerous occasions. She's taped a public service announcement for use on television, participated in events such as the Cancer Society's Relay for Life and last Sunday's five-mile fundraising walk, Making Strides Against Breast Cancer. She was even in a fashion show last Thursday afternoon at Macy's in Boston to raise money for the American Cancer Society.
"I'm doing everything I possibly can," Delaney-Smith said. "I am aware of so many heroes out there, people who I just was unaware of before."
Delaney-Smith said she feels as if her eyes have been opened. Everywhere she goes, people share their own stories or stories of loved ones who've battled the disease. In addition, she believes that recent medical advances have the disease on the run, making the extra support — the extra fundraising dollar — even more critical.
"I think we're that close to breast cancer not even being an issue," Delaney-Smith told a group of Business School students at a brown bag lunch speech on Friday. "I don't care if there's only one of you in here, I'll talk because it (breast cancer) should be gone from our society."
Liza Snell, a second-year Business School student who organized the Delaney-Smith appearance, said Delaney-Smith's story, accompanied by her message that each of us — not our doctors — is ultimately responsible for her health, is critical.
"I think it's fantastic to have someone so candid about their situation," Snell said. "Encouraging people to take their own health into their hands is a really important message."
If Delaney-Smith's success on the basketball court is any indication, the forces fighting cancer have won a valuable ally.
Since arriving at Harvard in 1982, Delaney-Smith has guided the women's basketball team to five Ivy League titles, including its first ever. Her 1997-98 team shocked the basketball world by beating Stanford in the first round of the NCAA tournament, making them the first-ever 16-seed to knock off a top-seeded tournament team.
Delaney-Smith has won numerous honors, including 1996-97 Ivy League Coach of the Year and election to the Massachusetts Basketball Coaches Hall of Fame in 1986.
Last spring, Delaney-Smith was awarded the Women's Basketball Coaches Association's Carol Eckman Award, named after one of the pioneers of women's college basketball and given annually to the coach who embodies commitment to the student athlete, dedication to purpose, and courage.
At the beginning of a new season, Delaney-Smith said the young team she coached last year has been matured by both time and experience. With many returning players and the addition of a few young players, Delaney-Smith said they'd again be in the hunt for the Ivy League title.
Delaney-Smith said she feels lucky to have had her players and assistant coaches, Patricia Brown and Stacey Connors, to lean on last year. As special as this year's and future teams may be, she said she'll never forget the support she received.
"I will forever be indebted for them being there for me last year," Delaney-Smith said. "As I watch my sister going through (this), I wish she had 16 terrific Harvard students and two wonderful assistant coaches to get her through it."