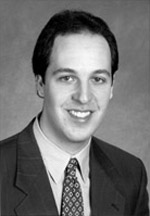 Michael Armini has been appointed director of communications at Harvard Law School, a newly created position designed to support the Law School's current strategic planning initiative. Armini served most recently as director of public affairs at Harvard's Radcliffe Institute for Advanced Study. Prior to his experience at Harvard, Armini worked primarily in the political arena as a press secretary for a member of Congress and for a gubernatorial candidate in Massachusetts.
"We're very fortunate to have Michael joining our team at this important time in the Law School's history," said Dean Robert C. Clark. "His experience at the University will allow him to move smoothly into his new position. I look forward to working with him."
Armini — who began work on Sept. 25 — will oversee and coordinate many of the Law School's outreach efforts, including media relations, the Harvard Law Bulletin, and other key publications.
Armini will also develop a comprehensive communications plan to support the Law School's strategic planning initiative.
Armini earned a bachelor's degree in government from the University of Massachusetts and a master's degree in communications from Emerson College. He has lectured on public relations and the media at Tufts University, the University of Massachusetts, Lowell, and Emerson. Armini also serves as a proctor at Harvard College where he and his wife, Jennifer, provide in-residence advising to undergraduates.