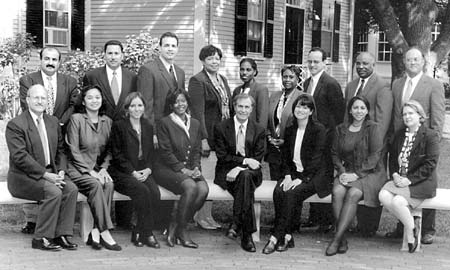 Eleven new fellows have been selected for the 2000-01 Administrative Fellowship Program. Of the 11, six are visiting fellows and five are resident fellows.
The Administrative Fellowship Program, coordinated by the Office of the Assistant to the President, began its year with a one-day orientation held at the Harvard Faculty Club in September. President Neil Rudenstine was present to welcome the sponsors and the 11 new fellows.
The University-wide program, now entering its 12th year, provides an opportunity to bring minority professionals into the Harvard community for a one-year work experience in academic administration.
The program is supplemented with seminars and case studies on academic administration presented by deans, vice presidents, major office directors, and faculty at the University. The goals of the program include enhancing the fellows' administrative and professional skills and clarifying their career objectives.
The 2000-01 Visiting Administrative Fellows
Rogelio A.P. Fussa, B.A. (University of Virginia). Fussa most recently worked as the program manager for Georgetown University's Communication, Culture & Technology Program and served as Georgetown's Phi Beta Kappa chapter secretary. Previously, he was the associate director of Academic Affairs for the Graduate School. Prior to Georgetown, Fussa was an investigator in the U.S. Equal Employment Opportunity Commission, and a title examiner at Lawyers Title Inc. Fussa's activities include research assistant for a Georgetown University visiting researcher; docent, Floger-Shakespeare Library; volunteer, Georgetown Ministry Center; staff writer for the University Journal, University of Virginia; and camp counselor, Association for Retarded Citizens. Fussa is completing his thesis for his M.A. in Liberal Studies at Georgetown University. His fellowship assignment is in the Harvard Business School.
Betty Johnson, Ed.M. (Alabama State University), B.S (East Texas State University). Johnson has more than 20 years of experience as a college counselor and instructor. She has worked most recently as director, Academic Support and Testing, at Columbia Union College in Takoma Park, Md., and as an associate director of the Office of Supportive Services at Syracuse University. Johnson's honors and activities include "Women of the Year," by the National Association of Negro Business and Professional Women's Clubs; Alpha Phi Alpha Fraternity's Black Image Award; and the NAACP University's Outstanding Female of the Year. Her fellowship assignment is in the School of Public Health.
Pamela Prescod-Payne, Graduate Studies Certificate (Simmons College), B.S. (Lesley College). Prescod-Payne served as vice president of human resources for Morgan Memorial Goodwill Industries. Formerly she was a human resources manager at the Kemper Insurance Company, divisional human resources manager at Burlington Air Express, and manager of employment and affirmative action at Boston University Medical Center Hospital. Prescod-Payne is currently a board member of the Roxbury Comprehensive Health Center and a member of the Greater Boston YMCA Black Achievers Alumni Association. Her fellowship assignment is at the Office of Human Resources, University Administration.
Roberto A. Rodriguez, Ph.D (University of Wisconsin, Madison), J.D. (George Washington University), M.P.A, B.S. (New York University), A.A. (City University of New York). Rodriguez represented various nonprofit entities involved in community development and the environment. Formerly, he was an adjunct professor at the City University of New York, consultant for the New York City Board of Education, vice president of the National Hispanic Housing Coalition, regional director of the Trust for Public Land, and research director at the Southside Community Development Corp. His fellowship assignment is at Latin American Scholarship Program for American Universities (LASPAU).
Natoschia L. Scruggs, M.A. (University of Rhode Island), B.A (York College). Scruggs most recently worked at the Boston Redevelopment Authority (BRA) in Boston, Mass. Her previous administrative experience includes program assistant at Live with Friends on Earth (LIFE) in Tokyo, Japan; consultant for the Martin-Baro Fund in Jamaica Plain, Mass.; outreach coordinator at Northeast States for Coordinated Air Use Management (NESCAUM) in Boston, Mass.; researcher in the Department of Political Science at M.I.T, and an intern at the American Embassy in Abidjan, Cote d'Ivoire, West Africa, and at the Bureau of Near East & Egyptian Affairs in Washington, D.C. From 1990-94, she taught cultural affairs in Newark, N.J. Scruggs was a Rotary International Fellow at the University of Sussex in Sussex, England. Her fellowship is at the School of Public Health.Laura Lehuanani S. Yim, B.A. (Brandeis University), "ABD" in English and American Literature (Brandeis University). Yim has worked most recently in research staff positions at the Harvard Medical School in the areas of international mental health, and maternal and child health. She is the president of Convivium Musicium, an incorporated nonprofit Renaissance vocal ensemble. She has worked as a teaching assistant and instructor at Brandeis University, and her academic research focuses on early modern England and postcolonial theory. She is a co-founder of a Native Hawaiian community series of monthly seminars in the Boston area on Hawaiian history and issues called Ho`okahua (to lay the foundation). Her fellowship assignment is in the Harvard University Native American Program.
Resident Administrative Fellows
Annie L. Burton-Byrd, B.A. (Harvard University). Burton-Byrd is approaching her seventh year of employment at Harvard University. She is currently the administrative, financial, and development officer in the W.E.B. Du Bois Institute for Afro-American Research. Formerly, she was the director of administration for information technology at Harvard Medical School, and a department administrator, and coordinator of Administrative Services in the Information Technology Department. Burton-Byrd is a member of the National Association of College and University Business Officers (NACUBO), National Society of Fund Raising Executives (NSFRE), as well as several other organizations involved with scholarships, diversity, and management.
Eileen Egan, Ed.M. (Harvard Graduate School of Education), M.A. (Emerson College), B.S. (Emerson College). Egan currently is an admissions officer at the Harvard College. Prior to this appointment, she held numerous administrative positions at the Harvard University Native American Program as administrative director, coordinator of recruitment, and program assistant. She has also been a production intern at a television station and she was a reporter for the Somerville Journal. She is the member of several organizations involved with Native American life and education.
J. Alberto Mendoza, B.A. (Northeastern University). Mendoza is currently a recruitment specialist at Harvard University Office of Central Administration Human Resources. He was formerly the coordinator for The Masters for Science Applications & Statistical Reports at the Harvard School of Public Health, coordinator of admission at Massachusetts General Hospital, and coordinator of public relations and job development at the Centro Latino de Chelsea. He is a member of Northeast Human Resources Association (NEHRA), and Professional and Technical Diversity Network (PTDN). Mendoza is currently a board member for the Massachusetts Rehabilitation Commission, a member of Team Harvard, and a member of the Latino Professional Network. He is currently taking graduate courses in human resources management at the Harvard Extension School.
Aaron Park, B.A. (University of Southern Maine). Park is currently the director of the Gutman Conference Center of the Harvard Graduate School of Education. He formerly was the general manager of a catering and wholesale company as well as the chef and owner of a restaurant in Portland, Maine. He currently co-chairs the staff advisory council to the administrative dean. Park plays the viola and serves as a board member for the Cambridge Symphony Orchestra. He has been involved as board member of the Portland Community Orchestra.
Elizabeth A. Solar, J.D. (Northeastern University), B.S. (Wesleyan University). Solar is currently working as an attorney/clinical instructor at the Hale and Dorr Legal Services Center of Harvard Law School. She was formerly a legal counsel and policy analyst for the Boston Private Industry Council, a general counsel for Boston Fair Housing Commission, an equal opportunity specialist for the U.S. Department of Housing and Urban Development, and housing law attorney for Legal Services Center. Since 1992 she has volunteered for several organizations involved in affordable housing, homelessness, high schools, as well as for the United Way of Boston. She has two published articles in the Boston Globe. Solar is currently pursuing her M.F.A. in Creative Writing at Emerson College.
Of the many former visiting fellows who remained at Harvard after their fellowship assignment, at the present time 15 are permanently employed by the University. Others decided to pursue opportunities outside of Harvard, typically at colleges and universities or other institutions in the nonprofit sector.
The Administrative Fellowship Program is a collaborative effort between host departments and the Office of the Assistant to the President, with fellowship stipends being underwritten in part by the President's Office. The program is coordinated by the Office of the Assistant to the President, where Teresa Malonzo serves as program coordinator, and Associate Vice President James Hoyte is the assistant to the president.