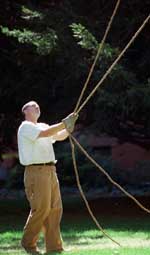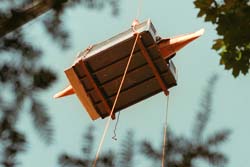 It was a modest armada.
Last week, Peabody Museum staff removed 28 canoes, kayaks, outriggers, and dugouts from the sixth floor of the Herbarium and Botanical Museum where they had been stored for more than 20 years. The move was undertaken to enhance storage conditions and accessibility of the watercraft collection and to accommodate the reorganization of Herbarium and Botanical Museum collections.
Most of the watercraft were moved to the 3rd floor of the Peabody Museum building to an environmentally stable storage space.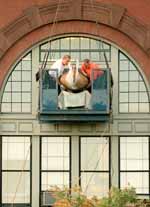 A 19th century birchbark canoe from Maine is launched through the window on the sixth floor level of the Herbarium and Botanical Museum before being moved into its new home in the Peabody Museum. Eleven of the largest and heaviest craft were transported to off-site storage. Handling, rigging, and transport services were provided by Fine Arts Express.
The watercraft collection includes skin kayaks, birchbark canoes, outriggers, and dugouts from the Arctic, Southeastern United States, Northwest Coast, California, New England, Greenland, Thailand, Solomon Islands, the Philippines, Ecuador, and Mexico.
The craft were acquired by the Peabody between 1867 and 1939. Included among the collection are two kayaks donated in 1892 by North Pole explorer Robert E. Peary.