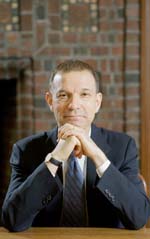 President Neil L. Rudenstine has announced that Stephen Greenblatt, a world-renowned scholar of Renaissance literature, has been named John Cogan University Professor of the Humanities. With this appointment, Greenblatt joins a select group of Harvard professors "working on the frontiers of knowledge … in such a way that they cross the conventional boundaries of the specialties."
"No one has done more than Stephen Greenblatt to shape the direction of scholarship and criticism in literature over the past quarter-century," Rudenstine said. "While he is associated with a particular historical approach to literary studies, his real contribution goes well beyond anything primarily methodological. Most of all, he reads literary texts as living and significant works of art, and he does so with great acumen and sensitivity. We are unusually fortunate to have Stephen at Harvard, and it is a distinct pleasure for me to be able to welcome him to the ranks of our University Professors."
Greenblatt is the father of the "new historicism" school of literary criticism, which concentrates on understanding works of literature within their historical, social, and anthropological contexts. "My deep, ongoing interest," he said, "is in the relation between literature and history, the process through which certain remarkable works of art are at once embedded in a highly specific life-world and seem to pull free of that life-world. I am constantly struck by the strangeness of reading works that seem addressed, personally and intimately, to me, and yet were written by people who crumbled to dust long ago."
Greenblatt came to Harvard in 1997 as Harry Levin Professor of Literature in the Faculty of Arts and Sciences. Previously, he was Class of 1932 Professor at the University of California, Berkeley, where he taught for 28 years. He has been a visiting professor and lecturer at universities around the world, including the universities of Oxford, London, Kyoto, Bologna, Florence, Berlin, and Peking. He is the author of dozens of scholarly articles and of 10 books, including the forthcoming Hamlet in Purgatory. He also has served as editor of 10 major volumes, including the seventh edition of The Norton Anthology of English Literature. He is a Fellow of the American Academy of Arts and Sciences and the recipient of many honors and awards.
Greenblatt is presently at work on two projects. The first is a book about cultural mobility. We tend to think of culture, he said, in terms of rootedness, continuity, and slow progress. But "the late 20th century, with the precipitous collapse of regimes that had officially embraced a powerful narrative of historical inevitablity, should be a sufficient reminder that unexpected transformations, drastic renegotiations, and sudden ruptures are at least as essential to history, including literary history." His second project is a book about William Shakespeare, examining "how a young man from a small provincial English town, a man without independent wealth, without powerful family connections, and without a university education became the greatest playwright not only of his age but of all time," Greenblatt said.
At Harvard, Greenblat has taught Renaissance literature, Shakespeare, and new historicism, as well as the undergraduate survey course on major British writers; and he also is chairing the College's interdisciplinary history and literature concentration.
Reared in Newton, Mass., Greenblatt attended Newton High School, where he studied with the late John Harris, "a wonderful English teacher" whom Greenblatt credits as an early influence. Greenblatt jokingly described an early career marked by odd encounters and fleeting possibilities.
"I spent a summer as a counselor at a summer camp where I played the guitar and sang mournful folk songs with a fellow counselor. He talked about introducing me to a pal of his with the idea that we might possibly sing together, but, with my eye on college, I declined," Greenblatt said. "My fellow counselor was Art Garfunkel, and his friend was Paul Simon." As a student at Yale College (Class of 1964) Greenblatt "chummed around" with now vice presidential hopeful Joseph Lieberman, who joked at the time that since Greenblatt wanted a life in letters, Lieberman would, if he ever became President, appoint Greenblatt Postmaster General. Also while at Yale (Ph.D. 1969), Greenblatt "rushed out of a corner drugstore and knocked down an elderly man who turned out to be T.S. Eliot. He survived." And, while studying for a B.A. (1966) and M.A. (1969) at Pembroke College, Cambridge, he performed with a group of students who went on to become the Monty Python's Flying Circus troupe. "My name occasionally turns up in the early shows," he said, "usually in grotesque situations and invariably drawing a somewhat mysterious laugh from the studio audience."
There are 19 Harvard University Professors. These special endowed positions were established in 1935 as the University's highest professorial distinction. The John Cogan professorship was endowed by John F. Cogan Jr. AB '49, JD '52, of counsel in the corporate department of the Boston law firm Hale and Dorr, where he also is a former chairman of the firm, a former senior partner, and a former managing partner. Cogan has served as a member of visiting committees to the Harvard Art Museums and Harvard Law School and chairman of the visiting committee to the Davis Russian Studies Center. He also chaired the Harvard Law School Capital Campaign and the Dean's Advisory Committee, and he is a member of the Executive Committee of the Harvard University Resources Committee and of the Harvard College Fund.
The Cogan University Professorship was previously held by Professor of Philosophy Hilary Putnam, who retired this summer.