There was singing, dancing, and catching up with old friends under bright blue skies in Tercentenary Theatre on Aug. 10, as Harvard hosted approximately 700 Cambridge senior citizens at the 25th annual Senior Picnic.
"It's a chance to meet all our old friends, the environment is nice, and we get a chance to meet the politicians we vote for every year," said Lucy White, a senior who lives on Huron Avenue in Cambridge.
The strains of "Volare," "Funiculi, funicula," "Roll Out the Barrel" and other standards floated over the tables, crowded with seniors and decorated with red and white balloons. Music for the picnic was provided by The Cambridge Rindge and Latin School Staff Orchestra, the Union Orchestra and by the singing of the Senior Chorus, the Flash Back Quartet, and singer Cheryl Thureson. The Tango Society of Boston and the El Arte Flamenco Dancers added graceful dance fare.
Introduced by Vice President of Government, Community and Public Affairs Paul Grogan, President Neil L. Rudenstine and Cambridge Mayor Anthony Galluccio welcomed the crowd, and praised the spirit of cooperation between the University and the city.
Rudenstine publicly thanked former Cambridge Mayor Al Vellucci, who began the picnics but who could not attend this year. Rudenstine presented Galluccio with a Harvard jacket and hat to give to Vellucci.
"This has been a great tradition," Rudenstine said. "I think it's one of the wonderful things that bring together our communities."
Galluccio thanked Rudenstine — who plans to retire at the end of the academic year — for his commitment to work cooperatively with Cambridge and presented him with a key to the city.
"We (the city and the University) sometimes have our disagreements, but most of the time we're working toward the betterment of our city because when Cambridge improves, Harvard improves," said Galluccio. "You (Rudenstine) have sent a strong statement that relations between Harvard and the city of Cambridge will continue to improve."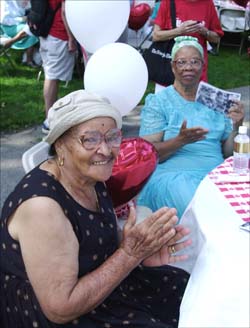 Galluccio said he enjoyed seeing Cambridge youth working at the picnic to serve the seniors because it brings two important groups together.
Pat Daley, director of Cambridge's Fitzgerald Community School and a member of the picnic's organizing committee, said some of the seniors aren't as mobile as they used to be and so the picnic is a good way to give them a welcome change of scene.
"This is wonderful, because some of the seniors don't get out," Daley said. "They look forward to it from one year to the next."
Adding a final appropriate note to the day was Harvard's Mary Ann Jarvis, who has coordinated this successful event through the years. "The smiles on their faces and the joy in their voices makes the day all worthwhile."