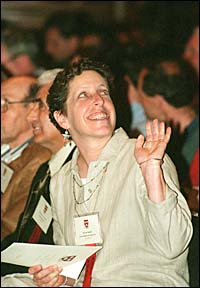 Harvard honored 220 Central Administration staffers in June, naming them Harvard Heroes for leadership, teamwork, adaptability, and work that exceeds expectations.
This year's Heroes were honored in a June 14 ceremony that was attended by the vice presidents and directors of their departments and by President Neil L. Rudenstine, who read a short note of appreciation for the Heroes.
pIn addition to the recognition of being named a Hero, the recipients receive a certificate of appreciation and a small gift, as well as a copy of a video interspersing scenes of Harvard with clips of the different Heroes.
The annual event began seven years ago in the office of the Vice President for Administration. It was expanded to include all Central Administration staff three years ago.