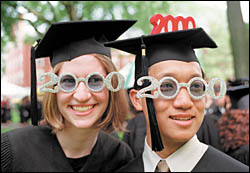 Megan Henry and Kiemanh Pham sport matching millennial shades before attending morning Commencement Exercises.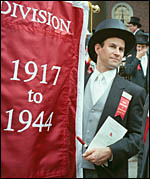 In high style, Class Marshal Michael Roberts '80 helps direct alumni during the Afternoon Exercises.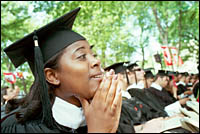 Angela Banks waits to receive her J.D. from Harvard Law School.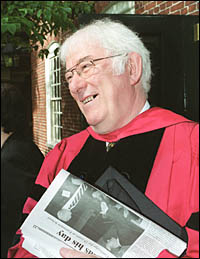 Seamus Heaney, LLD '98, the Ralph Waldo Emerson Poet-in-Residence, makes his way through Harvard Yard in his graduation robes moments before the beginning of the Morning Exercises. He was also a featured speaker at the alumni exercises in the afternoon.
 Truda C. Jewett, Ed.M. '83, of New York, N.Y., reads the newspaper in the shadow of the John Harvard statue, prior to the festivities in Harvard Yard on Thursday.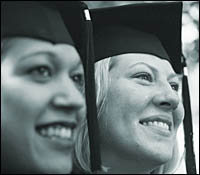 Sonali Das (left) smiles while Anne Johnson of Currier House cries tears of joy during the conferring of degrees.