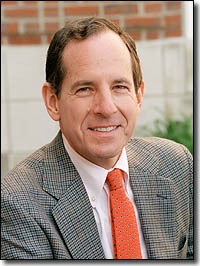 Ira A. Jackson '70, former executive vice president of BankBoston Corporation, has been named director of the Center for Business an Government at the Kennedy School of Government, Dean Joseph S. Nye announced on Monday, May 8.
"It is a pleasure to welcome Ira Jackson back to the Kennedy School where he began his illustrious career," said Nye. "Ira has been an influential leader in the business world and is strongly committed to public service. This wealth of experience gives him the vision needed to lead our Center for Business and Government."
Jackson served as executive vice president of BankBoston for 12 years, where he was responsible for corporate and community affairs, including regulatory relations, advertising, marketing, media, economic analysis, philanthropy, community banking, Community Reinvestment Act adherence, global programs, and strategic communications.
"I'm thrilled to return to Harvard in a challenging new role which will draw upon my careers in both the public and private sectors," said Jackson. "The Kennedy School under Joe Nye continues to be a dynamic and vital source of applied research and professional training, and I'm particularly pleased to join the team leading the effort to focus on the critically important intersection of business and government."
From 1976 until 1983, Jackson was associate dean of the Kennedy School, where he helped Dean Graham Allison and the faculty in the transformation of the institution during years of dramatic growth. He left the School in 1983 to serve as commissioner of revenue in the Dukakis Administration. Prior to his Kennedy School post, Jackson served as a top policy adviser to Boston Mayor Kevin White.
A 1970 graduate of Harvard College, Jackson received his MPA from the Kennedy School in 1975 and completed the Advanced Management Program (AMP) at the Harvard Business School in 1986.
Jackson is active in civic and philanthropic groups. He was a founding board member of City Year, and former chairman of the New England Council, vice chairman of the Chief Justice's Commission on the future of the Massachusetts Judicial System, and chairman of the Leadership Council of the award-winning Success By Six initiative of the United Way.
He is currently president of the World Affairs Council of Greater Boston, chairman of the advisory board of WBUR, president of the 21st Century Fund for Brookline High School, vice chair of Facing History and Ourselves, vice president of the New England Holocaust Memorial, and a member of numerous boards.
Since its founding in 1982, the Center for Business and Government has conducted policy-oriented research, organized symposia, and developed innovative curricula on a variety of international, domestic, and institutional issues at the intersection of business and government.
Jackson will take over as director on July 1.