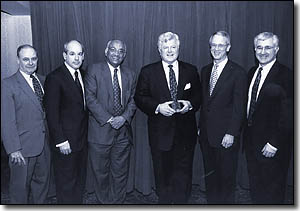 Senator Edward M. Kennedy gave the keynote speech at an April 3 luncheon of the Leading Industries Executive Forum hosted by the Greater Boston Chamber of Commerce. Kennedy devoted most of his speech to the importance of the partnership between the federal government, universities, and private industry in research and development to the regional economy.
After his remarks, Kennedy was presented with the Science Coalition's "Champion of Science" Award by M.I.T. President Charles Vest for his leadership in promoting federal support for university-based research.
The Science Coalition is a national coalition comprised of over 60 universities and 400 organizations and corporations that seeks to educate policymakers and the press about the importance of federal investment in university-based research.
President Neil L. Rudenstine and Harvard University were at the forefront of the creation of the Coalition along with Vest and several other college and university leaders.