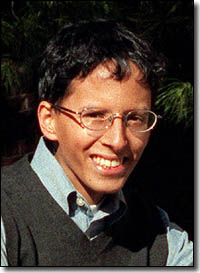 Navin Narayan '99 died March 13 at his home in Fort Worth, Texas. He was 23. Above his bed hung his Harvard diploma, alongside a letter he received from President Clinton. Both documents attest only partially to Narayan's life achievements and his exquisite promise.
"He was one of the most remarkably accomplished students," says David Fithian, senior tutor of Adams House, where Narayan lived for two and a half years. "But the striking thing about him was not so much the amazing array of achievements but the bigness of his heart, the sheer warmth of his person."
Narayan, a summa cum laude Social Studies concentrator who also fulfilled all his premedical requirements, won the Detur Book Prize, was named to Phi Beta Kappa in his junior year, gained acceptance to Harvard Medical School, and won a Rhodes Scholarship in 1998.
But he also built a remarkable record in the field of public health, all the more startling for someone his age. Volunteering at age 14 for a Texas chapter of the Red Cross, Narayan moved steadily through the ranks, becoming a national disaster-relief volunteer, training others in CPR and disaster-relief, delivering the keynote address at the Red Cross national convention in 1994, and becoming chair of the National Advisory Committee on Youth Involvement in 1998, where he served as a direct advisor to Elizabeth Dole.
As the youngest-ever policy-maker on the Red Cross' Resolutions Committee, Narayan traveled frequently to Washington during his junior year at Harvard. The summer after his junior year, he flew to India, where his family ranks among the Brahmin caste, to do fieldwork among some of India's most disadvantaged. In cities such as Calcutta, he videotaped and interviewed children whose health was impaired by terrible working conditions in the sweatshops. His senior thesis dealt with nongovermental organizations' response to child labor.
"He was an extremely focused, energetic young man who had an enormous desire for learning and for doing good works," says Senior Lecturer Judith Vichniac, one of Narayan's advisors in the Social Studies department.
Associate Professor Pratap Mehta, one of Narayan's thesis readers, called the thesis "a tour de force."
"The thesis treats a morally difficult subject with exemplary delicacy and contains prodigious research," Mehta wrote in his evaluation. "It ranges widely in its references. It is agreeably written. It does not shirk any difficult questions."
Nor did Narayan shirk the difficult questions in his own life. Diagnosed in high school with a rare cancer that affected his face and neck, Narayan underwent chemotherapy and surgery before coming to Harvard. By freshman year in 1995, he was in complete remission.
"He was extraordinarily grateful to be here," says Fithian. "I think he realized this was a tremendous gift. And he really took advantage of every opportunity you could imagine."
Narayan worked with Boston Children's Hospital to found the Harvard Cancer Society's Pediatric Oncology Program, which mentors children who are hospitalized with cancer. He had many friends at Adams House, says Professor Robert Kiely, former master of Adams House. "There was a sense of serenity and a kind of inner peace and maturity about him. He was very modest. Everybody loved him."
In December of 1998, Narayan learned the cancer had returned. He took a leave of absence in the spring to undergo chemotherapy and radical surgery. Believing the treatment successful, he attended Harvard Summer School in 1999 to finish his coursework and work on his thesis. In August, he learned the cancer was still present, and in September, doctors were forced to remove his left eye.
Before Thanksgiving, Narayan learned that the cancer had spread to his bone marrow. At this point, Narayan told Fithian, "I guess what I have to do now is start to prepare my family."
Narayan submitted his thesis a month ago. On March 10, he suffered a stroke. Harvard officials mobilized to send him his diploma in time. It arrived last Saturday morning.
"Even though he was in and out of consciousness, he apparently was able to acknowledge that the diploma arrived," says Fithian.
A memorial service was held yesterday in Fort Worth. His parents, Dr. Kalman and Kusuma Narayan, will soon leave for India, where they will scatter his ashes over a holy river and observe two weeks of Hindu prayer vigils. Adams House held a service on Tuesday and hopes to create an award in Narayan's name.
Chandler Bass '00, who has known Narayan since elementary school, says, "Navin was so modest and humble. I hope his legacy will inspire others to serve and to be as selfless and giving as he was."