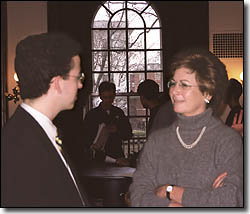 How can undergraduates make a positive impact on communities after graduation? Students found the answer to this question at the second annual "Professions in the Public Spirit" career conference on March 11 at Harvard's Phillips Brooks House. Sponsored by the Harvard Public Service Network, the event drew more than 140 students interested in learning how to integrate public service with career objectives.
The conference featured student-moderated panels on education, community organizing and development, government, public health, international development, and environmental protection. Among the speakers was Bill Triant '99, who won a $20,000 signing bonus from the Commonwealth of Massachusetts to teach at Charlestown High School, under a program that attracts recent graduates of top universities. Other speakers included former Institute of Politics Fellow Ricki Seidman, who served in the White House and the Justice Department; WordEducation's Ingrid Martonova, who described international development activities in Cambodia; and physician Chandak Ghosh, who talked about his responsibilities in Harvard's Minority Health Policy program. Speakers shared wisdom about their fields and described how they advanced in their own careers.
"These speakers encourage Harvard students to make a profound, positive impact on the world," said Bryan Richards '97, conference co-founder and director, and administrator of the Harvard Public Service Network. "They have blazed a trail for students to follow. Students can absorb knowledge and inspiration from professionals, then set out on journeys that are important to themselves and to society."
Amy Achor '02, president of IMPACT, Harvard's undergraduate-run fundraising and awareness organization for developing countries, described the conference as an "opportunity for students to network with people who know first-hand what opportunities exist, to get contact names for related organizations, and to get concrete advice on how to prepare for these kinds of jobs."
Last year, Richards and Judith Kidd, assistant dean of Harvard College for Public Service and director of Phillips Brooks House, organized the first "Professions in the Public Spirit" conference with assistance from Gail Gilmore, assistant director for public and community service in the Office of Career Services. This year's event featured more student involvement in the planning. Among the organizers were leaders of several public service groups on campus, including the Harvard Program on International Education, the Harvard College Social Enterprise Club, Boston Area Students Involved in the Community, the Institute of Politics, Exploring Public Policy in Health Care (EPIHC), Encouraging Mankind to Perceive Others With Respect (EMPOWER), the international development groups IMPACT and Bhumi, and the PBHA Environmental Action Committee.
The conference was "a chance for students to get a glimpse of professions that are often neglected when Harvard students go through the process of finding a job during senior year," said Elizabeth Lewis '01, a conference organizer. "It's hard for students to get a feel for what it is like to work in fields like the environment, education, and politics because these areas don't actively recruit us like the typical investment banking and consulting jobs do."
This conference addressed such frustrations. As Richards noted, "some students seek a system that funnels graduates into public service careers. Large service organizations can accommodate that expectation, but most students need to employ creativity and initiative to land their dream jobs. This conference provided students with real-world advice and guidance."
---
Copyright 2000 President and Fellows of Harvard College