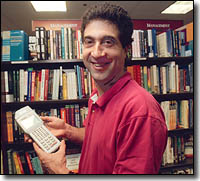 At the intersection of computers and business, rapid change is a way of life.
Understanding that change requires people adept at both computer science and business management.
But such experts are few and far between.
"That's a real problem. There's big changes going on, but we don't know how to model them, evaluate them, or improve on them," said H.T. Kung, the William H. Gates Professor of Computer Science and Electrical Engineering and Vinton Hayes Senior Fellow in the Division of Engineering and Applied Sciences. "It becomes a fantastic problem without theory behind it."
In his capacity as co-chair of the committee overseeing a new doctoral program in information technology and management, Kung is helping Harvard solve that problem. The program, a new joint effort between the Business School and the Faculty of Arts and Sciences' Division of Engineering and Applied Sciences (DEAS), will see its first students next fall.
"I think the real hope is – especially as we generate some doctoral students – that a new field will be born," said Dean of the Division of Engineering and Applied Sciences Venkatesh Narayanamurti. "There really is a paradigm shift in the way that business is moving onto the Internet."
The new doctoral students will study everything from Internet commerce to the design of databases and business computer systems to computer security and online customer authentication.
Kung said the computer industry itself snaps up new computer science graduates, leaving few available for the larger business world, which is itself growing more and more reliant on computers. Consequently, Kung said, most business computer systems are run by outside consultants, who may be inadequately trained, or if they do have adequate computer skills, cannot push their recommendations through because they are not in the corporate chain of command.
"They cannot call the shots even though they understand what's going on," Kung said. "The business schools all recognize this is a terrible problem because their faculty members aren't trained this way either."
Faculty will be drawn from both the Business School and the DEAS. Students will generally fit three profiles: those with expertise in computers who will concentrate their coursework in business; those adept at business who will learn about computers, and those who do not yet have expertise in either field but have potential to quickly develop it.
The student body initially will be kept small – three to five students – so the program can be adequately guided by existing faculty. In addition, keeping the student body small will ensure the program attracts the highest-quality candidates.
"The reason we want to keep enrollment small is so we can be very selective and ensure we have it right," said Jay Lorsch, Louis E. Kirstein Professor of Human Relations at the Business School, who helped craft the program as former chair of the School's doctoral programs. "There's no question if the program is successful it could be expanded."
Mark Gaynor, a doctoral student in the DEAS, has crafted his own program combining work in computers and business. Gaynor, who is examining the standardization of computer communication protocols, worked with Kung, among many others, to help create the new doctoral program.
Gaynor said it will be very demanding, since candidates won't be lesser-qualified computer-business hybrids, but rather experts in both areas.
"They don't want to make this a soft program for those who can't do computer science," Gaynor said. "It has to mean you can do Ph.D. level work in either program."
Plans call for a five-year review of the program.
Organizers say they expect some graduates to move into industry, but hope that most will stay within academia to train others in the new field. In either setting, however, they will have to work hard to stay in the forefront of a rapidly growing field.
"The most challenging thing for these people will be dealing with the fast changes in the field," Kung said. "They have to be very confident in themselves. They have to develop their own views. That's what Ph.D.s are supposed to do. They have to be able to anticipate change and invent the future."