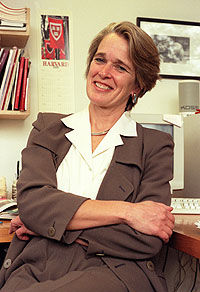 Sarah Clark Donahue has been appointed director of financial aid for Harvard College.
Donahue served for over a decade as director of financial aid at Harvard Law School, where she is currently the director of career services. Previously she served as director of student financial assistance at the Kennedy School of Government.
Beyond her extensive University service, Donahue has been active in the formulation of higher education financial aid policy at the national level. She has chaired the Graduate and Professional Schools Committee of the National Association of Financial Aid Administrators and participated in the most recent reauthorization of the Higher Education Act.
Dean of Admissions and Financial Aid William R. Fitzsimmons said, "We are delighted to have persuaded Sally to accept the position of director of financial aid. She will bring us exceptionally broad expertise in the rapidly changing field of financial aid, and her wide-ranging Harvard experience has developed in her a real appreciation for the importance of serving our students and their families effectively and supportively. The Financial Aid Office plays a crucial role in ensuring that Harvard attracts and retains the most talented students, and we are confident that Sally's leadership will continue that tradition."
Donahue's ties to the College have included various roles over the years. She began her Harvard career in Byerly Hall, in the Financial Aid Office, where she served as office manager and then as a financial aid and admissions officer. She has served as a member of the Board of Freshman Advisors and has been an active parent supporter of the Radcliffe Crew. Her daughter, Mame Donahue, graduated from the College in 1999. Her son Jack is currently a junior.
Marlyn McGrath Lewis, director of admissions, said, "The prospect of having Sally as a colleague is exciting and reassuring. No one better understands undergraduate life than Sally, and she loves and values the College in the same passionate way as her new colleagues in Byerly Hall. We are fortunate that she has agreed to take on this new assignment for Harvard."
Donahue said, "I am delighted to be returning to the undergraduate admissions and financial aid office, a place where I began my career at Harvard, and one for which I have enormous respect and affection. The opportunity to contribute to the ongoing success of these operations is exciting and challenging, and I very much look forward to joining my colleagues in Byerly Hall."
Donahue will assume her new position on February 1.