In 1997, Judith Toensing — a sixth-grade teacher in Yuma, Arizona — wrote a note on the report card of one of her star students, 12-year-old Christin Gilmer, which included the line: "Invite me to your Harvard graduation!"
Twenty-one years later, Gilmer surprised Toensing with a hand-delivered invitation to attend Harvard T.H. Chan School of Public Health's May 23, 2018 Convocation ceremony as well as Harvard University's Commencement ceremony, at which Gilmer received her doctor of public health degree.
In an April 4 Facebook post, Gilmer had thanked Toensing for teaching her about current events, global health, and human rights. Leah Kane, director of student affairs at Harvard Chan School, saw the post and thought it was a great story. She shared it with Dean Michelle Williams, who agreed and decided to invite Toensing to attend Gilmer's Harvard graduation, all expenses paid.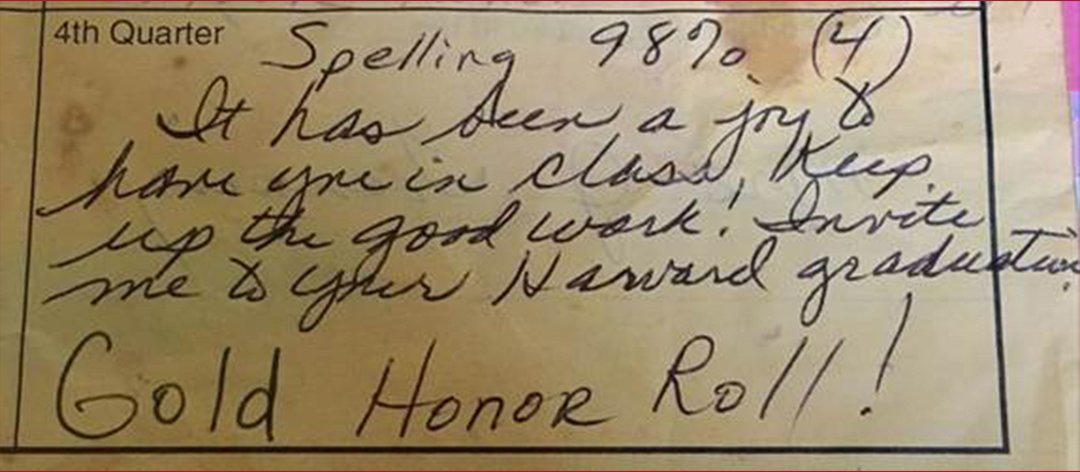 In a May 26, 2018 CNN article, Toensing said that she was "shocked, flabbergasted, humbled" by the invitation. Said Gilmer, "She lit a fire in me that helping people is a powerful tool, and through education, you can better serve populations in need. I will never forget her passion for others."
At Harvard Chan School's Convocation, Williams thanked Toensing for her important work. "You don't just teach young people," she said. "You inspire them, and you propel them along a path of fulfillment and service to others. Your work is what makes our work possible."
Read the CNN article: A 6th-grade teacher wrote 'Invite me to your Harvard graduation!' — 21 years later, the student did just that
Read an ABC News article: Woman honors 6th-grade teacher's wish to attend her Harvard graduation, as written on 1997 report card