In an effort to renew its commitment to collaborations with Mexico on research and education, Harvard University has established the Eduardo Matos Moctezuma Lecture Series. This series celebrates the excellence of Mexican archaeology, represented by the figure of Professor Matos Moctezuma. In addition to honoring Mexico's pre-eminent archaeologist, the series seeks to convene world-renowned experts on pre-Hispanic Mexico.
The inaugural lecture of the Matos Lecture Series will be held on Tuesday, Oct. 3, at 7 p.m. CDT/8 p.m. EDT at the National Museum of Anthropology in Mexico City. It will be delivered by its namesake, Eduardo Matos Moctezuma, Professor Emeritus at the National School of Anthropology and History. Though space is limited, this event will be streamed live.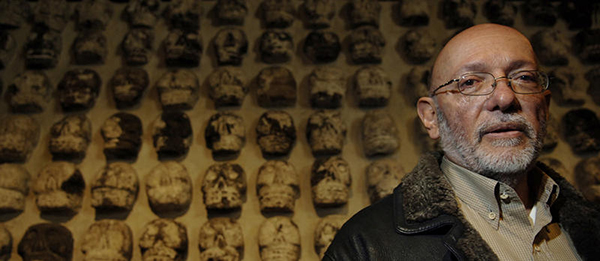 A delegation from Harvard will include Mark Elliott, Harvard's Vice Provost for International Affairs and Mark Schwartz Professor of Chinese and Inner Asian History, who will preside over the event. Other members of the Harvard delegation traveling to Mexico include Brian Farrell, Director of the David Rockefeller for Latin American Studies (DRCLAS) and Professor of Organismic and Evolutionary Biology, and David Hempton, Dean of the Harvard Divinity School and Alonzo L. McDonald Family Professor of Evangelical Theological Studies and John Lord O'Brian Professor of Divinity. Esteemed attendees from the Mexican government will include Diego Prieto, director of the National Institute of Anthropology and History (INAH); Antonio Saborit, director of the National Museum of Anthropology (MNA); and Patricia Ledesma, director of the Templo Mayor Museum.
The Eduardo Matos Moctezuma Lecture Series is made possible thanks to the generosity of José Antonio Alonso Espinosa and the initiative of Davíd L. Carrasco, Neil L. Rudenstine Professor for the Study of Latin America at Harvard Divinity School. It is the first such series to be named after a Mexican in Harvard's nearly 400-year history, and is the product of almost four decades of close collaboration between professors Matos and Carrasco on the excavation and research projects surrounding the Templo Mayor at Tenochtitlan.
With the Eduardo Matos Moctezuma Lecture Series Harvard seeks to expand and strengthen its collaborations with Mexico in order to promote teaching and research focused on the country at Harvard, and to deepen academic exchange between Harvard and Mexico at the level of faculty, researchers, and students. The Matos Lecture Series will take place over five years. Each year an academic committee, including Professor Matos himself, will select a new lecturer for the series. Lecturers will speak in Mexico in the fall semester and then at Harvard in the spring semester.
In short, with the Eduardo Matos Moctezuma Lecture Series, Harvard aims to build and strengthen existing educational and research ties with Mexico.