Julius Wayne Dudley is the recipient of the 2018 Dean Michael Shinagel Award for Service, given by the Harvard University Extension School. This award recognizes an alumna/us of the school who has made significant contribution in the service of others. Along with Dudley's contributions in civil rights and his literacy advocacy, the award committee noted his long-standing commitment to the promotion of health and health education at the community level.
Dudley received the 2018 Michael Shinagel Award for Service at the Harvard University Extension School Alumni Commencement Reception and Alumni Banquet on Tuesday, May 22.
Dudley's life's work spans from Georgia to Boston, South Africa to Ethiopia, Angola to Nigeria. Born in 1944 in Atlanta, he attended Morris Brown College in Atlanta and completed graduate and doctoral work at Clark Atlanta University, Harvard University, and the University of Cincinnati. A historian and activist, Dudley marched with the Rev. Martin Luther King Jr. and Congressman John Lewis and has been active in the voter registration movements for years. "We have made a lot of progress as a nation, but we are not there yet," said Dudley, recalling an oft-heard saying from Lewis, who is the principal speaker at Harvard University's Commencement.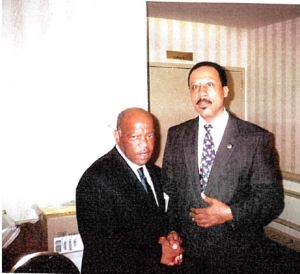 Through collaborations with Salem State University, where he is a professor emeritus of history, Harvard Medical School, and other organizations, as well as world leaders including Joseph Kennedy II, Desmond Tutu, and Nelson Mandela, Dudley shipped millions of books to students in Africa. "You plant the seeds of hope and caring in youth and you never know where they will take you," Dudley said of the reach of his work.
In Boston, Dudley has been a longtime client and supporter of The Family Van, the Harvard Medical School-affiliated mobile health clinic that offers preventative services and outreach in underserved neighborhoods. Dudley first visited The Family Van about 10 years ago. Citing the friendly and professional care he received, he began returning frequently to get his blood pressure and blood glucose checked, and to enjoy rapport with the staff and volunteers.
Seven years ago, a staff member encouraged Dudley to visit his primary care physician, a visit that led to the diagnosis and successful treatment of prostate cancer. Dudley believes his path from The Family Van to his primary care provider to cancer survivorship has allowed him to do more for others. He urges friends and neighbors to visit The Family Van and take charge of their health. Dudley considers health as the work of the community and an inherent human right. Invoking the words of Martin Luther King Jr., Dudley feels that the essence of greatness is in service to others.