Leaks of classified information, it turns out, are not created equal.
Recent published reports that top-secret documents detailing Ukrainian war efforts, munitions supplies, and vulnerabilities, or U.S. defense strategy and intelligence, had been leaked online, "if true," would be a "very, very serious breach," said U.S. Democratic Rep. Adam Schiff of California.
Schiff, J.D. '85, who chaired the House Permanent Select Committee on Intelligence from 2019 to 2023, spoke with Paul Kolbe, senior fellow at the Belfer Center's Intelligence Project at Harvard Kennedy School, on Tuesday evening about some of the recent wins and losses of U.S. intelligence, national security, and his hope for the future of our democracy.
Schiff said disclosures of sensitive information about U.S. surveillance of key allies, including Ukraine and South Korea, is "harmful" to national security and U.S. alliances, but having gone through prior intelligence leaks, our "profound mutual interest" should be powerful enough to overcome the friction they've caused.
Kolbe, a former career CIA official, predicted the leak was likely "opportunistic" and "relatively limited" in scope, perhaps a few hundred documents, not the work of an embedded foreign intelligence agent with access to hundreds of thousands or even millions of documents.
In contrast, the U.S.' deliberate and strategic release last year of intelligence during Russia's troop buildup on the Ukraine border in advance of its invasion was the right call and proved to be "enormously important" and "highly effective" at persuading and preparing a skeptical Ukraine and its European allies for what was about to come, Schiff said.
"It stripped away any pretext the Russians had hoped to offer" for what they were doing, and its dead-on accuracy helped the Biden administration successfully rally NATO and European allies to impose harsher sanctions more quickly than would have been otherwise possible, he said.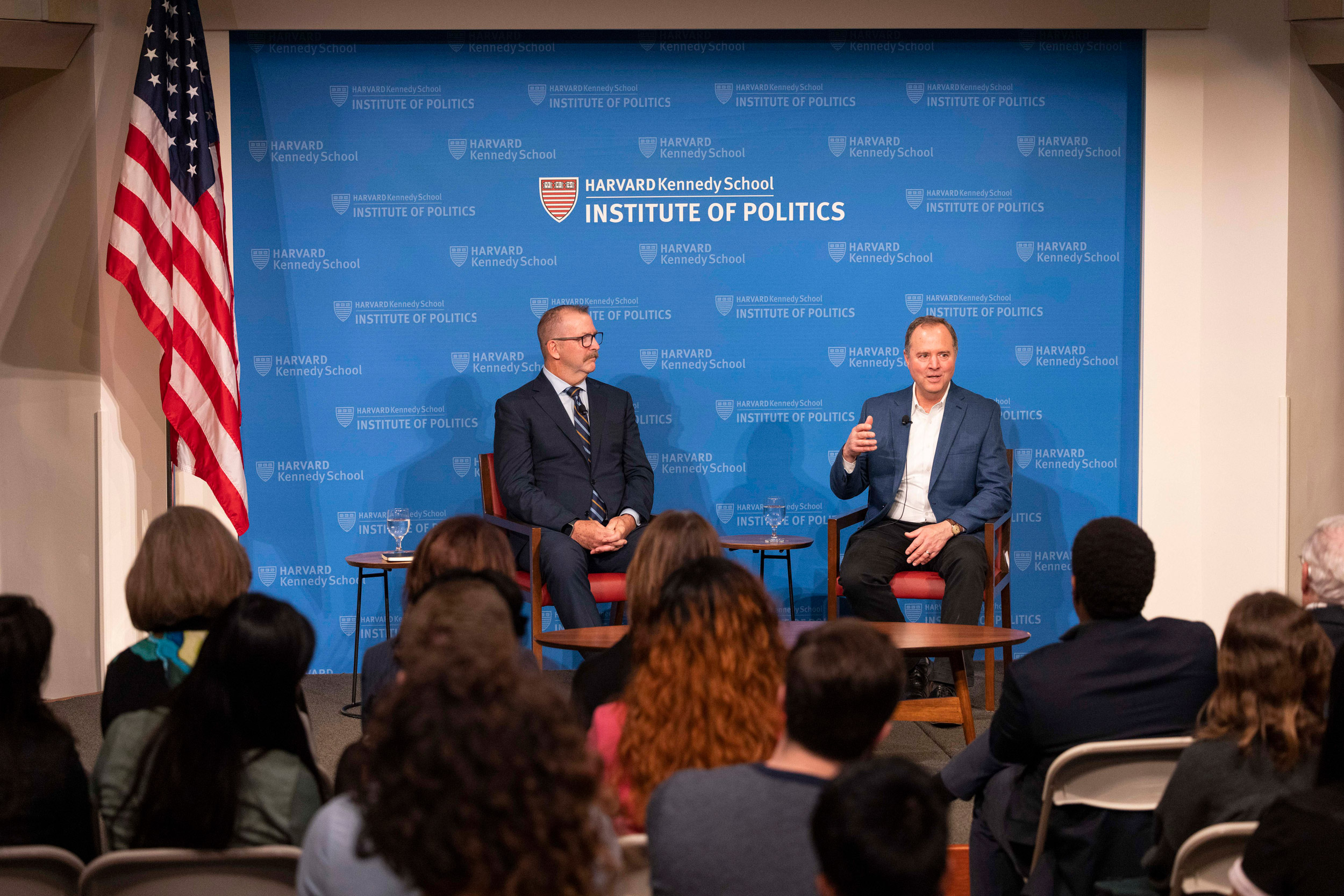 Schiff, a close ally of former House Speaker Nancy Pelosi, has been part of nearly every major national security incident since the FBI investigation into Russia's efforts to swing the 2016 election for former President Donald Trump in the earliest days of the Trump administration through the House Jan. 6 Select Committee to investigate the Capitol attack.
A longtime member of the House Intelligence Committee, Schiff was removed in January, along with California colleague Democratic Rep. Eric Swalwell, by House Speaker Kevin McCarthy in what many saw as Republicans' revenge for Schiff's role as lead impeachment manager during Trump's first Senate impeachment trial.
Schiff, who no longer has access to intel briefings, said it has been difficult for the U.S. to keep Europe and Congress together on Ukraine.
"What has made it even more difficult to keep Congress together is that the intellectual thought leader of today's GOP is Tucker Carlson. And on his program, he does nothing but peddle Kremlin talking points," he said.
Schiff now serves on the House Judiciary Committee, chaired by another Trump ally, Republican Rep. Jim Jordan of Ohio. He characterized the style of his new perch as "very performative" and compared it with that of the Intelligence Committee where he and former Republican Rep. Devin Nunes of California, also a supporter of the former president, often clashed publicly, but behind closed doors they and the rest of the group generally got along and did their oversight work.
"The members are often not even interested in what the witnesses have to say, talking over each other," said Schiff, a former federal prosecutor, of his current experience on Jordan's panel. "And so, the oversight is of a very different character — in some respects, it really can't be called oversight because that's not the primary purpose."
Despite the difficult times the country is going through right now, Schiff said he still has "great optimism and hope about the future" because of the people who have stepped up in the last several years to run for office and to defend the country "given the danger facing our democracy."
He said he's also feeling positive about the future because of the "impatience" he sees in young people, like Harvard students, and he urged them to step into the arena.
"You have no patience for bigotry, no patience for what we're doing to the planet … no patience for this scourge of gun violence," he said. "You want to run the country? You need to start voting," and get friends, classmates, and fellow Gen Z colleagues to become engaged as well, he said.
"Like every other generation, we're gonna have to struggle for our country, for our future, for our very democracy. But this too shall pass. And what we do in this moment will determine how quickly it passes."