The scene was spare. Two men sat in armchairs on stage, a squat café table with two bottles of water between them. Cultural historian Harvey Young remarked to playwright Branden Jacobs-Jenkins on how rare the moment felt — an in-person gathering of the Rita E. Hauser Forum for the Arts. "Over the last three years we've had theaters that were shut down," he said. "Life changed."
Young, dean of the College of Fine Arts at Boston University, then asked Jacobs-Jenkins, an Obie winner and two-time Pulitzer finalist, how the arts had changed and what the state of the arts are now, the central focus of a recent Farkas Hall event.
"We're coming out of a period of having to abandon liveness as a modality of receiving expression. There's a desire and a need to reteach ourselves how to be in the present, and receive in the present, and communicate in the present," said Jacobs-Jenkins, who is also creator of FX's hit TV drama series "Kindred" and a former MacArthur fellow. "I'm curious about how the arts will assert its importance again."
Jacobs-Jenkins described a pre-COVID world of stage frenzy in 2019, when interest in the field of theater and theater studies was expanding. With a sense of humor and also of humility, he recalled his own upbringing imbued with early art experiences, and talked about how the power of resources and money help shape the theater profession. Specifically, Jacobs-Jenkins spoke about the difficulties that artists face when they attempt to survive off their work alone, how awards can help, and how funding and resources can often influence how a play is imagined on the stage.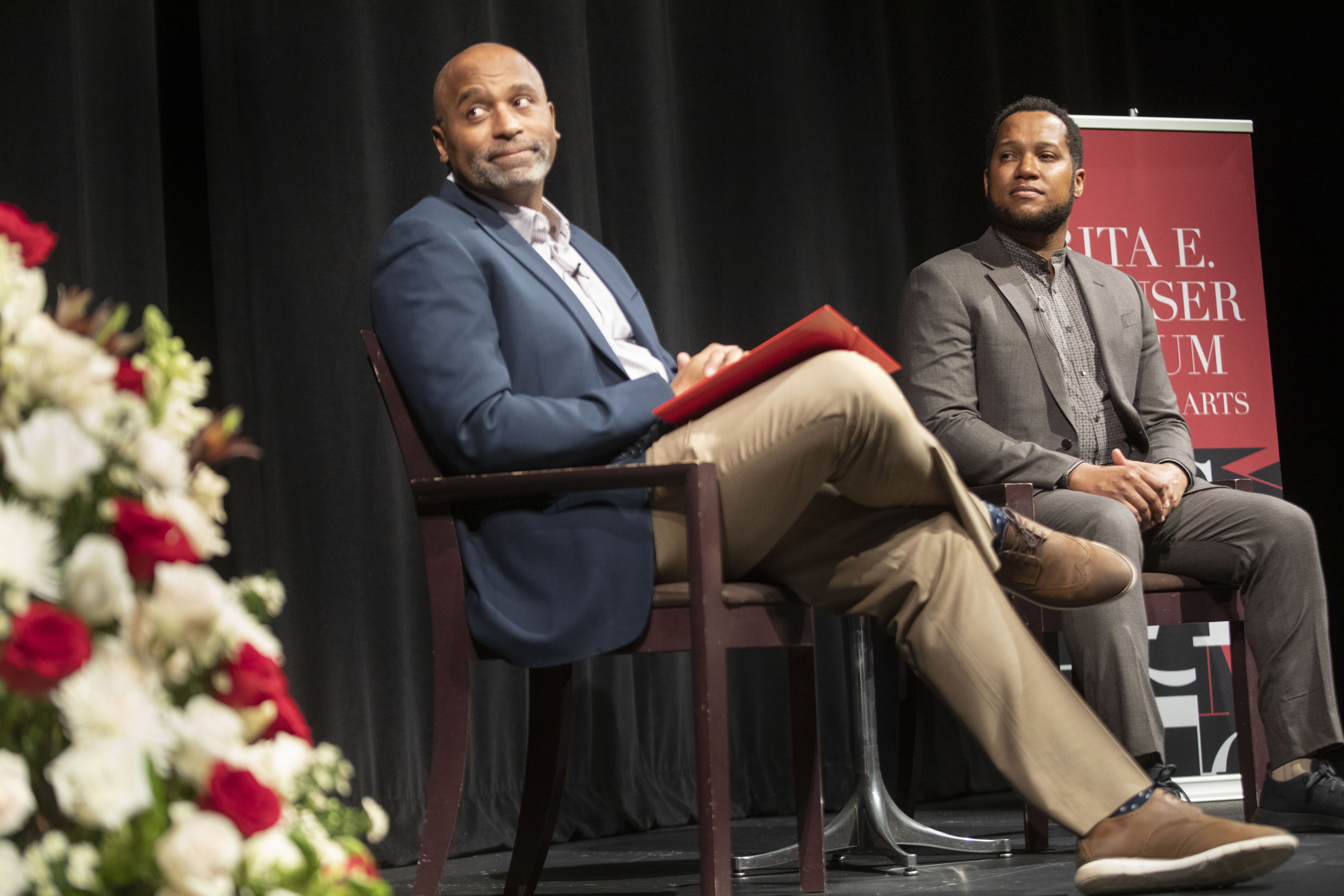 Harvey drew on the historical beginnings of theater's funding since the Great Depression and the investment that continued through the early 1970s. He commented on how Jacobs-Jenkins has, in many ways, shifted perspectives about the state of theater through his success. Though the "theater is dying" mentality remains prevalent in the industry, Jacobs-Jenkins promotes a counterbalancing view personally and in his teaching at Yale.
"No one buys into a notion of success that lasts. You hope you make the thing that cuts through, or does what you intended to do for the community you are writing for at that moment," said Jacobs-Jenkins. "Creativity, for me, always comes with an active asking of a question and a pursuit of it. I'm constantly asking questions about why we accept the things we accept."
Importantly, Jacobs-Jenkins and Harvey discussed an area of inquiry they share: race in theater.
"I think of race as a big theater game — the biggest, longest-running theater game in the history of mankind. I never sit down to write about race. I write with race," said Jacobs-Jenkins. As a self-identified "experimental artist," Jacobs-Jenkins has strived to answer questions about representation and questions about accepting false truths.
After his play "Neighbors" — about a loud and raucous family of Black entertainers — received both positive and critical reviews, Jacobs-Jenkins produced "Appropriate," an award-winning examination of a dysfunctional white Arkansas family, born out of his desire to understand and experiment with how to write an American family drama. He described "Neighbors," "Appropriate," and "An Octoroon" (an adaptation of a popular 19th-century melodrama) not as a trilogy but linked together.
When the conversation opened to a live Q&A, Jacobs-Jenkins advised younger members of the audience to write frequently. Though he described playwriting as a literary experience, he noted that writing a play is a means to providing the blueprint for a live event.
"Theater is alive," said Jacobs-Jenkins. The audience applauded.