Colonel Everett Spain, D.B.A. '14, likes to live by a code. So at 18, when he walked through the gates of the United States Military Academy and saw West Point's motto — Duty, honor, country — he knew he was in the right place.
Today, Spain continues to epitomize that motto as a professor at his alma mater, teaching and mentoring students who strive to do the same.
A Harvard Business School graduate, Spain has served his country with distinction as an Army ranger and master parachutist, leading troops in Kosovo, Iraq, and Germany. He also served at the Treasury Department.
"The reality is, I feel better about myself when I am actively serving others," Spain said. "That's a little bit of an oxymoron … [but] I know that, if I'm not actively serving other people, both on a tactical level — helping someone move their furniture — or on a strategic level — changing policy, whether in the military or beyond — I don't feel [fulfilled]."
Today, the colonel continues to serve his country as head of West Point's department of behavioral sciences and leadership, where cadets and colleagues alike look to him for advice and guidance. Every year the program sends 30 of the most qualified captains in the Army to elite graduate programs around the country, after which they return to West Point to teach new cadets alongside Spain.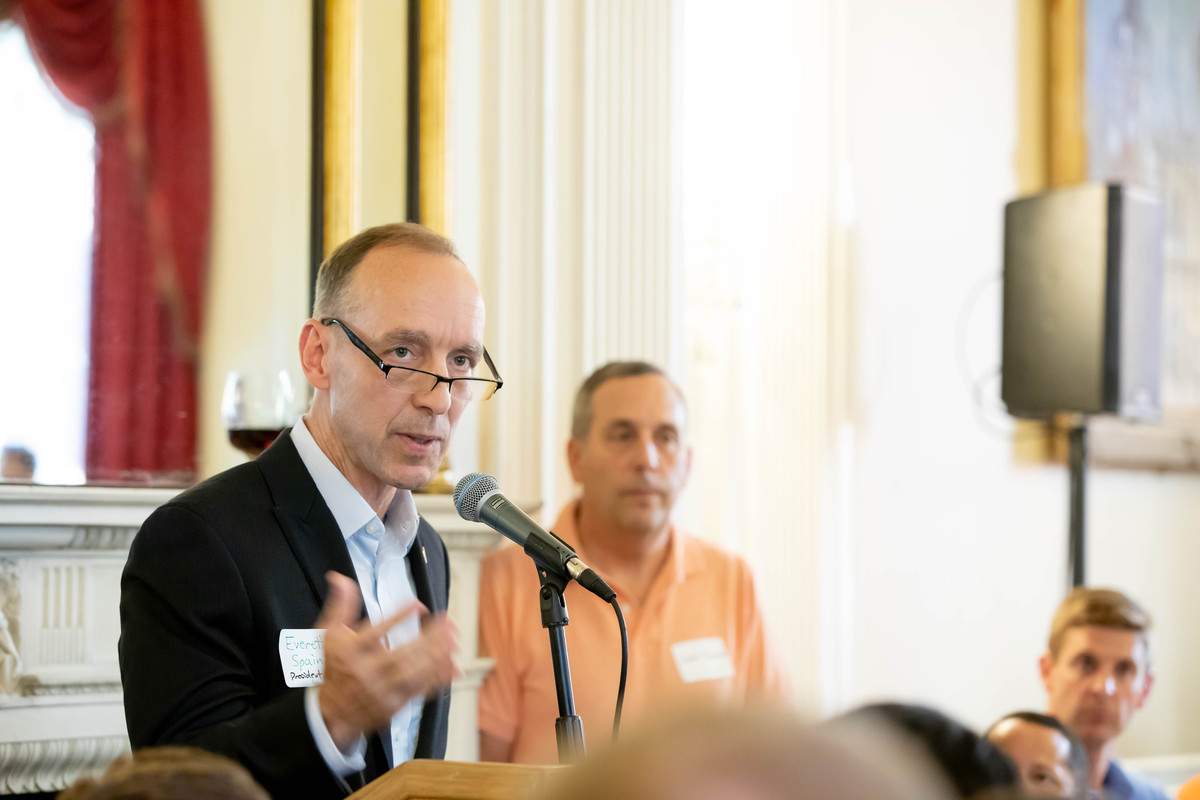 "It's a little bit of a leadership factory here, and I find myself just really honored to be directing some of that. In addition to teaching the cadets, which everyone's familiar with, the ability to mentor and educate these captains to go be the senior leaders of the Army is very special for me," the colonel said. "I invest in them … they're like my nieces and nephews, so to speak."
Spain teaches his students not only how to lead but how to lead with character, which includes five facets: moral, performance, civic, leadership, and social.
"What's a leader there for?" he asked rhetorically. "It's for the character."
"We try to teach [that] to our cadets, so if they find themselves in the places I've been, or other places, that the character lens will apply, and they'll be able to do things that are honorable when our country and other people need them to do it in the face of stress."
That lens came sharply into focus for Spain on April 13, 2013 in Boston, as he was escorting a visually impaired runner for the final leg of the Boston Marathon. As they approached the final 100 yards, two bombs went off, stunning and injuring runners and spectators alike. Spain sprinted to the finish line, and after ensuring his partner was safe, ran back into the smoke and gave medical attention to people who were critically wounded, potentially saving several lives.
Throughout their careers, his students will likely face similar challenges that threaten their lives and others. But as a professor and a mentor, Spain is clear about the difference he wants his students to make.
"Make the world a better place," he said, another code he lives by. "A West Point commission is an honor and a privilege, and a commission means [that] you're given a task and a responsibility. It's not an end state in any way, it's a beginning."
This story is part of the To Serve Better series, exploring connections between Harvard and neighborhoods across the United States.