As the crow flies, it's 1,450 miles from Kayla Davis' hometown of Stillwater, Okla., to Boston, where she has spent the past five years as a Ph.D. student in biological and biomedical sciences at the Harvard Graduate School of Arts and Sciences. Yet in some ways she has never felt closer to home.
Three years ago Davis co-founded the Oklahoma Science Project (OSP), an online resource with the goal of improving access to and promoting science, technology, engineering, and math (STEM) education in her home state. She felt compelled to action by reports of the fallout from steep cuts to state education funding in recent years due to fiscal shortfalls.
Davis, whose passion for science policy and for helping her fellow students began in high school, was most troubled that there were no funds specifically allocated for STEM education in 2016, and that 20 percent of school districts operate on four-day school weeks.
"It was soul-crushing to us as people who are interested in science education and pedagogy," recalls Davis of the first time she and co-founder Forrest Rogers, also a Stillwater native, heard this statistic. "So we came up with a resource for students who are interested in science to get something out of that fifth day of school when they're sitting at home."
Davis and Rogers, a Ph.D. candidate in biological psychology at the University of California, Davis, created a free set of real-world science lessons that introduce learners to the Python coding language and range in topics from biology to statistics, and physics to image analysis.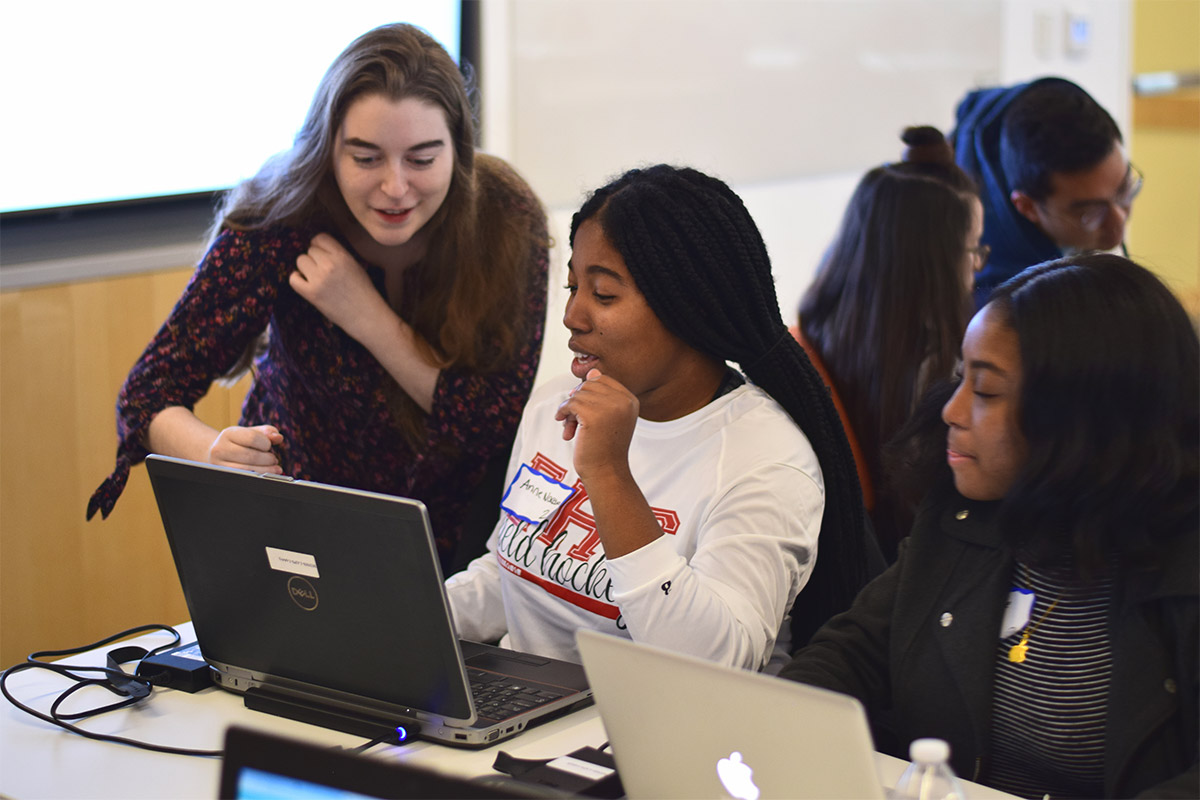 The emphasis on programming is important for students in Oklahoma, a state that leads the nation in STEM jobs available — especially in computer science — for workers with some college education.
"Providing just a little bit of foundational knowledge and programming could be really transformative not only for these kids' trajectories, but also for Oklahoma's career landscape. I have met a lot of people who have an upper limit on their goals," Davis said. "We want to get the kids hooked and convince them that they can solve real problems if only they put some effort into this."
At Harvard, Davis found a welcoming community of scientists and programmers — recruited through a graduate student listserv — willing to volunteer their services to help build OSP's programming. The new recruits offered valuable expertise in helping to design the site for ease of use.
The team also received funding and support through the Harvard Initiative for Learning & Teaching (HILT), which helped OSP increase content, establish a brand, and consult with experts in the educational aspects of programming.
While OSP has accomplished much, Davis said being so far away from Oklahoma brings challenges. This year, OSP hopes to change that through the alliance with HILT.
"The best way to get to students is to go through educators. We'll start by building relationships with different organizations in Oklahoma that work with those in the classroom," Davis said.
She believes in the potential of the program to change attitudes — and the course of STEM education in her home state.
"Because a lot of these teachers have no hands-on experience with coding, they're reluctant to use any kind of programming in their classrooms. But after they use our resources, they are much more inclined to want to teach it."
This story is part of the To Serve Better series, exploring connections between Harvard and neighborhoods across the United States.