Even as tensions between the U.S. and Russia were rising toward Cold War intensity, 1,500 Russian students recently packed a historic building adjacent to the Kremlin for a lecture and public discussion led by Harvard Professor Michael Sandel on ethics, markets, and democracy.
The event took place in Moscow's Manege Central Exhibition Hall, where earlier this year President Vladimir Putin delivered his state of the nation address to Russia's Federal Assembly.
Sandel's lecture, hosted by Moscow State University (MSU) and PolitIQ, an educational program affiliated with MSU's political science department, attracted students from as far away as St. Petersburg.
"We were shocked to see 1,500 people," said Karina Kurenkova, one of the organizers. "For the Russian academic community, this is unprecedented. The lecture was both a great academic event and a platform for public discussion, a truly democratic debate in the very heart of the Russian capital."
Kurenkova attributed the turnout to the prominence of Sandel's books and online lectures in Russian universities. The lecture, titled "What Money Can't Buy: The Moral Limits of Markets," related themes from Sandel's book of that name to current Russian controversies.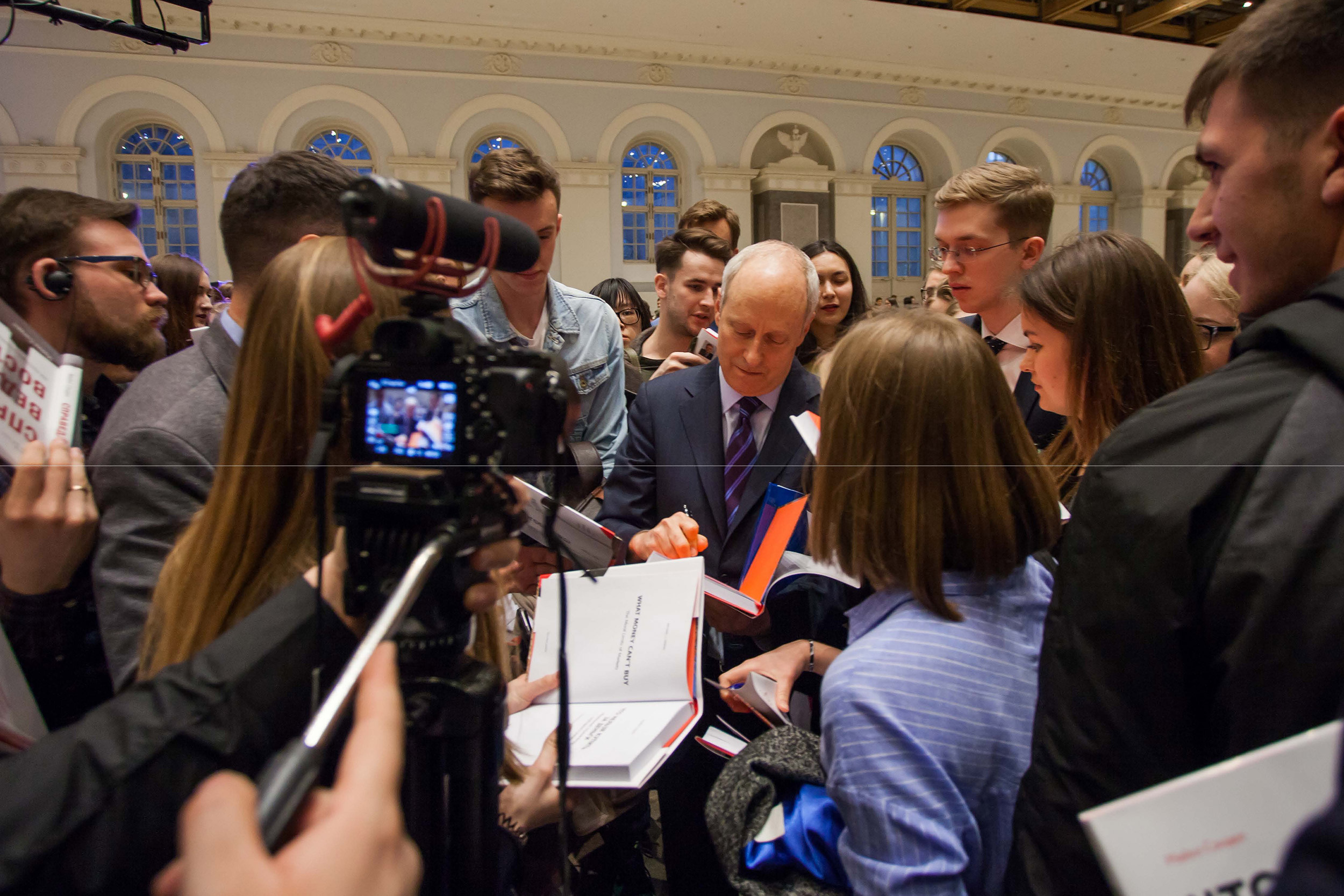 "We have gotten used to the fact that the rules are brought to us from above — the norms of morality, ethics, and law," said MSU senior Alexei Uvarov. "We are used to taking them on faith, without much thinking. But at Professor Sandel's lecture, there were no dogmas and infallible truths, but there was — and this was the main thing — a conversation. Even though there were 1,500 of us, this discussion was frank and trustful. It invited us to reflect, think, argue, discuss, and choose."
"The discussions were surprisingly uninhibited," said Sandel, Harvard's Anne T. and Robert M. Bass Professor of Government. "The fact that we were doing this in the center of Moscow, even as Presidents Trump and Putin were trading threats and expelling diplomats, was slightly surreal. But seeing Russian students engage in lively, thoughtful debate about moral and political philosophy was impressive and inspiring."