Shortly after the re-election of President Barack Obama in 2012, the conservative Christian Coalition sent an email to its members. It included a photo taken in 1942 of a white Christian family praying at the dinner table, patriarch seated at the head.
The note below the photo read: "We will soon be celebrating the 400th anniversary of the first Thanksgiving and God has still not withheld his blessings upon this nation, although we now richly deserve such condemnation. We have a lot to give thanks for, but we also need to pray to our Heavenly Father and ask Him to protect us from those enemies, outside and within, who want to see America destroyed."
According to Robert P. Jones, the founder and CEO of Public Religion Research Institute, the note's "apocalyptic ring" stems from the anxiety, fear, and anger of some conservative white Christians who he says have, in the space of a decade, moved from the mainstream to the minority in America. In a conversation Wednesday evening at Harvard Divinity School with journalist and political analyst E.J. Dionne, Jones laid out the data behind his claims, collected in his recent book "The End of White Christian America."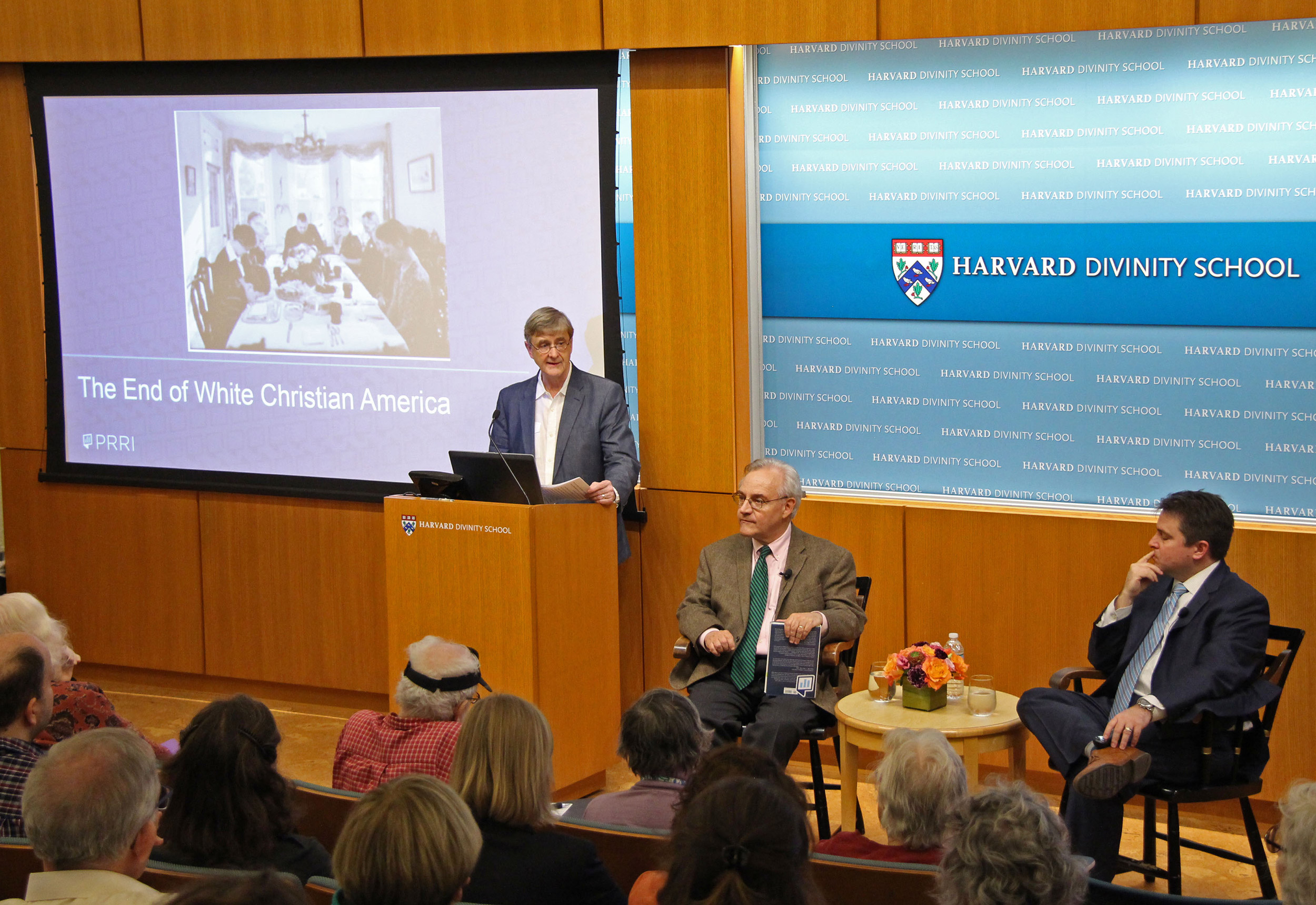 Jones characterized white, Christian America as representing centuries of cultural, political, and economic domination. Over the last couple of decades, however, demographics and culture have shifted dramatically.
During the years of the Obama presidency, for instance, the percentage of Americans who identified as white and Christian declined from 54 to 43 — more than a percentage point every year. During this time, the United States "crossed from being a majority to a minority white Christian country," Jones said. At the same time, support for the institution of same-sex marriage rose from 40 to 60 percent of Americans.