Author F. Scott Fitzgerald wrote that there are no second acts in American lives. But clearly, he never met Samantha Power.
Part jet-setting diplomat, part sneaker-clad advocate, the Harvard human-rights champion and scholar first shot to fame in 2003, when she won a Pulitzer Prize for her book on genocide, "A Problem from Hell." Power, J.D. '99, switched gears when she left Harvard Kennedy School (HKS) to join the longshot 2008 presidential campaign of a U.S. senator from Illinois named Barack Obama. When he was elected president, she became a special assistant to him, serving first on the National Security Council, and later,  as U.S. ambassador to the United Nations.
More than eight years later, Power has returned to Harvard as the Anna Lindh Professor of the Practice of Global Leadership and Public Policy at HKS and professor of practice at Harvard Law School.
Power figures prominently in a new HBO documentary that debuted Jan. 19 called "The Final Year." The film chronicles the behind-the-scenes whirl of key players on Obama's foreign policy team, including Secretary of State John Kerry and speechwriter Ben Rhodes, the deputy national security adviser for strategic communications, as all three crisscross a world that seems on fire. They organize historic presidential visits to Hiroshima and Laos, and they grapple with the conflict in Syria and the resultant refugee crisis, the Ebola epidemic, mass abductions by Boko Haram militants, and the Iran nuclear negotiations, against the looming backdrop of the 2016 presidential campaign.
Power will discuss U.S. foreign policy Thursday afternoon at the Radcliffe Institute for Advanced Study, where she is also a 2017‒2018 fellow. (There is a waiting list for seating.) In advance of that session, she sat down with the Gazette to reflect on the ups and downs of her time in the U.S. government and how it feels to be off center stage politically, watching global affairs unfold.
Q&A
Samantha Power
GAZETTE: Now that you've had a year to process it, how do you view your time in the Obama administration? What are you most proud of accomplishing, and are there any misgivings or disappointments?
POWER: Definitely, there were both, but my main "headline" on government is that nothing in my life has been as rewarding, as impactful, as purposeful as the eight years I got to spend working in the Obama administration. For me, a textbook case of U.S. leadership that was used to harness a global response to a cataclysmic crisis was the Ebola response. … I was privileged to be at the center of that because Barack Obama decided to deploy 3,000 troops and health workers into the eye of the storm at a time when people were so panicked across the United States. As U.N. ambassador, I got to take his commitment and then try to leverage it with other countries and build a global coalition. And we did that. We defied all of the odds, building the airplane as we were flying it, to vanquish that epidemic.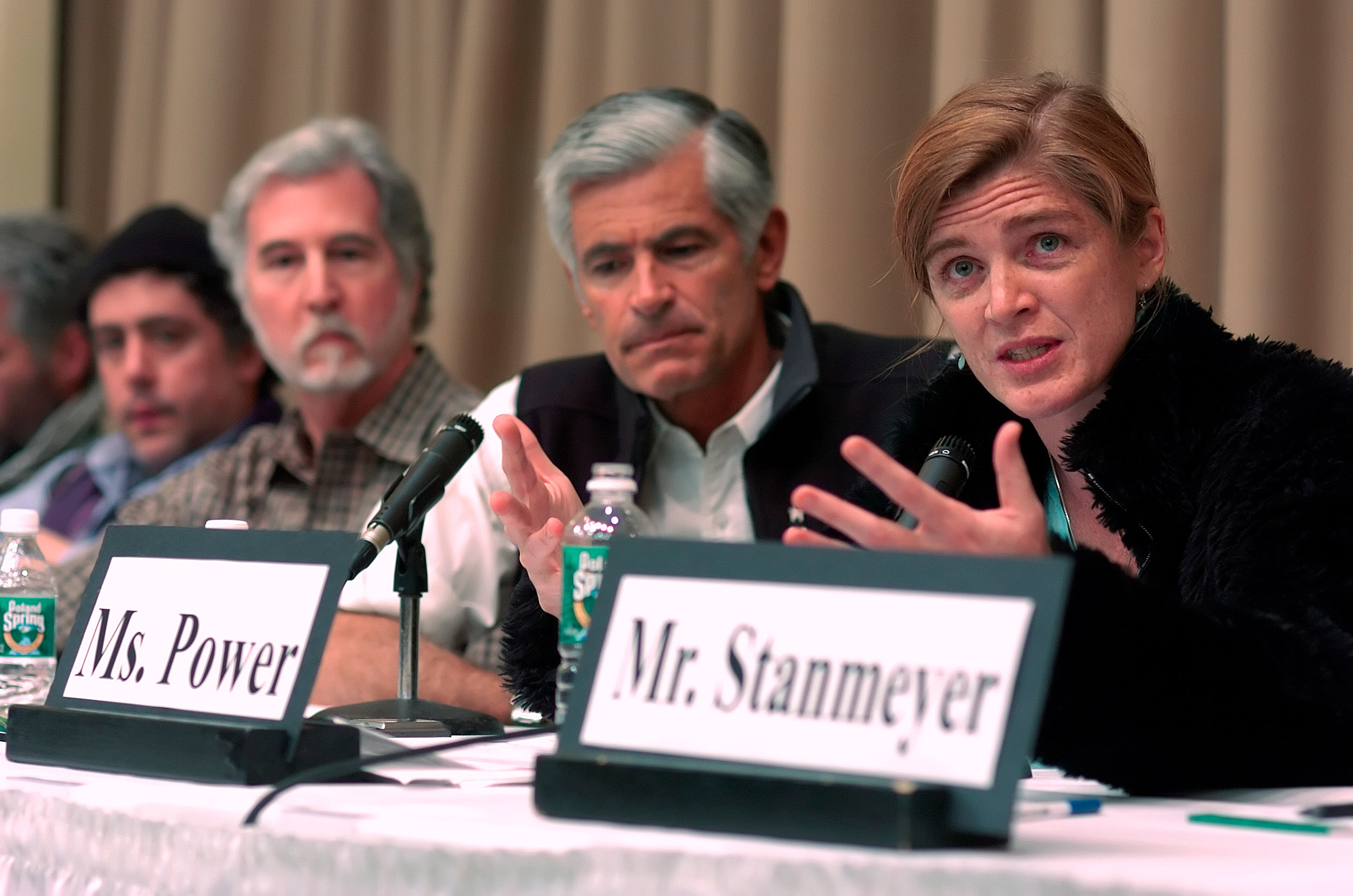 I feel sometimes when the United States talks about human rights or women's rights, it can be very abstract. And so, with my team, about halfway through my time in New York at the U.N., we decided that we would focus on 20 women whose voices were being silenced because they had been made political prisoners in their own countries and that we would see what we could do to try to get these people out of jail. We ran this campaign called #FreeThe20 with women who'd been locked up in Ethiopia and Uzbekistan and China. Some of the people had even been locked up protesting sexual harassment — that was the case in China — at a time when the Chinese government was bragging about all it was doing to empower women.
And by virtue of our efforts, along with those of NGOs [non-government organizations], and members of Congress who got on board with this campaign, 16 out of the 20 women were, in the end, released from prison. … The only form of accountability that I and my team practiced was not "Did you give a great speech?" or "Are you respected around the world?" but was always about "Are there lives that are different concretely because of the work that we did?"
Syria stands out, of course, as the conflict that caused the most human suffering probably per square inch on planet Earth over the life of our time in government. But again, every tool in the toolbox, short of military force, we deployed. It's just the complexity and brutality, frankly, of what was going on on the ground that made, for us, a solution elusive, it's fair to say. And then, I also think if we had to do it again, I wish we had not gotten so entangled in the war in Yemen. Initially, to be defending our Saudi partners in the region made some sense — Iranian aggression, Iranian support for armed elements on the ground in Yemen — but then, as we backed the Saudi-led coalition, the amount of carnage inflicted from the air by the Saudi air force was so significant that I think there came a time where we should have pulled the plug on that. And I regret that we didn't.
GAZETTE: For someone known as a vocal champion of action, you worked in an administration frequently criticized for its perceived inaction on a host of global issues and conflicts. Has your view of what the U.S. can and cannot do to solve problems evolved since you transitioned from academia to governing?
POWER: For the book I did called "A Problem from Hell," which led me to Obama … I did hundreds of interviews with U.S. officials. So I was no stranger to understanding that constraints exist. Constraints exist in terms of the effectiveness of U.S. tools, in terms of domestic public opinion or congressional support, and some problems are really hard in the world. That was no secret to me even though I hadn't served in the executive [branch] before. I think, if anything, I come out more idealistic and more struck by just what the United States can do when it puts its mind to it. I understand and appreciate the criticisms on Syria because it was such a case of savagery and had a set of knock-on effects, as well, regarding terrorism and refugee flow. I understand that criticism.