Ieva Jusionyte has always been drawn to border tensions. As a graduate student, she went right to the heart of the drug and human smuggling nexus of Puerto Iguazú, a town at the tri-border area of Brazil, Paraguay, and Argentina, to research how the media reported on crime. While there, she developed a deep interest in the experiences of firefighters and rescue workers, and later, in the U.S., trained to become a certified emergency medical technician (EMT), paramedic, and wildland firefighter.
Most recently, Jusionyte embedded herself at the U.S.-Mexico border for a year, using her technical skills to help first responders on both sides of the divide. She reasoned that firefighters and EMTs would face many of the human consequences of national security policy on a daily basis.
In Nogales, Ariz., she volunteered as an EMT with the suburban fire department, responding to 911 calls — whether for a wildfire or for a critically ill or wounded person. Across the border in Nogales, Mexico, she delivered first aid to injured migrants and deportees on a bench in a soup kitchen, which also served as a humanitarian and legal center.
The Weatherhead Center for International Affairs (WCIF) spoke with Jusionyte, an assistant professor of anthropology and of social studies at Harvard, about her work and forthcoming book, "Threshold: Emergency and Rescue on the U.S.-Mexico Border," which brings together the experiences of the first responders and residents of the local border communities, to take stock of the real-life impact of U.S. national security measures.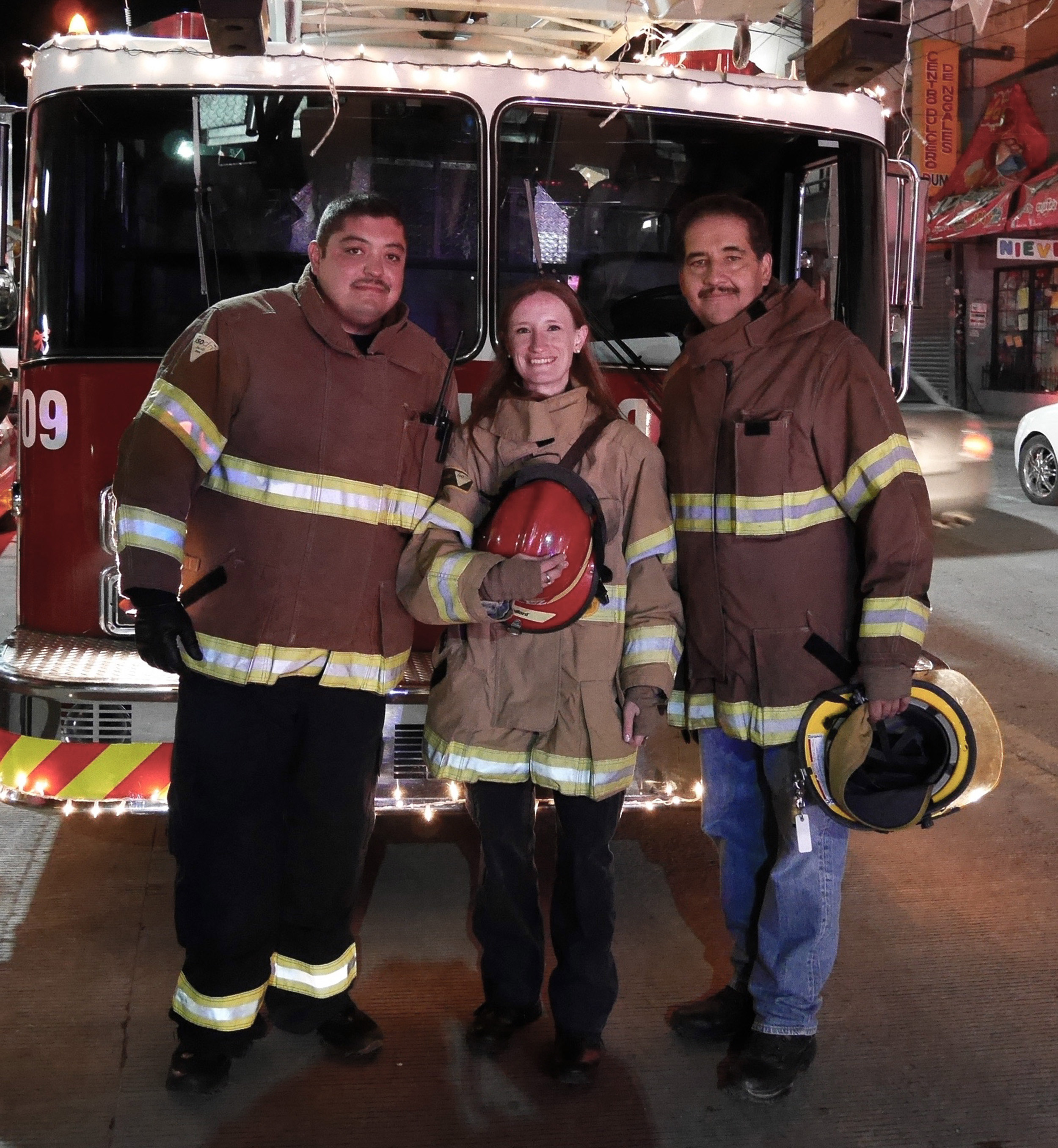 Q&A
Ieva Jusionyte
WCIF: Do Mexican and U.S. emergency responders on both sides of the border work together?
IEVA JUSIONYTE: At the border, everyday life unfolds on a binational scale. Mexican and American first responders go back and forth regularly and rely on each other to do their jobs. When it comes to saving lives, it is as if the border did not exist for them. Sometimes emergency workers on both sides were family members. For them it is one community split in half by the border wall, which is an inconvenience but does not cut the strong ties that hold the community together. As you go further north, the sentiment toward Mexico is more negative. The fire departments, which are predominantly white, don't work with Mexican first responders.
WCIF: What kinds of emergencies require joint efforts?
JUSIONYTE: Some migrants decide against climbing over the wall and try to cross under it instead, through the drainage tunnels that go under the U.S.-Mexico border. Mexico is uphill, upwind, and upstream from Arizona. Because of how Nogales was haphazardly built, when it starts to rain in Mexico, some streets turn into rivers, and the water overflows the drainage tunnel. There are a lot of situations when people get carried away in these washes, or arroyos, that flood the tunnels. The powerful current sweeps them away from Mexico and carries them to the United States. So emergency responders do binational rescue operations to find people; they begin searching on the Mexican side and continue into the U.S. Sometimes they save a life, but more often they only recover a body further downstream.
In addition to rescues from the wash, emergency responders go out in the desert to find people who are lost and who don't even know which side of the border they are on when they call 911.
WCIF: After working for a year in this region, you conclude in your forthcoming book that the border wall is being used as a weapon. Can you explain this?
JUSIONYTE: The focus of my work is actually how the terrain is being weaponized to enforce U.S. immigration policies
In 1994, the U.S. Border Patrol created a strategic plan based on the concept of "prevention through deterrence." The idea was to make the transit corridors in major urban areas, like Nogales, Tijuana-San Diego, or Ciudad Juárez-El Paso, extremely difficult to cross. They militarized the towns by increasing the length and the height of the fence, building surveillance and lighting systems, and really concentrating all the border enforcement there so that the only option would be for migrants to go through remote desert terrain in Arizona or California, or cross the Rio Grande in Texas, which is very dangerous. It's written in the plan that violence and injuries would increase, and that would deter people from coming.