CINCINNATI — In the classrooms of Cincinnati's Withrow University High School, a student aspires to be an obstetrician. Another hopes that a career in computer programming will finance his dream of traveling the world. A third wants to parlay her talkative nature into a marketing track.
For them, and for all high school students, Harvard President Drew Faust has one simple piece of advice: Go to college.
"There is a place for every one of you," she said. "Higher education encompasses more kinds of experiences — and more kinds of different experiences — than there are people in this room."
More than 300 students, teachers, and administrators from Withrow gathered in the school's almost century-old auditorium Thursday to hear from Faust, who has made urging high schoolers to go to college one of her central causes in recent years.
"College will take you to places you've never been," she told the group. "It will give you the freedom to understand yourself differently, to see your life in the context of other times and other places."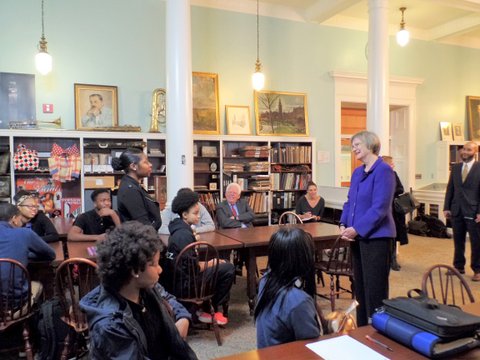 But, she noted, higher education is a two-way street. College and university communities have just as much to gain from students as students have to gain from them.
"You have many gifts, and so much potential, and I encourage you to share those gifts by continuing your education — and building on them to reach out more broadly to wider worlds and new places, educating others as you educate yourselves and build your futures," she said.
The day began in Withrow's alumni library, where about two dozen students met privately with the Harvard president. Faust kicked off the conversation by asking them to share their aspirations, and then encouraged them to pursue their dreams, but also be open to new opportunities.
"Taking advantage of opportunities you might not have expected is an important part of the journey," Faust told them, noting that as a teenager she couldn't have dreamed of leading Harvard, since the institution then did not admit women as undergraduates and had no female faculty.
"Be open to experiences that might surprise you," she said.
Her anecdote was a powerful motivator for Nya Williams, a senior at Withrow.
"It made me feel like we aren't that different from students at Harvard," she said after Faust's talk. "We're smart, we have talent, we can achieve our dreams."
The students also asked questions of Faust, inquiring about the college admissions process, her own challenges, and what she plans to do after she finishes her term as president, to which she responded: "Take a moment to breathe."
It was not Faust's first visit to the Queen City. She spent the summer after her sophomore year of college working in a home for troubled children just down the street from Withrow.
"It's kind of a return in a way for me," she said.
The visit was organized by Tracy "Ty" Moore II '06, a Cincinnati native who started Leadership Scholars, a nonprofit that provides college access and training for inner-city youth.
"The students at Withrow are extremely talented and have a tremendous amount of potential, yet a limited amount of exposure to positive role models in their communities," Moore explained. "What better role model than President Faust?"
Cincinnati and Harvard have common touchstones. The Harvard Club of Cincinnati is the longest continuously run such club outside of Cambridge. Though other cities may have more members, the Cincinnati club prides itself on the diversity of the community it attracts and the breadth of events it hosts.
"The Cincinnati Harvard community is unique in that since we have a smaller alumni community we warmly welcome graduates of all of Harvard's different Schools," said club president Gillian Sella '92. "I guess you could say we were practicing One Harvard before President Faust coined the term."
"I've been to many Harvard clubs across the country, and this one is by far the warmest, most accepting, and uplifting that I've experienced," Moore said. "From the leadership down to the members, there is a spirit of community present that channels the vibrant, invigorating energy of the city of Cincinnati itself."
On Wednesday evening, more than 200 alumni, students, and friends gathered at the National Underground Railroad Freedom Center for "An Evening with President Faust," hosted by the Cincinnati club.
"The connection is powerful," said Cincinnati Vice Mayor David Mann '61, L.L.B. '68. "I can't in retrospect believe I had that opportunity."
In a wide-ranging conversation with Scott Abell '72, president of Harvard's Board of Overseers, Faust spoke of her greatest challenges as president, Harvard's global reputation, and the evolution of higher education. She began the conversation by noting that the week she was announced as Harvard's 28th president, Apple announced the iPhone.
"Think about life before the iPhone; it seems as if it must have been centuries ago," she said. "Then think about what social media has meant to everything, what having a Smartphone has meant to how people relate to each other, how we deliver education, how we communicate with one another. I think that represents a kind of revolution that has affected our consciousness and our minds in ways we're still grappling with."
It turned out to be an apropos comment. Moments later the building lost power, and audience members fired up their smartphone flashlights to illuminate the auditorium for the rest of the conversation.
"We were thrilled to have President Faust visit," Sella said. "We were especially impressed by the breadth of insights she gave about her tenure in a tumultuous decade where new challenges arose from issues that had not even existed previously. As a society, we've undergone the financial crisis, a social media revolution, challenges to institutions of higher education, and a shift in the diversity at Harvard. It is interesting that President Faust, a history professor, ran Harvard at a time when so much history was made."