In 2007, the Harvard Art Museums mounted an exhibit by contemporary American artist Kara Walker in honor of the inauguration of Drew Faust, the University's 28th president and a historian of the Civil War. "Harper's Pictorial History of the Civil War (Annotated)" combined a series of lithographic reproductions from an 1866 anthology with Walker's evocative silhouettes.
An online description noted that the work showed that "the roots of racism in the United States were hardly eradicated with the abolition of slavery." Ten years later, as Faust prepares to step down, Walker remains one of the most powerful and culturally relevant artists in the U.S., holding up a mirror to a country in which high democratic ideals exist alongside the lowest expressions of racism and hate. And now, her work is once again at center stage at Harvard.
On Tuesday, the museums announced the acquisition of "U.S.A. Idioms," a massive drawing and collage and the largest drawing in a collection of approximately 250,000 works. Walker created the image this past summer. The work depicts a series of figures, both African-Americans and their oppressors. Some are woven through the branches of a dead tree; others perch atop a dark stump. A torn Confederate flag waves from one branch. What appears to be a white flag waves from another.
"This is a powerhouse of a work — provocative in its subject and scale and also, as a drawing, incredibly beautiful and technically exhilarating," said Martha Tedeschi, the Elizabeth and John Moors Cabot Director of the Harvard Art Museums. "Given the teaching and learning mission of the Harvard Art Museums, and our legacy as a site for the study of great drawings from across time and place, it feels especially appropriate for us to bring this new and compelling work to Cambridge."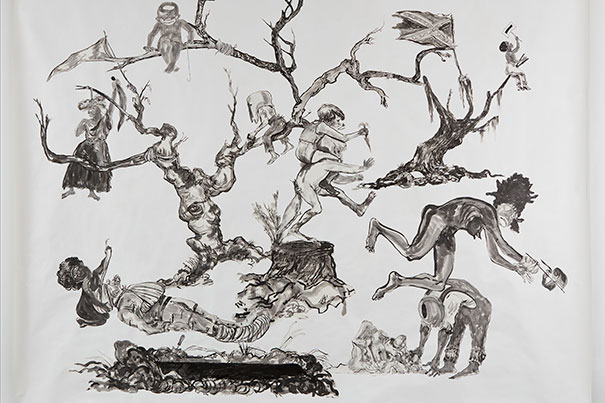 Curators expect the piece to attract interest from across the University and beyond, including scholars focused on issues of race, history, contemporary politics, and nontraditional American narratives.
"Walker's willingness to foreground 'contentious images and objectionable ideas,' to use the artist's own words, challenges us to not look away," Tedeschi said.
Sarah Lewis, an assistant professor of history of art and architecture and of African and African-American studies at Harvard, said the new acquisition is both an exceptional work of art and an extraordinary teaching tool.
"This is a work that I think has embedded within it a way to teach about the structure of racial hierarchies and racial formation through aesthetics," said Lewis. "Whether it's because of the iconography of the tree or the various different tropes, and how she's engaging with the Confederate flag, there are many ways that you could parse that one object and treat it as an object of study for weeks."
Walker was unavailable for an interview, but her remarks accompanying the recent New York exhibit that featured "U.S.A. Idioms" garnered almost as much attention as the show itself.
"I roll my eyes, fold my arms and wait," Walker wrote. "How many ways can a person say racism is the real bread and butter of our American mythology, and in how many ways will the racists among our countrymen act out their Turner Diaries race war fantasy combination Nazi Germany and Antebellum South."
The artist has been a regular visitor to campus in recent years. In 2014 she spoke at the Radcliffe Institute for Advanced Study. In October, she received the W.E.B. Du Bois medal "for art that refuses to tell a simple story about this country's history or present," said Tedeschi, who introduced the award.
"I seemed to have made a reputation for saying a lot on paper and not a lot out loud," said Walker during the event. "I will keep that tradition alive. But I do want to thank you very much for this honor."
In 1997, Walker was awarded a "genius" grant from the MacArthur Foundation, which praised her installations as "graphic and violent tableaus that explore the vestiges of sexual, physical, and racial exploitation in a challenging manner."
One example of that vision is "A Subtlety," Walker's 2014 installation in a defunct Domino sugar refinery in Brooklyn, N.Y. Crafted from 80 tons of granulated sugar, the work — a giant sculpture of a naked black woman in the pose of a sphinx — drew thousands of art lovers to New York and inspired countless online viewings.
Harvard holds several early works by Walker, including prints, textual prints, silhouette works, a pop-up book, and a linocut, but nothing to match the scale or technique of the newly acquired piece.
"Kara Walker has been on my top five list forever," said Mary Schneider Enriquez, the Houghton Associate Curator of Modern and Contemporary Art, who, with curator Edouard Kopp, helped the museums secure "U.S.A. Idioms."
The piece is a "masterpiece of intimacy and scale," she added.
Kopp noted Walker's sense of art history. "U.S.A. Idioms," he said, pays homage to Francisco Goya's "The Disasters of War," a series of 82 prints created between 1810 and 1820 that depict scenes of death and despair.
Similar sensibilities link the two artists, Kopp said. While Goya was considered an artist of the Enlightenment, he "looked not just at the light but the darkness of the human spirit, and [at] what can happen when reason sleeps. Something similar could be applied or brought to the reading of Walker's work."
Curators are still finalizing a plan for installation of the new piece. It will likely be displayed on its own, said Enriquez. "There are only a couple of places in our building where the ceilings are high enough."