Three members of Harvard College's Class of 2018 have been selected to represent their respective countries, Zimbabwe, Trinidad, and Zambia, as Rhodes Scholars.
The students expressed joy, relief, and appreciation for the help they received along the way from family, friends, and mentors at Harvard.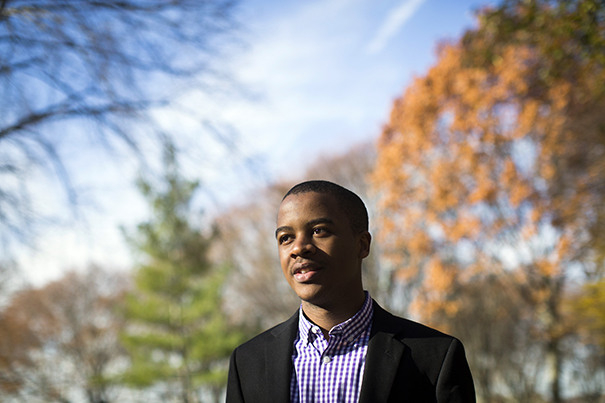 Terrens Muradzikwa
For Terrens Muradzikwa, the scholarship is an opportunity to continue pursuing his interest in melding the fields of economics and development.
"I'm interested in development economics, and looking at how innovation is used to promote economic growth in developing countries," he said. "I was really motivated by some of the classes I took at Harvard, in particular with Clayton Christensen, Kim B. Clark Professor of Business Administration at the Harvard Business School, and Efosa Ojomo, a research fellow at the Christensen Institute."
Muradzikwa, a Dunster House resident with a concentration in economics, hopes to join the World Bank or International Monetary Fund (IMF) after completing master's degrees in development economics and in public policy, before eventually returning to his home country.
"I really want to bring new ideas to the countries that the World Bank and IMF are working with. And long-term I would like to work for the Ministry of Finance and Economic Development in Zimbabwe, and contribute to the economic growth of my country."
Applying for the Rhodes required Muradzikwa to travel home, and the timing of the visit was decidedly unusual. He arrived on the ground in his home nation of Zimbabwe just hours after longtime President Robert Mugabe resigned under military pressure.
"There was a real feeling of excitement in the air," Muradzikwa said. "People were dancing and celebrating together in the streets. I was really happy to see people from different walks of life coming together — people of all different ages, races, socioeconomic backgrounds. I really hope we can continue and sustain that spirit of togetherness."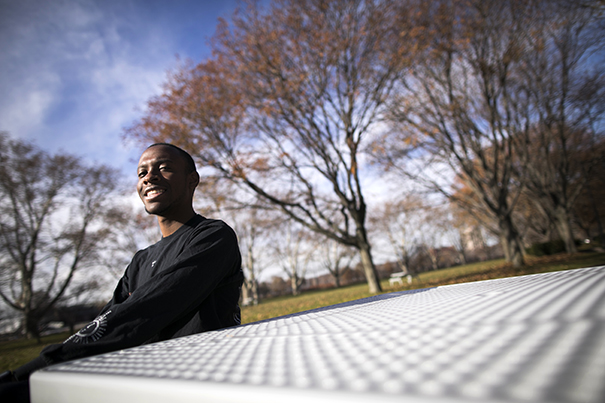 Mandela Patrick
His interest in the intersection of technology and entrepreneurship has taken Mandela Patrick from Harvard to two summer internships at Facebook, and soon to Oxford, where he will focus on machine learning.
"I felt a mix of relief and excitement," he said of learning that he had been chosen for a Rhodes. "A lot of preparation went into this, between interview practice, securing recommendations, applications. It's really about a six-month process."
Patrick, a Currier House resident with a concentration in computer science who grew up in Trinidad, credits Harvard with giving him platforms to succeed in areas that are major criteria for the scholarship: academics, leadership, volunteerism, and athletics. He has been a member of the varsity squash team since his freshman year. Among the volunteer projects he participated in was teaching computer code to Boston Public Schools students in Mission Hill.
"I'm passionate about education, and in particular accessibility to education for people from low-income backgrounds. I really see the value in using technology to advance entrepreneurship for people," he said.
Patrick singled out several Harvard mentors, including Edwin Amonoo, Currier House tutor; Harry Lewis, Gordon McKay Professor of Computer Science; and Margo Seltzer, Herchel Smith Professor of Computer Science and faculty director of the Center for Research on Computation and Society. He also thanked his parents.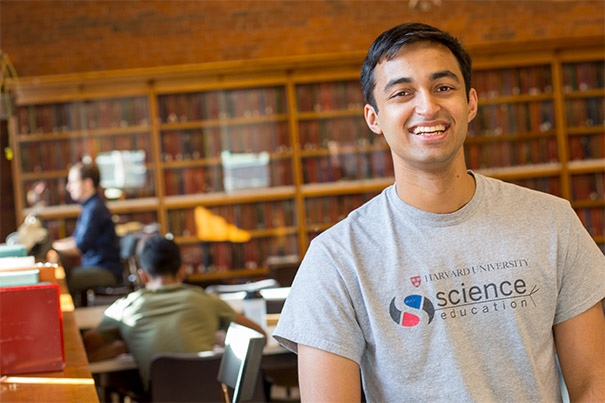 Shaan Desai
For Shaan Desai, studying in England is nothing new. He already had two years at UWC Atlantic College under his belt before arriving as a freshman at Harvard. But being selected for the Rhodes program was "a big relief," he said. "It's a lot of hard work coming to fruition, and a lot of tense moments building up to a lot of excitement and elation."
Desai, an Adams House resident from Zambia who is pursuing a bachelor's of art in physics and a master's of science in computational science and engineering, hopes to use his time in Oxford to study ways that these fields can boost renewable technology.
"I'm interested in looking at how we can use tools from physics and computer science to aid the discovery of new materials for renewable technology," he said, "and in particular how those materials could help us generate affordable electricity in Africa."
Desai credited  professors and peers at Harvard for helping him to grow both academically and socially.
"Being at Harvard has been such a formative experience. I was able to work with and get to know professors at the leading edge of physics, and have made lifelong friends, not only in House life but in extracurricular activities."
His biggest aspiration is to improve science education in Zambia and throughout Africa. He cites Nigerian entrepreneur Iyinoluwa Aboyeji as a major inspiration. Aboyeji created Andela, a tech startup designed to "build a network of technology leaders on the African continent and bridge the divide between the U.S and African tech sectors."
"I was really inspired by Iyinoluwa," Desai said, and earlier this year welcomed him to Harvard as a speaker for the Harvard African Business and Investment Club. "Speaking to him and learning more about his entrepreneurship was a clear indication to me that what might seem outrageous or impossible can actually be done."
In addition, four other members of Harvard's Class of 2018 were among 32 Americans selected as Rhodes Scholars.