Four members of Harvard's Class of 2018 were among the 32 Americans selected as Rhodes Scholars on Saturday. In interviews with the Gazette, the students talked about formative campus experiences, their academic goals, and the thrill of winning a Rhodes.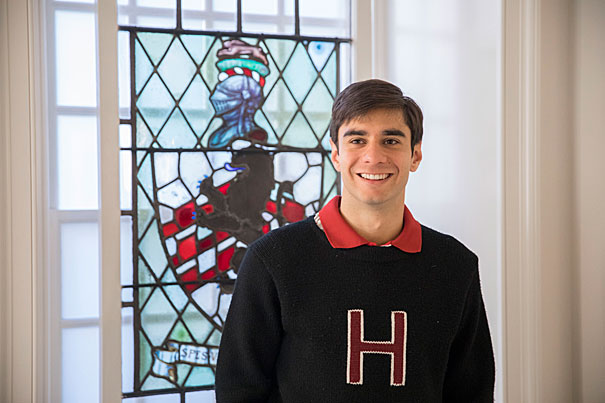 Xavier Gonzalez: Math can be popularized
For Houston native and Winthrop House resident Xavier Gonzalez, math is not just a concentration — it's a passion.
"My goal is to popularize math," he said. "I would really like to do that as a long-term career plan."
Gonzalez credits both his professors and his classmates for turning him on to new ways of thinking.
"My time at Harvard has been transformational, and has exposed me to totally new perspectives in mathematics," said Gonzalez, an avid tennis player outside the classroom. "I've learned so much from my professors, but also from my fellow students in dining halls, and from freshmen I advise."
Gonzalez also noted a recent program he participated in at Emory University, and the mentorship of Emory's Asa Griggs Candler Professor of Mathematics Ken Ono.
"He was a role model for me," he said. "I would not have gotten this scholarship without him."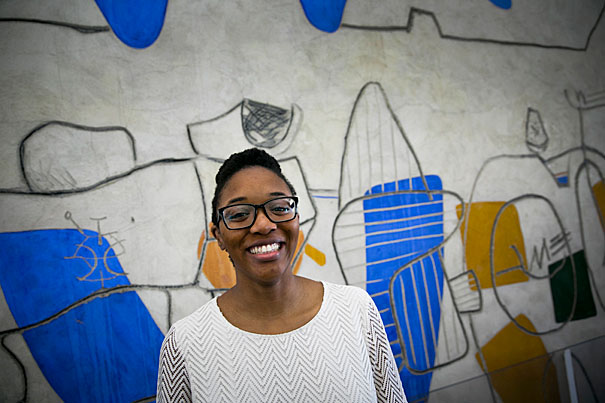 Tania Fabo: Disparity in health a call to action
Tania Fabo sees her Rhodes as an opportunity to help unlock systems of oppression that exist in health services, and to work toward "the ultimate goal of health equity."
"One of the reasons I applied for this scholarship was to explore some burning intellectual questions, such as how science can be used as a field to mobilize toward further health equity," she said.
Fabo, a Quincy House resident concentrating in human development and regenerative biology, plans to work on two one-year degrees at Oxford, one in medical anthropology, the other in research and oncology.
"I want to learn about some of the systems of oppression that exist which have gotten us to the place in health disparity that we're at now," she said.
After hearing about the Rhodes, she added, "I just stood there for about five minutes and didn't say anything. It was just a weird, surreal feeling. Then I started calling family and friends, they were super-excited."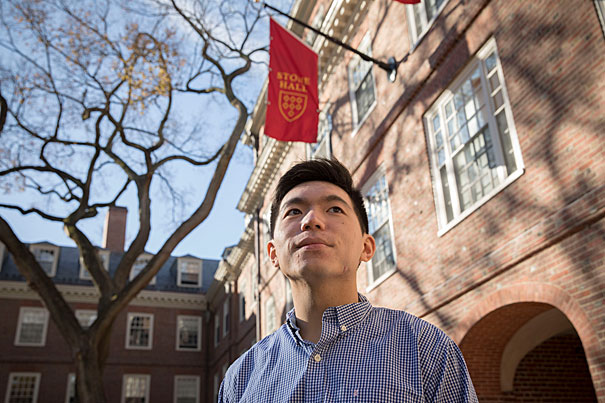 Alan Yang: Taking aim at infectious disease
Alan Yang plans to combine "the disparate fields of immunology and migration studies" in his studies at Oxford.
"I really want to fight against human suffering and disease," the Quincy House resident said. "I'm looking forward to improving the way we track and treat infectious diseases all over the world."
Yang has never been to Europe, or studied abroad, and was in "total disbelief" when he learned he was headed to Oxford. "I felt shock, and then a wave of immense gratitude," he said. "I'm incredibly humbled and grateful, and could not have won without the support of my family, friends, professors, and mentors."
Yang, concentrating in molecular and cellular biology, said that conversations with his housemates have been key to opening his mind to new ideas.
"Harvard has taken me down roads I never could have imagined," he said. "It has truly been life-changing."
Samarth Gupta: Moving forward with 'a completely different perspective'
A Lowell House resident concentrating in economics, Samarth Gupta plans to enter law school after Oxford studies focused on comparative social policy.
"The thing that stands out to me about Harvard is the people here," said Gupta, whose long-term goal is a career in public policy. "I have learned as much in the dining halls here as I have in my classes. The brilliance and diversity of students has pushed me to think about things in a completely different perspective and to have an open mind. I think that experience is really unique to this University."
The foreign excursion will be new for Samarth, who has spent most of his life in Massachusetts and has never been to Europe, but he's not nervous.
"Going overseas is going to be thrilling," he said.
Also, three other Harvard seniors have been awarded International Rhodes Scholarships.
And a recent graduate, Jamie Beaton '17, was announced as a recipient of an International Rhodes. Beaton, 22, plans to pursue a master's of philosophy/doctor of philosophy in economics at Oxford.