Leadership isn't limited — and after conquering their own domains, today's innovators want to share. Those are the motivating ideas behind the Advanced Leadership Initiative (ALI), a new "third stage" intensive, multidisciplinary program that engages executives and other top business minds and helps them redirect their considerable skills into social impact. With one-year fellowships that allow participants to take courses, network, and brainstorm with principals from a wide variety of fields, including business, education, public health, and government, these experienced leaders can then discover new paths, developing projects designed to address some of the most pressing problems facing the world today.
ALI, a collaboration of faculty from Harvard's schools of business, education, government, law, medicine, and public health, was conceived in 2005 by Professors Rosabeth Moss Kanter, Rakesh Khurana, and Nitin Nohria. Since it enrolled its first cohort in January 2009, it has helped tap the experience of a socially conscious generation of leaders. The program, which runs from January through December, allows these participants, all of whom have at least 20 years of experience, to broaden their skills to fill critical leadership gaps in solving major social issues.
This year's 44 fellows, including 19 international fellows, come from a range of industries. Gareth Glaser, for example, was part of the leadership team that took Alcon Laboratories public and helped it become one of the world's largest eye-care pharmaceutical and surgical companies. Glaser had also previously worked for Exxon and ARCO.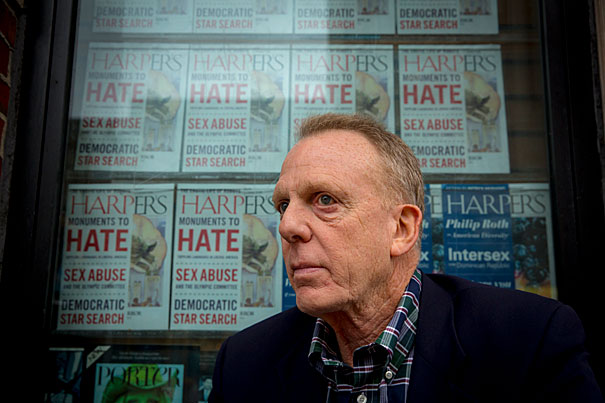 Glaser said the fellowship let him focus on an issue that had long preoccupied him for personal reasons: gun violence. During a stay in Texas, he had seen the young child of a close friend severely injured with an unsecured weapon. "I was asking myself, 'How can people have a loaded gun in the family room during a barbecue?'"
"I didn't know where to begin," he says now, as his one-year fellowship winds up. The fellowship's structure worked for Glaser. On campus from January through June, he was able to explore, meeting with ALI faculty such as Howard Koh, former secretary for Health and Human Services in the Obama administration, who helped direct his research. Through such explorations, he found himself interested in so-called "smart guns." These weapons, which cannot be operated by an undesignated user, have been hailed as a breakthrough technology. But although research shows they have the potential to save 10,000 lives every year in this country alone, says Glaser, they have not yet taken off, running up against political resistance and marketing mistakes.
These missed opportunities consumed Glaser, and when he left for the summer break, he headed for a symposium on law enforcement and smart guns in Washington, D.C., where he would moderate a panel. While he was there, he was approached by a smart-gun startup, LodeStar Firearms, which asked him to be its CEO. As an experienced executive, Glaser had the skills, but none of the baggage that had hindered previous attempts at smart-gun development. That's when he realized, he says, "I could approach this as a businessperson. It's a business opportunity, a really good one, and also it could save lives."
When he came back to campus in September, Glaser had a vision. He would work with LodeStar to help create an affordable "smart" (biometric) handgun that would appeal to both law enforcement and the vast majority of handgun buyers — by some estimates more than 90 percent — who seek a weapon for home defense.
"People concentrate on global issues — income inequality, healthcare, education, global warming — and I understand that. But guns are such a big issue, and they are almost the third rail of politics. To me it's focused, it's an area where I can literally have an actual, significant impact."
For Laura Klauberg, ALI has been about discovery. Although her initial plan was to focus on education, income inequality, and gender-based violence, the global branding and marketing expert used her first semester in Cambridge to explore.
"One of the things that's great about the program is the first semester, when you're told, 'Be an inquirer,'" recalled Klauberg, who among other positions has served as the head of global media for Unilever. "Don't land the plane right away."
When she realized that many people were already focusing on her original areas of interest, Klauberg reached further. Ultimately, an experience with her dog Brady suggested what would become her ALI project. Having trained her pet as a therapy dog a few years ago, Klauberg was in the habit of taking Brady to hospitals and nursing homes. Over time, one of her favorite weekly visits was to a substance abuse treatment and recovery facility.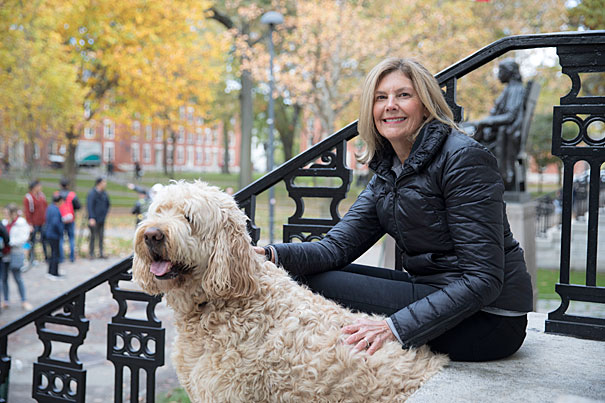 "It became a very moving experience," she said. "They were wonderful people, and it had a profound impact on me."
After a friend's adult child died of a heroin overdose in late March, following several decades battling addiction, her goal was clarified. She would tackle substance abuse — ideally, before it started. "We keep hearing that high school is too late," says Klauberg, whose own three children are now grown.
Fortuitously, Klauberg, a global branding and marketing expert, had spent her career learning to adapt to and utilize emerging technologies, such as social media. Much of that time, she explains, involved "developing stories" for big brands, she says. At ALI she realized these skills could be applied to innovating education about addiction and substance abuse. Specifically, she is now using that technological foresight to "tell stories" — working with partners like the Play4Real Lab at the Yale University Center for Health and Learning Games to create curricula that use virtual reality to reach young people.
"We believe the technology lends itself to creating 'real experiences' that could be transformative in nature," she said. Ultimately, she sees the technology being used in a variety of school curricula, addressing issues from eating disorders to bullying.
"Being at Harvard afforded me the opportunity to hear from people who are on the front lines and engaged in this," said Klauberg.
Her colleague echoes the sentiment. "Without having come here and spent the year here," said Glaser, "I doubt I could have accomplished so much."
Harvard's Advanced Leadership Initiative will hold its final symposium on Nov. 16. The capstone event of the fellowship year, the symposium will kick off with educational sessions on Nov. 15 and conclude with final presentations by the fellows about their projects.