Harvard Divinity School (HDS) student Shannon Boley pushed open the heavy door of a shipping container and slowly stepped out to the campus green, wiping tears from her eyes.
"That was just a connection I haven't had in a long time," she said.
Boley had just met a 15-year-old girl living more than 5,500 miles away near Amman, Jordan. Although the two were half a world apart, the exchange became emotional when the teen sang in Arabic about love and longing and Boley responded with "Ave Maria."
"It was a beautiful, spiritual experience," said Boley, her eyes still red. "On the other end of the world, you're sharing this really intimate part of you. I'm singing this song that means so much to me, and I could tell her song meant so much to her."
The exchange was made possible through an effort of the Religious Literacy Project at HDS and Shared Studios, a collective that creates "portals" inside shipping containers outfitted with immersive technology that enables real-time, face-to-face conversations between people in similar spaces across the world.
HDS is hosting one of the portals on campus through Thursday, allowing members of the Harvard community to have conversations with residents and refugees living in Germany, Gaza City, Jordan, and Iraq.
Diane Moore, director of the Religious Literacy Project, partnered with the American Academy of Religion and the Henry Luce Foundation to bring the project to campus.
In March, Moore had traveled to Erbil, Iraq, where she met with refugees, some of whom had been displaced for more than three years.
"There was a concern that no one knows about them," she said, "that they're statistics, they're massive numbers in the news — there was a concern they feel unseen."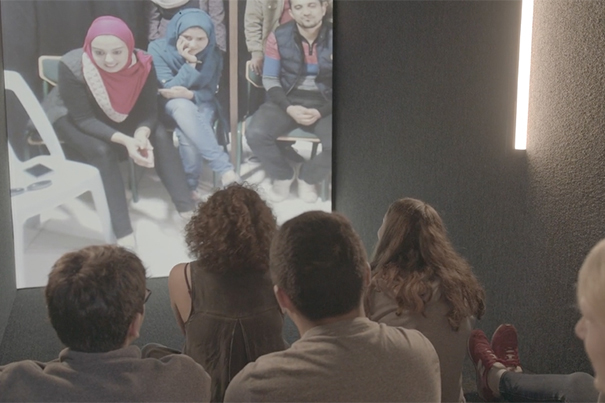 Amar Bakshi '06, the founder of Shared Studios, said the goal of the portal project is to make connections — whether between Gaza and Cambridge, or Gaza and Kigali, Rwanda — beneficial for those on both sides.
"In some cases, it's very clear — provision of legal advice to a refugee seeking legal asylum, because there are a lot of lawyers around here and there are fewer in Erbil, [Iraq]," Bakshi said.
"It can be a lot more amorphous, though. It can be a game of charades between two kids. A kid in Erbil who has very little to do day-to-day, and a kid here who has only heard about refugees through the news."
Moore invited Cambridge Rindge and Latin School history teacher Rachel Otty, who is taking one of Moore's courses through the Extension School, to bring her students to the portal.
"The fact that the students have actually talked to people who are living in Jordan, or who have lived in Syria, at one point means they have context that most students don't have," Otty said. "Some of the [student's] assumptions … are already starting to break down."
Through the portal, staff from the Division of Continuing Education planned to discuss improving distance learning for refugees with educators and students in Iraq; students from the Kennedy School's Middle East Refugee Service Initiative spoke with young adults living in Gaza City; and a student from the Graduate School of Education talked about poetry with teens in Iraq.
Moore said her students will discuss what it means to carry the refugees' stories with them in their future scholarship, advocacy work, or ministry.
"Many of our students are eager to understand the challenges that people are facing here in the U.S. and around the world where religion intersects with issues of public policy, humanitarian action, journalism, and other areas," she said. "This is a perfect setting for us to connect not only with people around the world, but with each other."