A slow but robust economic recovery is well underway in Europe, but the European Union now faces serious new threats from both within and without, foreign policy experts warned at the daylong 2017 Summit on the Future of Europe at the Minda de Gunzburg Center for European Studies in early November.
Daniel Gros, director of the Center for European Policy Studies think tank, said that sustained growth in domestic demand is a crucial element to economic recovery, and in Europe that has been increasing at a rate of about 2 percent a year since 2012. In addition, he said, while unemployment in much of Europe remains high, the labor force participation rate (the percentage of the working-age population either employed or actively looking for work) has grown steadily for many years — in contrast with the situation in the U.S., where the participation rate, initially higher than that of Europe, has fallen since the economic crisis began and shows no sign of bouncing back. The absence of a "discouraged worker" effect in Europe signals that a robust recovery is likely, Gros said.
Gros added that worries about decreased investments in Europe are misplaced, because the drop occurred mainly in the construction sector, which bloated during the boom years. Non-construction investment has held steady. The danger of deflation has also been exaggerated, he said, because the growth rate of nominal gross domestic product is higher than the nominal interest rate, making a classical debt deflation scenario unlikely.
Agnès Bénassy-Quéré, who chairs the French Council of Economic Analysis, was less sanguine, however. She said the crisis upended assumptions on which the Euro was based, no new consensus has emerged, and there has been no effective policy response to the crisis. In particular, she said fiscal tightening began too early and overshot its mark, especially in Germany, contributing to a double-dip recession.
Germany's persistently large current account surplus calls for demand stimulus there, while France needs structural reforms, which President Emmanuel Macron has initiated. Bénassy-Quéré said that in addition to coordinating these disparate policies, Europe may need to move toward true policy integration, such as Macron's proposed tax harmonization.
Kyriakos Pierrakakis, research director of the diaNEOsis Research and Policy Institute in Athens and a graduate of the Master in Public Policy program at Harvard Kennedy School (HKS), put the focus on Greece, where persistent severe economic difficulties have resulted in significantly increased anti-EU sentiment since the 2015 referendum. Pierrakakis reported that despite media stories about the effects of the crisis on Greek pensioners, a diaNEOsis survey found the rate of extreme poverty among Greeks over 65 is considerably lower than in other age cohorts. However, Greece has lost population since the onset of the crisis, as better-educated young people emigrate for better jobs, he said. This brain drain indicates a deep structural problem not reflected in improving economic measures such as the government's primary surplus. In a lunchtime conversation with Joseph Nye, former Spanish foreign minister Ana Palacio considered the threat of Catalonian secession from Spain and potential challenges to European integration stemming from separatist movements elsewhere.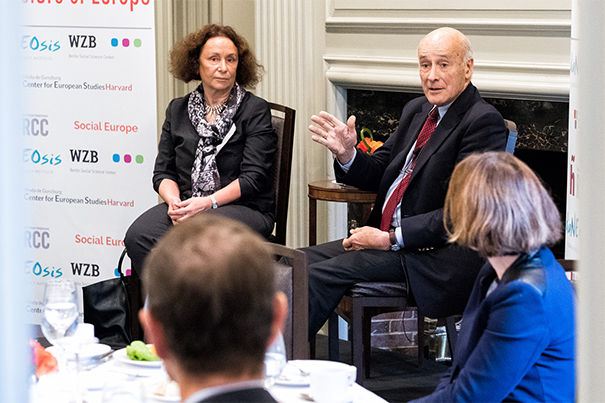 Even where economic anxieties have waned in Europe, security threats loom increasingly large, Harvard experts said. Joseph S. Nye, Harvard University Distinguished Service Professor Emeritus, at HKS, and Ash Carter, director of the Belfer Center for Science and International Affairs and former U.S. Secretary of Defense, discussed the degradation of U.S.-Russian relations. Carter argued that bridges are harder to build and that the U.S. needs to stay "strong and balanced" and hold "the doors open" even though this may be conditional. Karen Donfried, president of the German Marshall Fund of the United States, said that America's shifting international commitment puts Europe to the test, and the jury is out on whether Macron and Germany's Angela Merkel can carve out a strong role for Europe at the global level.
Angela Stent, director of Georgetown's Center for Eurasian, Russian, and East European Studies, addressed Russia's wariness of the European Union. She noted Vladimir Putin's belief that the EU is paralyzed by its divided sovereignty, and his preference for bilateral to multilateral negotiations in his dealings with Europe. Merkel, who came of age in a Communist regime and speaks fluent Russian, understands Russia better than other European leaders, Stent added.
Lilia Shevtsova, an associate fellow of the Russia and Eurasia Program at Chatham House, an NGO based in London that analyzes and promotes understanding of major international issues and current affairs, agreed that Russia would much prefer to deal with Berlin and to a lesser extent Paris and London than with Brussels, which it views as a "retirement house" for end-of-career politicians. Nevertheless, she said, Russia recognizes that Europe is "an important engine" for its own economic development, indeed more essential than the U.S. She described as a "Putinesque" effort to reconcile tradition with globalization that would have Russia recognized as the center of a "greater Eurasian" pole as the U.S. retrenches.
Finally, Rawi Abdelal, Joseph C. Wilson Professor of Business Administration at Harvard Business School, focused on energy policy, drawing a distinction between interfirm and intergovernmental relations. Even in times of severe tension between Russia and western governments, energy sector firms have continued to cooperate to keep the gas flowing. He said that although Europeans have been "infuriated" by "extraterritorial" U.S. sanctions imposed on their firms for political reasons, the existence of "overlapping" firm-to-firm and government-to-government relations remains "incredibly valuable" for Europe and Russia.
The conference was co-sponsored by the Berlin Social Science Center and the diaNEOsis Research and Policy Institute.