Although the speakers were U.S. Supreme Court justices who routinely rule on the nation's most serious issues, it was a jolly affair.
Six high-court judges, five current and one retired, gathered Thursday evening to talk about their former lives as law students, about the lessons they learned, the classes they favored, and the memories they cherished from the years before they sat on the highest court in the land.
Laid back and genial, the justices, all graduates of Harvard Law School (HLS), engaged in a roundtable conversation with fellow alumnus Dean John Manning '82, J.D. '85, before a packed house at Sanders Theatre to mark the beginning of the celebrations of the School's 200th anniversary.
Associate Justice Neil Gorsuch, J.D. '91, recalled that he was "scared to death" on his first day at HLS. Associate Justice Elena Kagan, J.D. '86, recounted how she felt terrible when a professor called on her during her first class, but soon recovered because she realized "there was nothing to dread anymore." Associate Justice Anthony M. Kennedy, LL.B. '61, recalled Henry M. Hart as one of his favorite professors. "His class was at 12 p.m.," said Kennedy. "We called it Darkness at Noon."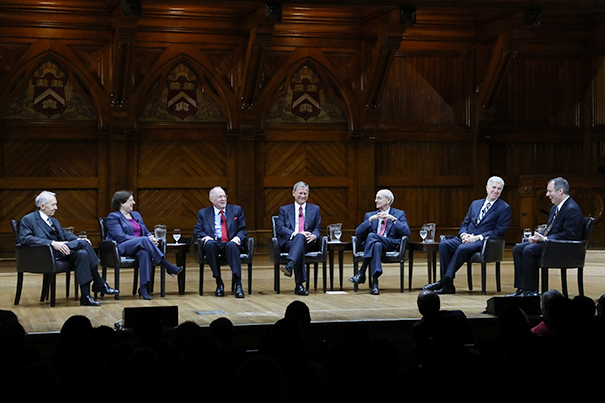 It was an unusual and remarkable gathering that highlighted the Law School's legacy of educating lawyers who go on to lead in many realms of public life. Of the nine justices on the Supreme Court, five attended HLS. Chief Justice John G. Roberts Jr. '76, J.D. '79, acknowledged that in his remarks. "Thank you for welcoming the Supreme Court of the United States," he said jokingly. "A minority of my colleagues send their regrets."
Roars of laughter frequently rang out as faculty, students, and alumni relished the chance to hear the justices share personal anecdotes in a relaxed atmosphere.
The event gave Roberts an opportunity to highlight the School's influence and its core values of free debate and intellectual humility, which he said inspire the debates before the Supreme Court.
"Debate and doubt, not doctrine, are what our School at its best teaches," he said. "I'm happy to report that these values characterize the work of the current Supreme Court. We go about our business with a full reservoir of mutual respect, and a uniform commitment to discussing the cases in conference in a spirit of collegiality and sufficient doubt about our own infallibility, to make those discussions pertinent to the decision process."
Harvard President Drew Faust attended the event and in her remarks addressed the history of the Law School, which began with "three rooms, two professors, and six students" in 1817. She explained its legacy of understanding the law as "a moral quest — to promote equality, expose corruption, advance fairness, preserve liberty, check the arrogance of power, and defend inalienable rights."
"We celebrate an institution, not only for its pre-eminence," Faust said, "but as a powerful force for change: the place where Louis Brandeis shaped a constitutional right to privacy; where Charles Hamilton Houston prepared to do battle against racial segregation; and where a whole host of people, beginning in the 1980s, helped to lay the groundwork for what is now a constitutional right to same-sex marriage."
When Manning asked the justices how their professional experiences helped them prepare for the Supreme Court, Associate Justice Stephen G. Breyer, LL.B. '64, answered, "Nothing prepares you for the Supreme Court." He recalled that Associate Justice Harry Blackmun called it an "unusual assignment."
Kennedy said representing clients unfamiliar with the justice system taught him lessons he brings to his work today. "It taught me that, behind all these cases, there is a real person," he said. "We have to remember that the law relates to people."
Kagan, a former professor and dean at HLS, said teaching honed her persuasive and explanatory skills, which she uses when she writes her opinions. Roberts said he learned the power of the rule of law when he worked in private practice.
The justices also opened up when Manning asked them what careers paths they would have followed if they hadn't gone into law.
Gorsuch said he envies "fly-fishing guides in the summer and ski instructors in the winter." Associate Justice (retired) David H. Souter, LL.B. '66, said he would have been a history professor, as did Kagan and Roberts. Kennedy said his other choice would have been to become a professor of English literature. Breyer recalled his career plan when he was 7 years old: "I wanted to be a baseball player in the summer and drive a garbage truck in the winter," he said with a mischievous smile.
To wrap up the conversation, Manning asked the justices for little-known facts about them in a "lightning round." A delighted audience learned that Breyer was an Eagle Scout at age 12. Roberts was a frequent diner at Baskin-Robbins in Harvard Square, where he'd go for marshmallow sundaes with chocolate ice cream.
Kennedy said he was caught by the dean of the Law School at a Red Sox game before a tax exam. He recalled that he went to the game with a classmate, but they brought the revenue code and a casebook to Fenway. "We sat down, and I heard this voice saying, 'You don't bring the revenue code to the baseball game,'" Kennedy said. "It was Erwin Griswold. I don't know if he thought it was a profanation of the code or the game. He'd see me 20 years later and say, 'Do you still bring the revenue code to the game?'"
The amused audience also learned that Kagan uses grammatical contractions in her dissents but not in her opinions; that Gorsuch's family raises horses, goats, and chickens; and that Souter and Breyer are often confused for each other in public.
Roberts told a story about a well-known mix-up. "Someone comes up to Justice Souter and mistakes him for Justice Breyer and asks, 'Justice Breyer, What's the best thing about being on the Supreme Court?'" said Roberts. "And David says, 'Serving with Justice Souter.'"
But what brought down the house was a story of how Souter took part in a mock sword duel during his second year at HLS and ended up at the University clinic.
"It was a way to pass the time," said Souter.