Worldwide Week at Harvard continued Wednesday with a conversation at Longfellow Hall on the future of cities. The panel, which included members of the design, planning, technology, and economic communities, took a broad approach, tackling a variety of issues facing urban leaders.
Diane Davis, Charles Dyer Norton Professor of Regional Development and Urbanism and chair of the Department of Urban Planning and Design at the Graduate School of Design, began by looking at the limitations of city planning. Climate change, for example, is affecting urban growth. However, "environmental problems know no boundaries" and require resources that few municipalities can provide without help, she said. The rapid-fire growth of technology — and the shift of cities from industrial to information centers — also must factor into planning, she said.
As the discussion began in earnest, panelists addressed more specific issues, drawing on their areas of expertise. Christian Irmisch, sales manager for commuter and regional trains for Siemens, talked about transportation. Irmisch, who holds a degree in electrical engineering from the Institute of Technology in Karlsruhe, Germany, acknowledged that while "trains are the most efficient use of mass transit in cities," building a railway is a long-term investment, and new technologies may offer more viable alternatives.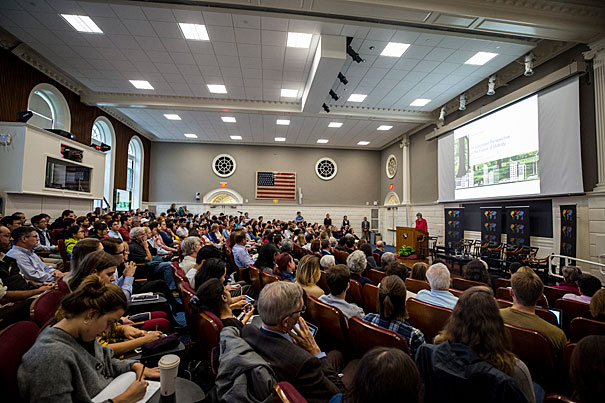 Recapping growth in the green-building movement, MIT Professor John Fernández, who chairs the school's Urban Metabolism Group, discussed city "metabolism," or "what cities consume in terms of energy, food, and water."
Presenting figures that cities "consume" from a bare minimum of three to five tons of resources per capita annually to 150 tons, he illustrated the challenges ahead. The numbers are especially troubling when compared with the two to three tons consumed in agricultural areas, he said.
"The goal of urban metabolism," concluded Fernández, "is to begin to define pathways to urban sustainability."
Africa offers a microcosm for urban development in the emerging world, said Efosa Ojomo, research fellow at the Clayton Christensen Institute for Disruptive Innovation. Instead of opportunity, newcomers to cities too often find higher rents and higher prices for everything from food to healthcare. This doesn't have to be, and Ojomo cited as an example a Nigerian noodle company that built its own infrastructure, including a power plant and distribution system, to support a big push into instant noodles. By doing so, the company created jobs, as well as serving the market. "Innovations don't have to be high tech," said Ojomo. "Innovations that solve problems that average people are having — that's sustainability."
Harriet Tregoning, formerly of the U.S. Department of Housing and Urban Development, addressed the role that government can play in supporting efforts like those Ojomo described. As a case study, she brought up HUD's National Disaster Resilience Competition, which offered $1 billion in disaster relief. The key, she explained, was not to solicit one answer — or any answers at all, at first. Instead, her office encouraged participants to find partners and to examine the distinct threats their municipalities might face, from climate change to overreliance on one employer.
"The 13 winning places brought 220 partnerships" for their solutions, she said. "They had totally different approaches with co-benefits," multiplying the reach of the prize money. "Doing it differently is hugely important," she said. "This works at every scale."
Stefan Knupfer, a senior partner and sustainability expert at the consulting firm McKinsey, brought the conversation back to mobility and transit. Directly addressing climate change, he welcomed the rise of self-driving cars, predicting that the new technology would make cities cleaner, safer, and less congested.
Efficiency, he said, will be key to these changes, which he expects will happen "significantly faster than people believe." Major hurdles, many in public perception, remain, Knupfer noted. As with many of the innovations panelists discussed, "cities will have to take the lead."