Wearing a bulletproof vest and surrounded by soldiers aboard a Black Hawk helicopter traversing a war-torn, mountainous region, Luis Garcia de Brigard was on his way to inspect a minefield planted in a schoolyard when he had a sudden realization.
"Oh, my God, I didn't study this in school," said Garcia, Colombia's deputy secretary of education. "The situation was extremely tense — and I'm a sky diver. But this was really scary."
A few minutes later, he remembered.
"I did take a course on education in emergency situations and armed conflicts," said Garcia, who earned his master's degree in education from the International Education Policy Program (IEP) at the Harvard Graduate School of Education (HGSE) in 2007.
Garcia is among more than 900 graduates of the program founded in 1999 by Fernando Reimers, Ford Foundation Professor of the Practice of International Education. In an intense year, students learn how to develop education policy recommendations and design educational programs, with the aim of expanding opportunities for students around the world.
Garcia's trajectory, and those of 62 graduates who responded to Reimers' request, are featured in his book "One Student at a Time: Leading the Global Education Movement." Recently, Garcia and six other students took part in a presentation about the book at Gutman Library.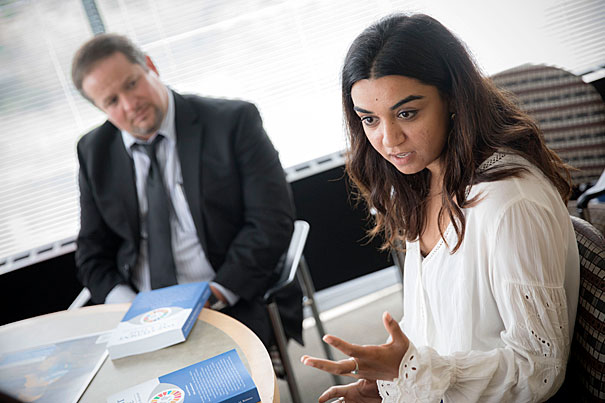 The book includes essays the graduates wrote about the challenges, the lessons, and the impact of their work. Some are working as educational consultants or running their own educational enterprises, some found jobs in ministries of education around the world, and others work in international development agencies such as UNICEF, USAID, and the World Bank.
Reimers knows personally the impact educational opportunity can make. While growing up in Caracas, Venezuela, he traveled for hours by bus each day to go to a good school. Seeing his students work to make sure children around the world have access to a good education is one of his greatest joys.
"I am humbled and in awe at seeing the good work these graduates of the program do, in many different roles, to advance educational opportunities to empower the most disadvantaged to become architects of their own lives and contributing members of their communities," said Reimers. "These graduates truly are leaders of the global education movement."
Take Sandra Licón, Ed.M. '03, a former elementary school teacher in South Central Los Angeles, who has worked for the past 11 years as a senior program officer at the Bill & Melinda Gates Foundation.
Licón's journey from a classroom to one of the world's largest philanthropic organizations was not what she envisioned after leaving Appian Way. She thought she would end up at the World Bank. But working at the Gates Foundation exceeded her expectations, and in a way allowed her to come full circle.
"I spent all of my teaching career in mostly marginalized communities in California," she said. "At the Gates Foundation, I have the privilege of working with the smartest folks in the field who are working on behalf of low-income brown and black kids across the country."
Over the last couple of years, Licón has been running a series of partnerships between educators at U.S. schools and their counterparts in Finland, Shanghai, Singapore, Brazil, and Australia, who learn from each other how to best reach disadvantaged children.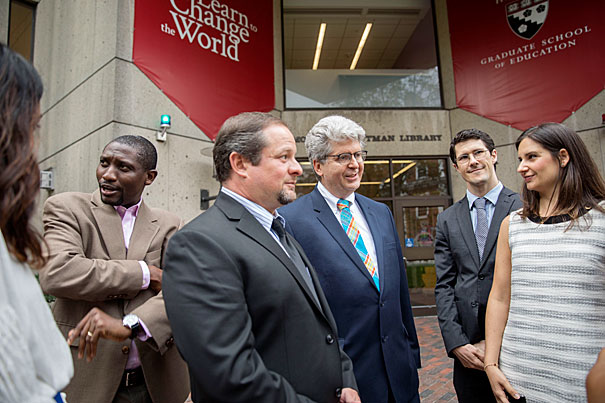 Recent graduates share the program's mission of expanding opportunities in education. Wilson Aiwuyor, Ed.M. '12, worked in the Office of Postsecondary Education at the U.S. Department of Education during the Obama administration and now works for an organization that supports efforts to strengthen school systems in developing countries.
"I wanted to go into international development, and contribute to eradicating poverty through education," said Aiwuyor. "I'm not there yet, but I'm on track."
Myra Khan, Ed.M. '15, works at the World Bank as a consultant on education in countries such as Guinea-Bissau, Kosovo, Serbia, Libya, and the Philippines, a job that she wanted but that has plenty of challenges. "The main thing I learned was to remember constantly that the reason we are all in this work is for children," she wrote in her essay. "Working at big, bureaucratic organizations will sometimes make you forget that."
Some graduates, such as Ana Gabriela Pessoa, Ed.M. '07, and Austin Volz, Ed.M. '13, ended up at private educational organizations. Pessoa works at the San Francisco offices of the publishing company Pearson, where she's in charge of products and innovation for emerging markets. And Volz works at Avenues: the World School, which has headquarters in New York City.
David Edwards, Ed.M. '01, credits the Ed School with helping him be part of a global education movement. After graduation, he worked as a specialist at the Organization of American States and traveled throughout Latin America, advising governments and ministries on educational policy. For the past five years he has been working in Brussels with an international teachers' organization on education policy, employment, and research.
Edwards said his time at the Ed School was transformative, not only because that's where he learned that education is a right that transforms lives and how to become an effective leader, but also because of the personal connections he made.
"My main lesson is that I didn't do it alone," Edwards said. "We studied together, we went to lectures, we argued, we fought, and we shared each other's papers. I met three people who became my closest friends. And I met my wife there."