It felt like a family reunion — with 600 relatives.
That many friends, former students, colleagues, and well-wishers gathered Monday in a joyful celebration of the life and career of Harvard Law Professor Charles Ogletree, advocate for Civil Rights, author of books on race and justice, and mentor to former President Barack Obama and first lady Michelle Obama.
Last year, Ogletree '78, the Jesse Climenko Professor of Law and founding and executive director of the Charles Hamilton Houston Institute for Race & Justice, revealed he had been diagnosed with Alzheimer's disease.
Accompanied by his family, Ogletree attended the symposium in his honor hosted by the Law School (HLS), where he has taught since 1984. He walked in to a standing ovation that lasted several minutes. Affectionately known as "Tree," Ogletree smiled, shook hands, and high-fived and hugged friends and colleagues, many of whom had traveled across the country for the ceremony.
And when John Manning, the Morgan and Helen Chu Dean and Professor of Law at HLS, announced that a group of Ogletree's friends had established an endowed professorship in his honor, the Charles J. Ogletree Jr. Chair in Race and Criminal Justice, the news brought down the house.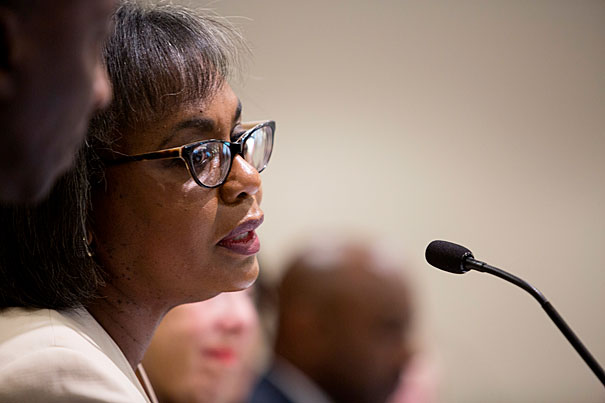 Addressing Ogletree in the audience, Manning told him, "There will never be another you, but we will search high and low to find an Ogletree Professor who shares your excellence and commitment and who will bring honor to that distinguished chair." The chair was made possible through the generosity of a group of Ogletree's close friends, said David Wilkins, Lester Kissel Professor of Law.
"When the history of Harvard Law School in the 20th century is written, Charles Ogletree's name will be among the first ones mentioned," said Wilkins. "Creating the Charles J. Ogletree Chair in Race and Criminal Justice will be a way to ensure that Tree's impact will always be remembered by future generations of HLS students."
Panelists discussed many facets of Ogletree's career, as a brilliant Law School student, an attorney committed to advancing Civil Rights and social justice (including an eight-year stint in the District of Columbia Public Defender Service), and as a dedicated teacher who taught students that law can be a tool for social and political change. The panelists told stories to "bring home the Tree-ness of Tree," as Randall Kennedy, Michael R. Klein Professor of Law, explained.
Ogletree first achieved celebrity as moderator of "Ethics in America," a television series in the late 1980s, but his name became well known around the country in 1991 when he represented Anita Hill during Clarence Thomas' confirmation hearings to the U.S. Supreme Court. For Hill, now University Professor of Social Policy, Law, and Women's Studies at Brandeis University, having Ogletree's thoughtful counsel was crucial.
"Charles had a difficult decision to make," said Hill of Ogletree's decision to represent her. "He was up for tenure. He had a lot on his plate, and being involved, on my behalf, in a sensational public hearing may have made some faculty uneasy. He really had his job and his career on the line, but Charles agreed. I know of no one who is more generous, more principled, more unpretentious, and more intelligent than Charles Ogletree."
To his colleagues, Ogletree was the role model of an attorney committed to Civil Rights, social justice, and equality for all. He represented the survivors of the 1921 Tulsa race riot as they sought reparations, advocated for victims of racial profiling, and spoke in favor of reparations for descendants of African slaves. At the Law School, he founded the Charles Hamilton Houston Institute to honor the 1922 HLS graduate who worked to dismantle Jim Crow laws, trained Civil Rights champions Thurgood Marshall and Oliver Hill, and spearheaded the legal strategy to end segregation in public schools.
Tomiko Brown-Nagin, Daniel P.S. Paul Professor of Constitutional Law, said, "Throughout his career, Ogletree has embodied law in the service of society, just the same as other great beacons of the American legal profession, men and women like Thurgood Marshall, Constance Baker Motley, and Charles Hamilton Houston."
At the Law School, Ogletree is considered an extraordinary teacher. He founded the Criminal Justice Institute, which trains student lawyers to represent indigent defendants in the Boston area, and he is legendary for the "Saturday School" program he founded to expose minority students to important legal issues. Ogletree said Barack Obama, J.D. '91, was a regular participant in the program.
Another frequent participant was Obama classmate Kenneth Mack '91, the Lawrence D. Biele Professor of Law. Mack said he learned about Houston in a Saturday School class. It was a time, he added, when few people knew about the lawyer whom Ogletree deemed one of the 20th century's greatest legal minds and Civil Rights lawyers.
"There is a fundamental connection between these two towering figures, Charles Hamilton Houston and Charles Ogletree," Mack said. "Houston brought speakers to Howard Law School to educate students, and Tree held the Saturday School program to educate us. I realized how committed Tree was to Houston's legacy."
Deval Patrick '78, J.D. '82, former governor of Massachusetts, spoke of Ogletree's example as an advocate for justice and equality who has lived up to his values.
"It's one thing to be an advocate for issues around social and economic justice, and that's enormously important," said Patrick. "It's a different level entirely to live those values, and that is what Charles has been about. I look at my colleagues on this panel, and every one of them has, at key points, not only in their lives but in the lives of our communities and our nation, stood up and stood for something. And each of them, each of us has derived some strength from the example of Charles Ogletree."
For Loretta Argrett '76, a retired lawyer who traveled from Washington, D.C., to celebrate with Ogletree, the event felt like a family reunion.
"These are people dear to each other," said Argrett, looking at the packed room. "We all have a connection to each other and to Ogletree. Each of us owes a debt of gratitude to Ogletree, who was a trailblazer in more than one way. We have an obligation to support his legacy."