U.S. Secretary of Education Betsy DeVos says she's more convinced than ever that giving parents money to shop around for schools that they believe will best serve their children, rather than funneling those funds through school districts, will go a long way toward improving the nation's public educational systems.
During a speech about school choice on Thursday at Harvard Kennedy School (HKS), DeVos, a longtime supporter of school choice, said that parents too often are limited to sending their children to local public schools that may be underperforming or unsuitable. Or, if they have desirable public schools in their communities, parents may have to enter lotteries to gain slots for their children, a system that she said can leave a child's future "to chance, not to choice."
"It's not right for some people to be able to choose, and you not to be able to. And yet, we spend more and more and more money funneling through a system that tries to tell you 'We're going to do better next year' and then it doesn't," she said.
Giving parents flexibility and options is critical, DeVos said. She compared the freedom to choose schools to selecting a restaurant or farmers' market when looking for something to eat, and likened charter schools — which she cast as positive, innovative forces of disruption — to food trucks.
"What tastes good to me may not taste good to you," she told a capacity crowd at a JFK Jr. Forum that included a number of protesters.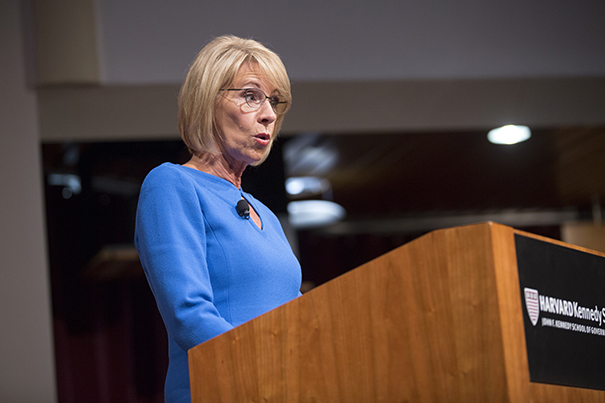 DeVos conceded that opponents have successfully defined school choice in the public mind as a "house of horrors" that uses vouchers to steer children into charter, private, parochial, or for-profit schools that offer little accountability and nonexistent standards.
"Nothing could be further from the truth," she said. "If we can put a man on the moon, surely we can put families in charge of their own destinies."
DeVos blamed failing schools on teachers' unions.
"Their focus is on school buildings instead of schoolkids," she said. "Funding and focus should follow the student, not the other way around."
Shortly after DeVos began her 22-minute address, several audience members rose from their seats. Some raised fists, while others silently unfurled handmade signs that read: "White Supremacist," "Our students are not 4 sale!" and "Reclaiming my democracy." As DeVos continued speaking without acknowledging the protesters, dozens more stood and raised signs or draped banners from the balcony, some of which read "Protect survivors' rights" and "Educational justice is racial justice."
Later, in conversation with moderator Paul E. Peterson, the Henry Lee Shattuck Professor of Government and director of the Program on Education Policy and Governance at HKS, DeVos touted a tax credit program in Florida that she said shows promise in getting more disadvantaged students into college. It may be a worthy model for a federal program, she said, but only if doesn't add to the federal bureaucracy.
DeVos said the Department of Education is in the middle of "a very big review" to look for ways "to streamline and make [the agency] more effective and efficient," and has launched an effort to review "all the regulations," some of which she finds burdensome. "We're committed to divesting as many of those as we can," she said.
From the earliest days of the current administration, President Trump's selection of DeVos — a billionaire charter school activist from Michigan with no professional experience in education — has been polarizing with some audiences, raising objections from many parents, teachers, school administrators, education policy analysts, and critics on the left.
In February, DeVos survived a bruising Senate confirmation hearing that sharply split Republicans and Democrats, forcing Vice President Mike Pence to cast a tie-breaking vote to approve her, a first in presidential cabinet appointments.
Hours before the forum began, protesters began gathering outside on JFK Street. Inside, Archon Fung, the academic dean at HKS, acknowledged the charged atmosphere but framed DeVos' appearance as a part of the School's longstanding commitment to "understanding differences and building bridges." He asked the predominantly student audience to be respectful, and warned that protesters who disrupted the event would be ejected.
"Our practice of dialogue and debate is critical. When you prevent others from speaking or hearing disagreeable views, or when you yourself refuse to be challenged by those who disagree, it means that you are sure that you're right and so sure that they are wrong that you have nothing to learn from them," said Fung.
Citing Michigan's problematic track record with charter school performance amid the large number of for-profit institutions operating there, one Harvard College student from DeVos' hometown, Grand Rapids, asked her during the question period to explain her desire to nationalize school choice.
Struggling to be heard over the crowd, DeVos defended Michigan's approach.
"Everybody who has had means and wants to move elsewhere has moved out of the city of Detroit. And the students that are there, 49 percent of them have chosen to go to charter schools. Nobody's forcing them to go to charter schools," DeVos said. "Is there room for improvement? Absolutely."
An HKS student and former teacher asked DeVos how her department thinks about student safety when issuing rules and regulations. The student noted recent departmental decisions reversing Obama administration policies about transgender student bathrooms and Title IX sexual assault guidelines. The student suggested the shifts have made it harder for teachers to keep students feeling safe in school.
DeVos said making students feel unsafe "is the last thing we want," and said the Title IX rulemaking review process now underway will proceed "in the right way."
"One sexual assault is one too many. By the same token, one student that is denied due process is one too many, so we need to ensure that policy and that framework is fair to all students — and we're committed to doing that," she said.