When Shasta Bula signed up for a summer course on Frida Kahlo, the Mexican painter born in 1907 who became a cult icon in the late 1990s, she had one clear goal.
"I wanted to go beyond Frida's unibrow," Bula said, referring to the distinctive feature Kahlo boldly exaggerated in her famous self-portraits.
And go beyond she did.
"Before the course, I didn't know about Frida's art," said Bula, who is preparing to apply for a master's degree program in anthropology and archeology at the Harvard Extension School. "I just knew she had a unibrow, but I didn't know how complex her work was, and how it reflected the politics of the time."
Bula learned all of that in "Frida Kahlo's Mexico: Women, Arts, and Revolution," a course taught by María Luisa Parra-Velasco, senior preceptor in Romance languages and literatures.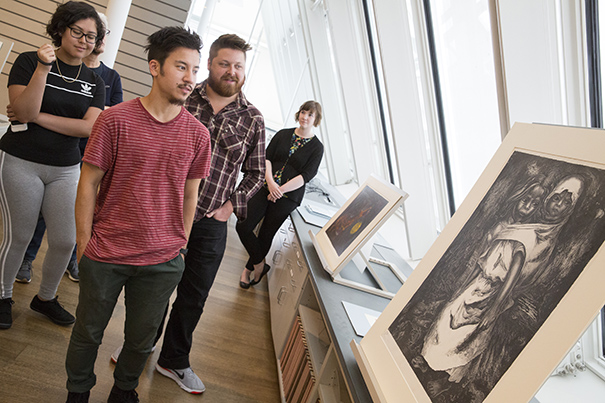 Offered through the Harvard Summer School, the class immersed students in the history of the Mexican Revolution, a bloody, decade-long uprising that sought social and land reforms, and highlighted Kahlo's role in the Mexican modernist movement that thrived in the 1920s and '30s in the aftermath of the fighting.
Students got a chance to understand the context in which Kahlo developed her art and to better appreciate the talent behind the icon, said Parra, who will teach the course this fall through the Extension School.
Kahlo is one of the most recognized Mexican artists of the 20th century. Her image is sold in all sorts of paraphernalia, from earrings to socks to refrigerator magnets. A few months ago, her pop stature grew even more with the release of a Frida emoji.
"Everybody knows about Frida, but they don't really know what influenced her and what moved her," Parra said. "I wanted to use Frida as an excuse to teach about post-revolutionary Mexico because it's a foundational era where the seeds of the nation were sown. Mexico is much more than Frida."
At the time of her death at age 47 in 1954, Kahlo's output of nearly 150 works of art, including 55 self-portraits, had earned her little recognition outside Mexico. Her international celebrity exploded decades later, powered by a best-selling biography in 1983 and a 2002 movie, based on the book, with Salma Hayek in the lead role.
Throughout the summer course, students analyzed Kahlo's work, which has been described as surrealist, and discussed why she's hailed as a feminist icon and how the commercialization of her image has overshadowed her Communist sympathies. Kahlo herself said that she was not a surrealist, and that she never painted dreams, but her "own reality."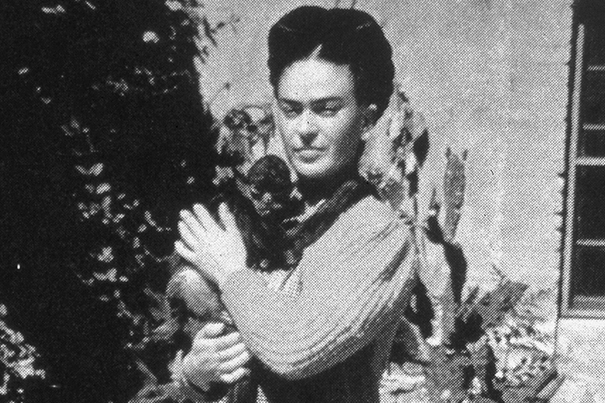 For the final project, "Frida's Mexico and Me," students tapped their own creativity, pairing personal narratives with drawings, paintings, poems, or Photoshop collages. Students drew inspiration from Kahlo paintings such as "The Broken Column," "A Few Small Nips," and "My Dress Hangs There."
"This allowed students to make powerful connections between Frida's and their own personal journeys," said Parra. "They had to represent themes such as duality, life and death, nature, motherhood, suffering, mestizo identity, and a yearning for belonging, all meaningful to their own life stories."
A budding painter, Viondette Lopez, who traveled from Alexandria, Va., to take the course, said her main takeaway was understanding how Kahlo's art defies labels.
"Her art is very personal, and it has made enormous contributions to the social, political narrative of Mexico," said Lopez during a visit to the Harvard Art Museums, where students gathered in a private room to see 10 paintings by Kahlo contemporaries, including her husband, Diego Rivera; David Alfaro Siqueiros; and José Clemente Orozco.
For most students, the course helped them gain a better understanding of Mexican history and a renewed respect for Kahlo's artistry and courage in depicting her most inner emotions. And there were some who also felt inspired.
Such was the case for Robin Shatz, a painter from Los Angeles who signed up for the course to understand the roots of Kahlo's notoriety and to solve her ambivalence about the art.
"In the beginning, I didn't like Kahlo's paintings that much," said Shatz. "But the more I studied her work, the more I realized that she had a very personal voice. Her paintings evoke emotions and move people. And if you can move the world, brava!"