For three consecutive summers, nearly 100 local high school students received the opportunity to live and learn on Harvard's campus through a program designed to engage them in advanced academic study.
Known as Crimson Scholars, the students are immersed in Harvard culture each summer through the Crimson Summer Academy (CSA).
Established in 2004, CSA is a rigorous academic program that annually provides enrichment opportunities to 30 low-income, high-achieving students from approximately 40 schools in Boston, Cambridge, and most recently, Somerville. Since its inception, more than 85 percent of CSA graduates have gone on to attend four-year colleges.
"We are delighted to share our dedication to learning with so many talented and highly motivated, local students," said Harvard President Drew Faust. "Attending college is more important than ever, and we hope that throughout their time at CSA, the scholars realize the many possibilities available to them to further their education. We are proud of their accomplishments here at Harvard, and we are confident that they will continue to succeed."
The rising sophomores, juniors, and seniors live on campus Sunday night through Friday. For the first two summers, they study a rigorous curriculum, which includes courses in writing and speaking, quantitative reasoning, and science and technology. During their third summer, they attend Harvard Summer School and take for-credit classes based on their interests.
In addition to academics, the students receive courses in college and career planning, study skills, career exploration, and financial literacy. All scholars receive a weekly stipend to help offset the costs of not being able work a summer job. They can also take advantage of academic tutoring and guidance from their Harvard mentors throughout the school year.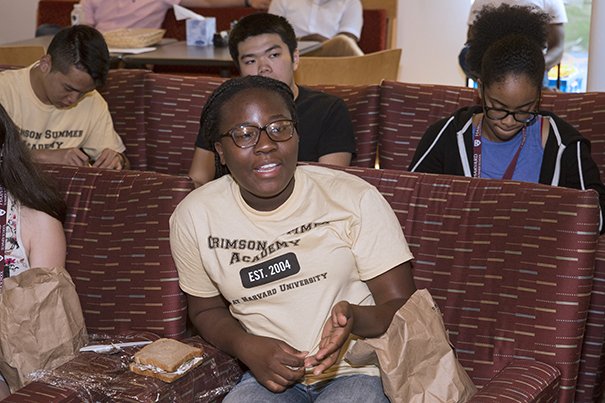 At the completion of the program, they're awarded a $3,000 scholarship to use at the college or university of their choice, fully funded by the President's Office.
"CSA offers an outstanding educational opportunity to students who show high academic potential but have not had access to all of the resources necessary for full academic success," said Maxine Rodburg, CSA's director. "Our mission is to help these deserving and accomplished Crimson Scholars achieve admission to the country's top colleges and universities, including Harvard."
After graduation from college, many of the students have pursued graduate degrees in business, education, law, medicine, public health, social work and other fields, she said.
"They start exciting careers in these fields and in architecture, banking and finance, engineering, IT, media and social services," said Rodburg. "We're very proud of all of them. They inspire us every day."
CSA has nearly 300 graduates on tap to give current scholars a strong network of knowledge, expertise, and advice at their fingertips. A few years ago, Rodburg and the CSA's associate director, Jamie Horr Shushan, began inviting CSA alumni back to campus to talk to Crimson Scholars about their personal career trajectories and their own time at CSA. Once a week, the alumni share their experiences, give advice, and answer questions.
"I think it's incredibly helpful for them to see other students, many of whom may have similar challenges or life experiences, but who with a little grit, determination and hard work, have gone on to succeed," said Shushan. "Our goal was to help students expand their horizons about what was possible for them. I think so many of our students have preconceived notions about what they should do, and what should happen. Our intent was to show them that there are many, many options and many, many paths."
The returning alumni are not too far removed from being CSA students themselves, and some agree that it gives them a unique opportunity to connect with the current scholars, and hopefully have their advice and personal stories resonate.
"I hope that they can see themselves in me because I was in their shoes not so long ago," said Jide Olanrewaju, CSA '07, who graduated from Hampshire College in 2011. "I think that when you have that mental picture in your mind — if he can do it, I can do it too — you have benchmarks, and success becomes more attainable."
The alumni often share messages about staying in the present, forming connections with teachers and mentors, and surrounding themselves with people who are going to hold them accountable. Others urge students to remember that everything and every experience is a learning opportunity, and to not stress too much about the process.
But most say to enjoy every moment, because being part of the CSA family is an extraordinary opportunity that they can take with them for the rest of their lives.
Related
Current scholars agree that alumni discussions are often a key part of their own CSA experience. Duy Tran, of Dorchester, a rising junior at Boston Latin Academy, said hearing the alumni talks shows him there is so much more after attending CSA.
"It's all part of a bigger journey," he said. "There's so much to look forward to in the future, and that's really exciting."
Junelle Matthias, a rising junior at Codman Academy in Dorchester, said she likes how many of the alumni talk about how sure they were about their futures before attending CSA, but discovered new passions once they got there.
"It was a very powerful message for me to know that I have so many options — many of which I might not even be considering right now," she said.
A group of scholars recently met with Massachusetts State Rep. Chynah Tyler, a 2007 CSA graduate, who welcomed them to the State House to share their concerns about their neighborhoods and to learn about her efforts to improve those communities.
With a serviceable resource of CSA graduates, Rodburg and Shushan developed the Career Exploration Fieldwork curriculum, offering rising juniors an opportunity to utilize the network to explore various career options locally. Students went to Google, Harvard Medical School, the Harvard T.H. Chan School of Public Health, Sasaki Associates, Uber, and Vertex.
Growing up, people always told Dana Mendes, CSA '09, a member of Lehigh University's 2013 graduating class, that he could do anything he wanted. But it was experiencing CSA the first time, he said, that he thought that might actually be true.
"I mean there I was, sitting at Harvard. I was a high school kid and these people were really invested in me. I remember thinking, maybe I really can do anything and take whatever path I choose," he said. "This was by far the biggest factor in me beginning to actually believe in myself and having enough strength to overcome some of the things I needed to overcome. Sometimes that's all you need — someone to believe in you and tell you that you can do it."