WASHINGTON, D.C. — Perhaps no city in the United States is as universally disliked as the nation's capital. In recent years, Washington's longstanding political tradition of back-and-forth negotiating has given way to winner-take-all partisanship, with volatile headlines regularly topping legislative achievement.
Still, in a tableau that won't make front-page news, if you walk across Capitol Hill when Congress is in session it soon becomes clear that the day-to-business of government is getting done, and usually smoothly. At the workaday level, smart, passionate people — who don't go on camera or run for office — still try to make Americans' lives better while keeping the institutional machinery humming. Toiling among them, at every level and from each political party, are Harvard-trained officials.
The Gazette visited the Hill recently to interview some of them about their lives and experiences, about what shaped their career choices, and about why they believe that young people shouldn't let partisan gridlock discourage them from entering public service. Following are some candid snapshots of the analysts, aides, advisers, and staffers who help ensure that members of Congress truly represent and respond to their constituents, a trait that is a lodestone of democracy.
The chief of staff and campaign manager
Local politics always fascinated Steve Abbott. After graduating from Harvard College in 1985, he went home to Maine to join U.S. Rep. John McKernan's campaign just as the Republican embarked on a successful run for governor. For Abbott, it was the first professional victory in an impressive hot streak helping to elect some of Maine's most notable political figures of the last 30 years.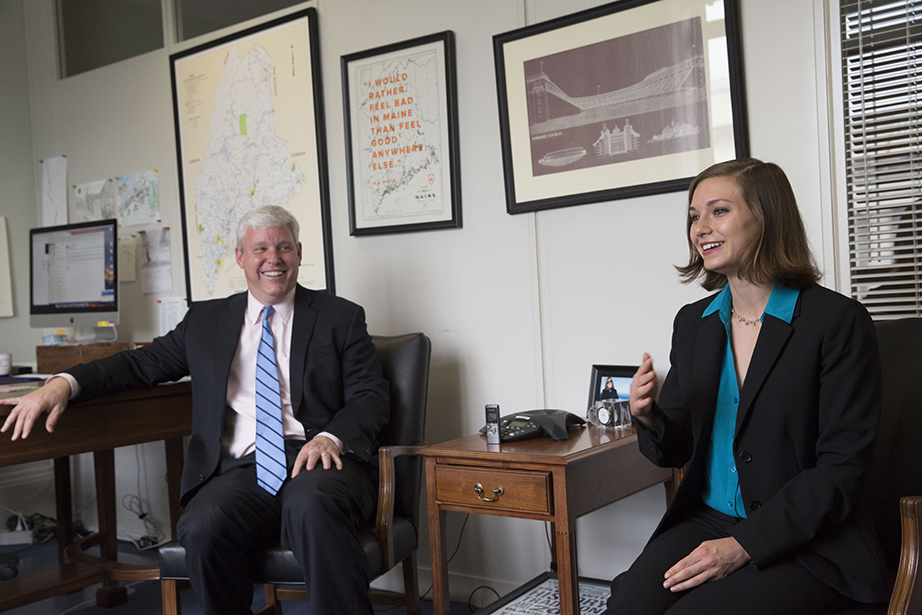 "I had the good fortune to work for two great people right when I got out of school, working for Gov. McKernan and … then later, Sen. [Olympia] Snowe. They were wonderful people, and they really represented a brand of Republicanism that I could identify with" — fiscal conservatives from relatively modest means who were somewhat progressive on social issues. It's an old-school political style long practiced in the Northeast.
Since 1997, Abbott has been chief of staff for U.S. Sen. Susan Collins of Maine. Working from a corner-office suite in the Dirksen Senate Office Building, Abbott is part air-traffic controller and part counselor, overseeing the nearly 60 staffers tasked with staying on top of the many issues Collins wants — and needs — to know about, as well as advising the senator and running her re-election campaigns.
A moderate known for bipartisanship, Collins is often at the center of contentious legislative votes, as with her opposition to repealing the Affordable Care Act. While that tendency toward bipartisanship means the senator enjoys significant influence on national issues, it also can make Abbott's job tougher.
"Republicans want you to vote with the Republicans all the time, and the people who have concerns about the administration want you to tell them it's going to be OK and to oppose every nominee, oppose every issue," he said. "Because you're a swing vote, you're going to let half of them down. That's just the way it goes. That part of it's very difficult."
Abbott credits Harvard with giving him the skills that helped him navigate rough-and-tumble politics while also staying grounded.
"The great Bernard Bailyn, my favorite history professor in College, would talk about the ideological origins of the country that made it unlike any other that the world has ever seen," said Abbott. "That is still very inspirational to me after nearly 20 years of working here and inspires me all the time. But it also reminds you that what you're doing is important. Even [with] … the tomfoolery of politics and the shouting and all the crazy stuff that you see, it's still important, the work that goes on here."
The legislative correspondent
Mikhaila Fogel '16 envisioned herself in government while she was still in high school. From 2009 to 2010, she worked as a page for Snowe, a prestigious post for a young person, running messages and doing other small but essential tasks on the Senate floor. It was there that she got a front-row seat to history during the lengthy deliberations over the Affordable Care Act.
"If you view yourself as a problem-solver and not as an ideological person, you belong in politics. That's something that I've learned working here."
— Mikhaila Fogel
Now, she's a legislative correspondent to Collins, with a portfolio that includes foreign affairs, global health, intelligence policy, defense, and homeland security. She writes and researches key issues and communicates with constituents eager to make sure the senator understands and responds to their concerns. It's a hefty responsibility for someone fresh out of college.
"I'd say it's both inspiring and disturbing that someone in their early 20s can have that much influence on policy," Fogel joked.
As a history and literature concentrator with a minor in government and Arabic, Fogel used to think people in politics were ideologues. But since working in Collins' office, she has found that's not the rule.
"You meet people who look at a problem and say, 'What's the information? How do we make this better?' I think that there are a lot of people at Harvard who look at problems like that, where they see things and their first question isn't, 'What do I believe?,' It's 'OK, how can I change this? How can I make this better?'" she said. "If you view yourself as a problem-solver and not as an ideological person, you belong in politics. That's something that I've learned working here."
Collins' office regularly brings on undergraduate interns for short stints, and then each fall offers yearlong fellowships, from whose members it hires permanent staff. Spending time on the Hill is a valuable learning experience regardless of whether the stints end with careers in politics or government, says Fogel's supervisor, Abbott.
"All roads lead to Capitol Hill," he said. "This is a great place for people to start their careers. If you're going to work in government, you learn how it functions at a level that you do not learn anyplace else. … Those are skills that are very transferable anyplace in the government. But also it's knowledge that will help you as a citizen throughout your life, [that can] be impactful in any line of work that you go into."
"It's hard right now. It's so toxic. Politics are contentious, and people are so angry. Hopefully, as that anger fades a little bit, people will still stay engaged and start focusing on these issues. We need them. We really do."
— Steve Abbott
While it's understandable that many people feel apathetic or cynical about government in these turbulent times, constructive civic engagement is a vital part of sustaining a democracy and everyone can play a role, he said, whether it's on a school board or working for a member of Congress.
"We really need people to make that effort to engage. It's hard right now. It's so toxic. Politics are contentious, and people are so angry. Hopefully, as that anger fades a little bit, people will still stay engaged and start focusing on these issues. We need them. We really do," said Abbott.
The education policy adviser
A few years ago, Joshua Delaney was teaching algebra and special education to high school students in DeKalb County, Ga., a diverse area just outside Atlanta with an especially large Latino immigrant population. Many of his students and their family members were undocumented.
When the Obama administration first considered and then authorized Deferred Action for Childhood Arrivals (DACA), an immigration policy that gave children of undocumented parents a temporary reprieve from federal deportation, the impact for Delaney was tangible. The shift wasn't some policy abstraction up for debate on the web or on the newspaper opinion pages. It was real life.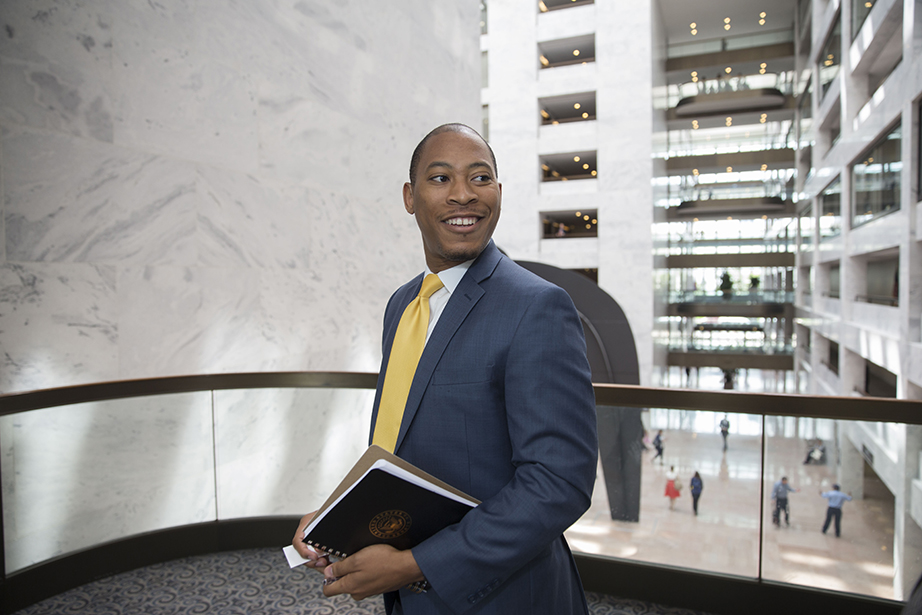 "While I was in the classroom, while I was teaching algebra, I could not help but notice the amount of policy that was impacting the lives of my students — education policy, but also immigration policy and social policy," he said while sitting in a busy cafeteria near the Hart Senate Office Building.
"I became more and more hungry to learn about that and to learn, 'OK, how can I take this firsthand experience I have with my students and activate that in a policy direction and become involved in the policy-making apparatus?'" Delaney said. At the time, he didn't quite know what that meant, just that policy was being made somewhere over his head and he wanted to learn how to influence what was happening on the ground.
So he decided to go back to school, earning a master's in education policy at Harvard's Graduate School of Education. After graduating in 2014, he received a fellowship for former teachers and headed to Washington for his "dream job," working for U.S. Sen. Elizabeth Warren, a Massachusetts Democrat. Now, as Warren's senior education policy adviser, Delaney handles issues that affect students from early childhood education through graduate and adult education.
"I really feel like I am living my vocation," Delaney said, describing it as "the unique intersection of what you're good at, what you're passionate about, and what the world needs."
Given how intertwined education is with other pivotal aspects of life — economics, nutrition, health and well-being, family dynamics — coupled with the spotlight shining on Warren because of her national profile, Delaney's job requires that he stay well-informed on issues.
"It's a lot. One day you're working on practices and policies regarding fair collection of student debt, and then the next day I'm working on preschool workforce issues."
Some of the most pressing matters about which constituents contact the senator these days, Delaney said, concern college affordability and student loan debt, anxiety over new policies in the Education Department, and worry over for-profit schools that may not deliver on their educational promises.
"I really feel like I am living my vocation … the unique intersection of what you're good at, what you're passionate about, and what the world needs."
— Joshua Delaney
Despite the public perception that Hill staffers these days carry political animus into every conference room and hearing, Delaney says that's not so. Though their priorities and approaches are different, he works closely with his Republican counterparts in brokering promising ideas, irrespective of which party controls Congress or the White House.
With the stakes running high, Delaney says he is right where he wants and needs to be.
"I love working in public service. For people who care a lot about one thing — like me, I care a lot about education — it feels like now is the best time, from my perspective, to be somewhere where you are either working for someone who aligns with your viewpoints or are a part of an organization that's fighting for something you believe in."
The deputy chief and general counsel
For Edward Tate, the deputy chief of staff and general counsel for U.S. Sen. Johnny Isakson, a Republican from Georgia, a stint as a campaign volunteer while he was a Harvard College student unexpectedly turned into a career.
"I had worked for him in Georgia, where I'm from, and [on] his Senate campaign in '96 after my freshman year, so I got to know him well. It was a small campaign staff and ultimately [an] unsuccessful campaign. But I kept up with him through the years."
Following former U.S. House Speaker Newt Gingrich's resignation in 1999, Isakson ran again and won Gingrich's House seat. "I don't think I was necessarily going to go straight to Washington after graduating, except this opportunity opened up," Tate said. "I think I graduated on a Thursday and started on a Monday in Washington."
Back then, Tate said, working on Capitol Hill was not so alluring.
"I graduated in '99, and '99 at Harvard was, in my mind at least, when so many of my classmates were going to New York because the economy was booming, and that was a big draw. Or they were going to California. That was the dot-com ascendance," he said.
"As a Republican and working for a Republican, the playing field is easier to move things along, given that everybody's in the same party. But it's not a foregone conclusion."
— Edward Tate
Isakson ran for and won a Senate seat in 2004. Tate is now in a dual role, typically co-managing the nearly 45-person organization with Isakson's chief of staff, working with policy staffers on daily and long-term issues, and advising Isakson, who chairs the Senate Ethics Committee, on legal matters.
Although Republicans now control both branches of Congress and the White House, politics and negotiations still rule how things get done, he said.
"As a Republican and working for a Republican, the playing field is easier to move things along, given that everybody's in the same party. But it's not a foregone conclusion. You've seen with the [cabinet] nomination fights. There have been some close nominations," said Tate. "You always have to be aware of the politics of it: which party's in power, which party you're in, which party the president is in. You always have to be aware of the path forward to get something accomplished."
While it's a rarefied perch from which to watch government at work, Tate counts his longtime personal connection to Isakson as the most rewarding part of his job.
"I just have a great relationship with him. He's just a very good person who's in politics for all the right reasons. Learning from him, not only substantively how he does his job, but also how he treats people and just experiencing that … is one of the big takeaways I've gotten."
The press secretary
Like many students who study and work at the Harvard Kennedy School's Institute of Politics (IOP), government and politics were high on the career agenda for Madeleine Gearan '15. "Pretty early on, I knew that getting involved in public service after I graduated was something I wanted to do," she said. But exactly how that would take shape was unclear at the start.
Though she was active in the Harvard College Democrats and the Phillips Brooks House Association and taught civics to public school students in South Boston for a few semesters, it was only after joining the IOP that her interests started to click. There, Gearan worked as a press liaison promoting forum events and was chosen to work with Valerie Biden Owens, the longtime campaign manager to her brother, former Vice President Joe Biden, during Owens' IOP fellowship in 2014. Owens took Gearan under her wing and has been a mentor ever since. Gearan had a White House internship in the vice president's office.
"I'm really grateful to the IOP. All of those experiences I had at Harvard really served me well," she said.
"The number of people calling in and attending town halls is really kind of remarkable. … And I don't think that's unique to our office."
— Madeleine Gearan
Without a job lined up after graduation, Gearan credits Amy Howell, who ran the IOP's career and internship program and is now its executive director, with helping her land a coveted spot in the office of U.S. Rep. Nancy Pelosi, the House minority leader.
In January 2016, Gearan became press secretary for U.S. Rep. Seth Moulton, Democrat of Massachusetts. A former U.S. Marine and an Iraq War veteran, Moulton '01, M.B.A.-M.P.P. '11, is widely viewed as a young Democratic star on the rise.
"Every day's a little bit different, which is what I like about communications. It's the push and pull between reactive and proactive messaging," Gearan said.
Gearan manages Moulton's congressional website, works closely with his communications director in the Massachusetts district office, and handles requests and logistics for his media appearances. She is returning to Boston soon to attend law school at Boston College.
With Democrats now playing defense in a Republican Congress, and a GOP White House determined to make sweeping changes to Washington quickly, Gearan said her job feels busier than usual "because there's so much to respond to."
The hectic pace of a fresh administration also brings a renewed sense of urgency for staffers and constituents.
"I guess the silver lining of it all is the activism. That part feels different, I would say. The number of people calling in and attending town halls is really kind of remarkable," said Gearan. "The engagement of people writing in, emailing, coming to town halls. And I don't think that's unique to our office. I think that's what many, many members would say. So that part's really exciting."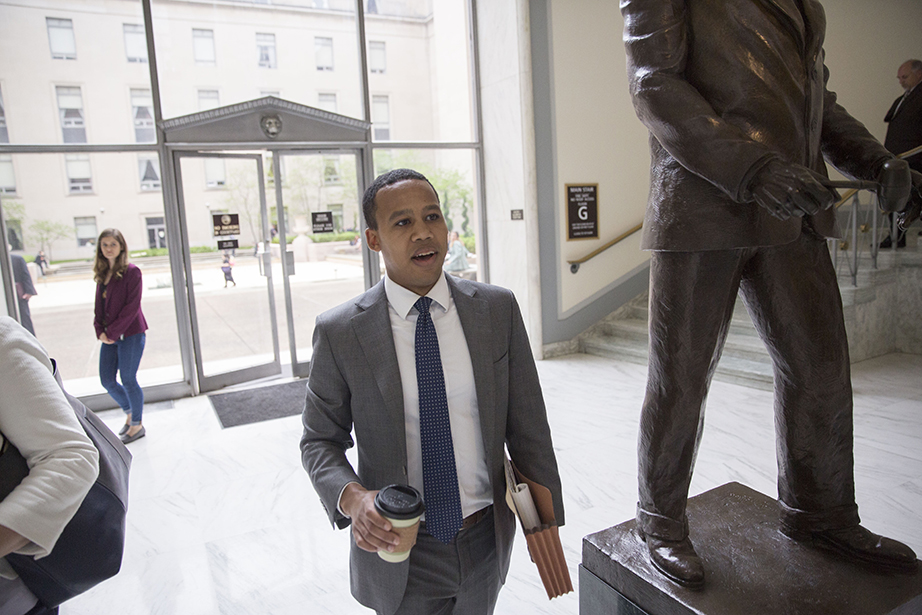 The House committee staffer
Since there is little public transportation in his native Houston, Andrew Okuyiga '10, was impressed by the accessibility that the MBTA system provided when he was a Harvard College student. He's even a fan, one of the few, of the D.C. Metro system.
As a staffer for the House Transportation Infrastructure Committee, Okuyiga advises the panel's Democratic members on environmental issues involving highway and transit construction, truck and bus safety, autonomous vehicles, and transportation research. He also helps draft and negotiate related legislation.
"It's our job to help advise them and say: Is there a common-sense way to fix this? If they want to introduce legislation, what's the best way to do that? How should we structure that? Is this a scenario where legislation wouldn't be helpful, and rather we should write a letter to the secretary? Or is it a state issue and we should really be working with our state?" he said. "Those are things that we want to do."
Committee staffers are often unsung achievers, toiling behind the scenes, bringing technical expertise to the delicate art of writing legislation. That means Okuyiga must stay current on the latest transportation developments. He must meet with stakeholders who range from local and state government officials eager to express their needs to members of Congress, industry safety groups, trade organizations, and unions. He has to keep tabs on other members of Congress who have ideas about how to tackle complex issues that can take years to work through.
"I think the best part about working here is being able to see your work translated into legislation that ultimately helps people."
— Andrew Okuyiga
Because the need to improve the nation's infrastructure is one of the few issues on which Democrats and Republicans agree, Okuyiga said the committee is usually focused on finding and spending funds rather than engaging in the kind of bare-knuckled political infighting that other panels might.
"I think the best part about working here is being able to see your work translated into legislation that ultimately helps people … I think it's important not to get … too discouraged by seeing values that you don't hold reflected in political discourse or reflected in Washington, D.C., as a whole."
Okuyiga credits an informal network of Harvard graduates he has met as an important resource that helped him find a place to live early on, learn about career opportunities, meet new people, and guide him and other newcomers through the thicket of unspoken rules and hidden potholes on the Hill.
The inner workings of Capitol politics often appear murky to people trying to learn "How do I move forward? How does this work? How do I get my foot in the door? Is this a good way to go? Should I be doing this? Should I be doing a committee? What should I be doing? That there's an informal network that you can reach out to" is extremely valuable, he said.
Though originally inspired to work in Washington by the election of President Barack Obama in 2008, Okuyiga, a self-described progressive, said he encourages young people to give politics a chance, even in these conflicting times.
"I think for people who disagree with the current administration on a variety of issues, it's more important than ever for them to get involved and come to D.C. and make sure that there are people representing their views within government and within Washington, and not to pull away," he said.