Instead of writing a final paper, what if students crafted an art project, complete with artist's statement, to demonstrate how plants have evolved? Instead of using class time for lectures, what if professors recorded videos for students to watch on their own, to save class time for deeper discussion? Instead of explaining the elements of a musical piece, what if students re-created each component to better understand harmony and composition?
These and other innovative approaches to teaching and learning were on display at the Derek Bok Center for Teaching and Learning's first showcase on May 12. Held on the third floor of the Science Center, the exhibition displayed approaches and techniques to improve teaching, including more than a dozen projects developed through the center's new learning lab. Through a series of interactive stations, undergraduates, graduate students, postdoctoral fellows, faculty, and staff explained how they are making Harvard an innovative place to learn.
Now in its second year, the learning lab, supported by a gift of Hartley R. Rogers '81, M.B.A. '85, and Amy C. Falls, M.P.P. '89, makes possible new collaborations and projects, from data visualization to dance. The lab's suite of rooms is outfitted with high-end digital tools — professional lighting, video cameras, and powerful computers and software — providing resources for professors to reimagine how they teach and vibrant spaces for students to convene and work on projects.
The Bok Center is an intergenerational and interdisciplinary community. "Faculty are hungry," said Robert Lue, the Richard L. Menschel Faculty Director of the center, "for opportunities to experiment, prototype, and test new ideas in teaching that have the potential to transform the effectiveness of their courses. The learning lab provides a supported environment that not only fosters the creation of these new materials and approaches, but also involves students in their continued development and testing."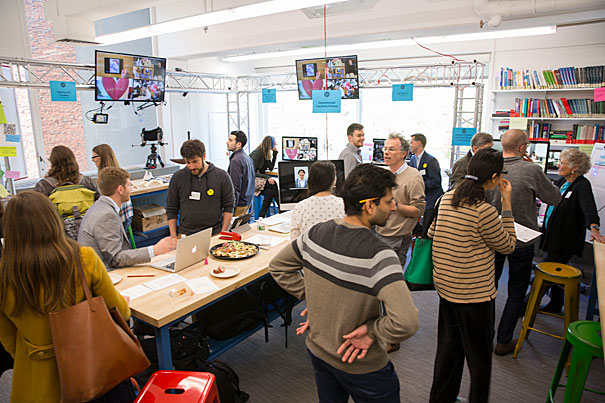 Undergraduate fellows who work in the lab serve as shrewd testers of new ideas, offering feedback to faculty. "This co-creative effort brings faculty and students together around learning in ways that further enrich the traditional paradigms of teacher and student," said Lue. The lab also hosts workshops to train graduate students in media, literacy, and visualization skills, all important aspects of effective teaching. Faculty and teaching fellows can come to the center for help with their challenges, and the learning teams provide a framework for creative solutions.
"Faculty at every level benefit tremendously from the unique resources of the Bok Center," said Edgerley Family Dean of the Faculty of Arts and Sciences Michael D. Smith. "The learning lab empowers our faculty to pursue forward thinking and creative approaches to teaching and learning, to great effect across campus."