There are very few reasons that the average college student, other than an athlete or ROTC recruit, would voluntarily wake up and leave the comfort of a cozy bedroom at the ungodly hour of 5:30 a.m.
Each year on the first of May, however, students from Lowell House are up and out. Just as the sun is rising, they coalesce at the John Weeks Footbridge on the Charles River for festivities led by their faculty dean, currently in the person of Diana Eck, professor of comparative religion and Indian studies and Fredric Wertham Professor of Law and Psychiatry in Society.
Donning their finest formalwear, Lowellians welcome the new month with waltzing, toasts of champagne and sparkling cider, and fresh strawberries.
The first of May is a day of festivity worldwide for many reasons. In modern times, promoted by the international labor movement, the day has been designated International Workers' Day and observed by members of the working class around the world. More relevant to Lowell's activities, however, the day has long been marked by celebrations of spring. On May 1, which is sometimes known as Beltane, pagans traditionally celebrate "the abundant flowers and generative energy of springtime" and "honor the energy and the fruitfulness of union," as Eck explained in an email to the House community ahead of this year's ritual.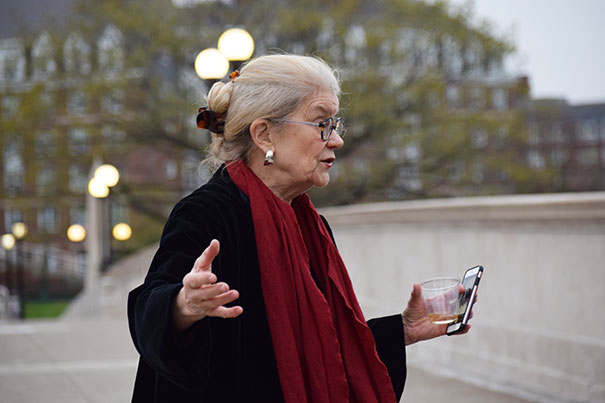 These aspects were particularly important for others who gathered along the Charles. While Eck and students waltzed on the bridge, yards away on a stretch of grass abutting the river, "a wide range of people from the Cambridge community, including the Newtowne Morris Men, Maypole Dancers, Druids, Wiccans, Earth Spirit people, and other Old English traditionalists," as Eck wrote, engaged in their own celebration. With many dressed in spirited attire and "dancing in a circle while weaving the strands of the Maypole, they ritualize the interconnection of all life."
Often, students are welcomed to join in the singing and maypole dancing. Once all this activity dies down, however, Lowellians flank the path along the river as the Cantabrigians, led by the maypole, process through. Spirits are high as students shake hands with the Beltane celebrants, greeting them with the well-wishing phrase "Merry May."
For students, this event is special because it is difficult to imagine it anywhere except at an old and storied university such as Harvard. Indeed, Lowell's celebrations borrow from those at another historic institution, Magdalen College at Oxford. As Eck said in her email, "From the 15th century, May has been welcomed in Oxford at about 6:00 a.m. when the college choir sings the May Day hymn from the tower of Magdalen … May Day singing is followed by Morris dancing along Broad Street, and the event is attended by some 8,000 people. Jumping off Magdalen Bridge in full evening dress was once a custom, but this now has been prohibited, as it most certainly is here."
Even among Harvard's many traditions, this one stands out. The celebration is, despite the early hour, a remarkable display of vivaciousness and camaraderie, particularly welcome in the anxious and reclusive period before final exams. This was especially true this May Day, when, as Lowell House committee chair Juliana Rodriguez related, "A large group of us stayed up the night before to make sure we wouldn't miss" the festivities. For Rodriquez, even before the dancing and champagne, studying through the night with friends, with the much-needed aid of coffee and snacks, and eagerly awaiting sunrise "really … brought a lot of Lowellians closer together."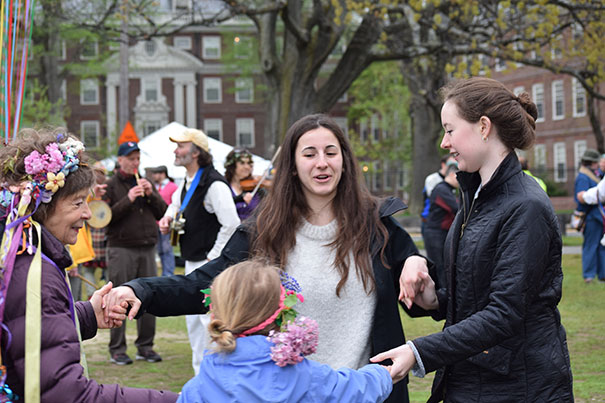 The tradition fosters a connection between two communities that do not engage as often as they might. While all students at the College live and study and work in Cambridge, Harvard often can seem a place apart. While the handshaking and well-wishing of May Day are fleeting, they are nonetheless a meaningful way for town and gown to connect.
Rodriguez expressed gratitude for that opportunity, and for Eck's efforts facilitating the event every year: "She established incredible relationships with so many different faith groups, and it's amazing that she shares that warmth with all of us.
"When I look back on College," added Rodriquez, "it's going to be pretty special and also a little absurd to say that one of my favorite traditions was dressing up in black-tie wear and waltzing on the Weeks Bridge with my best friends at 6 in the morning."