Three-quarters of the way through a panel discussion of military values and ethics, hosted by the Harvard Kennedy School's Carr Center for Human Rights Policy, moderator Alberto Mora, a senior fellow at the center, cut to the bone: If terrorists aren't following the rules of warfare, why should we?
The response was unified and emphatic at Friday's session from the panelists, three superintendents of U.S. military academies. The American military, they said, must uphold U.S. values, and this means adherence to the rules of engagement.
"This is the challenge going forward," said Vice Adm. Walter E. "Ted" Carter, superintendent of the Naval Academy. Beginning with World War I, after the use of mustard gas and the new "death machine" or machine gun, "the American military drove this idea that there are certain things we just don't do. They don't represent the values of who we are as American people."
Even today, when the U.S. military must engage in combat in "shadow zones" where fighters are not identified by uniforms and "it seems like we're playing with one hand tied behind our back, against enemies that have an advantage," the military must keep stressing ethics in its leadership programs, Carter said.
Otherwise, "What's our purpose? What do we stand for?" said Lt. Gen. Michelle D. Johnson, superintendent of the Air Force Academy, who was a command pilot with more than 3,600 flying hours and an Air Force presidential aide. "This is one of the challenges of democracy." Around the world, people look to America to set an example, she said, adding, "They hold us accountable. When we don't live up to that, it hurts us."
That was also a point emphasized by Lt. Gen. Robert L. Caslen Jr., superintendent of the U.S. Military Academy at West Point and a former chief of the Office of Security Cooperation-Iraq.
"The wars that we have been fighting are conflicts of wars of ideology," Caslen said. "In this ideological struggle, the actions of the United States are particularly important." Human rights violations at the Abu Ghraib prison in 2003 and detention of terrorism suspects at Guantanamo Bay helped create more terrorists not only by mobilizing extremists but by motivating moderates to be more extreme, Caslen said.
"You can't drain that swamp. You can't kill your way out of it. It's an ideological struggle. And that's why rules of engagement are as they are," he said.
The event, "The View from the Military Academies: A Conversation with the Superintendents About Values, Ethics, and the Military Profession," had its roots in a speech made last year by Harvard President Drew Faust at West Point, where she explored the military notion of "friction"  — that is, when a person is forced to confront a situation beyond his or her ability, and has to stretch and reach. In her welcoming remarks to the panel, Faust noted, "We are all of us in many ways in a moment defined by friction; we are being asked to think beyond our assumptions … And this can be an unsettling time."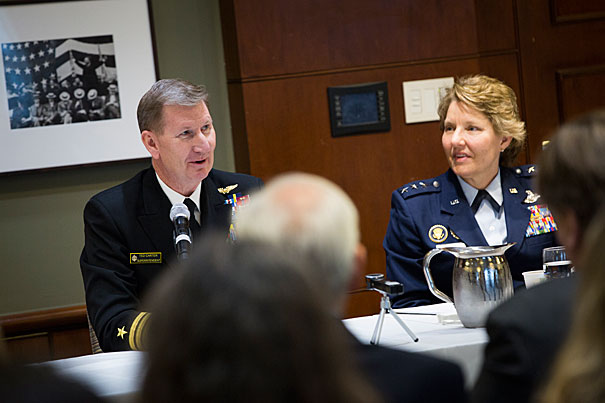 The bulk of the panel discussion focused on the military schools' emphasis on constructing character. "Building leaders of character at West Point is the most important thing we do," Caslen said. The three superintendents — all combat veterans who have risen to three-star rank — said such training goes beyond adherence to honor codes to preparing young men and women to be "leaders of consequence."
As Johnson said, "You can check the squares on the honor code, and this is not sufficient," which is why, she said, the Naval Academy is a "champion" of education in liberal arts as well as science, technology, engineering, and math.
Johnson related the story of an operator watching a target through satellite technology who pushed his superiors to hold off striking. Only when the target was not near children — days later — did the operator attack. "These are dilemmas that our modern warriors face," she said. "And they don't stop watching. They watch the aftermath. So, counter to the past lore of airmen who don't see what they do, they do now."
In response to a question posed by Richard A. Cash, a senior lecturer at the Harvard T.H. Chan School of Public Health, about the effects of eliminating the military draft, Caslen acknowledged that 40 years of an all-volunteer military have widened a troubling gap between those who serve and those who don't.
"The best way to bridge that divide is to have ethical behavior in the military," he said.
Carter emphasized that, like doctors, lawyers, and clergy, the military should be seen as a professional organization bound by moral codes, concepts of freedom, and constitutional checks and balances. Leadership training helps military officers to understand what are legal, lawful orders, and to act accordingly.
And for the U.S. military, the chiefs said, everyday American politics are an exterior factor that doesn't challenge a deeper ethos.
"I'm not worried about the future. These discussions will continue regardless of who is in the White House," Carter said, adding. "We're going to be OK."
"I would just add: Roger that," Caslen said. "We swore allegiance to the Constitution, not to the commander in chief, not to the chairman of the Joint Chiefs of Staff, but to the Constitution."