The Piacenza Jazz Club in Italy is home to a music school. So when acclaimed pianist and singer Dena DeRose had down time before a recent show there, she perused the books in the teaching studio. Pulling from the shelf one jazz biography after another, she couldn't find a single one about a woman instrumentalist.
"Some of them were written in the 1990s, and they were still not up to date," said DeRose. "Women are still not written about in history books. You can count on one hand — Mary Lou Williams or Melba Liston — and they're not even mentioned."
For DeRose, who heads the vocal jazz department at the KUG Jazz Institute/University for Music and Performing Arts in Graz, Austria, the book problem encapsulates the continuing challenge for female musicians in an industry dominated by men. It's also why she was happy to accept Harvard music senior lecturer Yosvany Terry's invitation last fall to do a residency as part of a year "Celebrating Women in Jazz." Part of the Learning From Performers Program, the program culminates this week with a visit from award-winning singer and musician Cassandra Wilson, who as a master in residence will be a speaker and performer next week with the Harvard Jazz Bands.
"Women are not celebrated enough, and they are contributing incredibly," said Terry, who has gigged with DeRose and Wilson. "When you look back in history, there was not only racism for many of these women, but the male-dominated society was even more of a factor. It was rare to find female jazz musicians touring regularly. For women to play an instrument [in bands] is very hard. They have to really work hard to prove they are good musicians, and then face sexism such as 'Oh, she sounds like a man.' No, she sounds like an accomplished musician."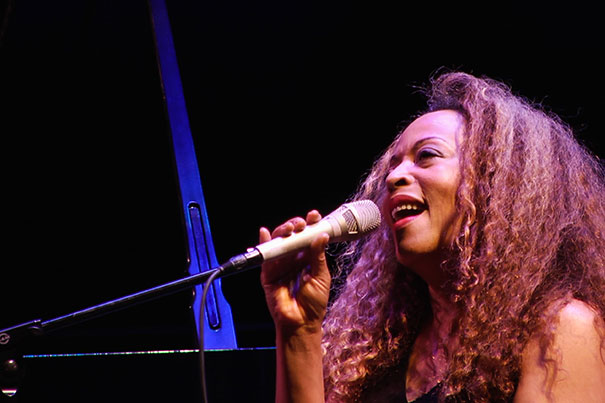 Terry said that, historically, women who pursued careers as jazz musicians were often isolated. Families discouraged their daughters from being part of a music scene laden with sexism, alcohol, and drugs.
As a case in point, there's the great trombonist Melba Liston, who played in Dizzy Gillespie's big band with the likes of saxophonists John Coltrane and Paul Gonsalves, and pianist John Lewis. In Linda Dahl's book "Stormy Weather: The Music and Lives of a Century of Jazzwomen," Liston, who died in 1999, told the author: "I just had to prove myself, just like Jackie Robinson."
"It's not what they intend to do — the brothers would not hurt for nothing. They would give me money, they would take care of me, or anything. But they wouldn't let me have the job," Liston told Dahl.
Diana Gerberich hasn't experienced that kind of sexism in her 21 years, but the baritone saxophonist does appreciate her unique place as the only female member of the Harvard Monday Jazz Band.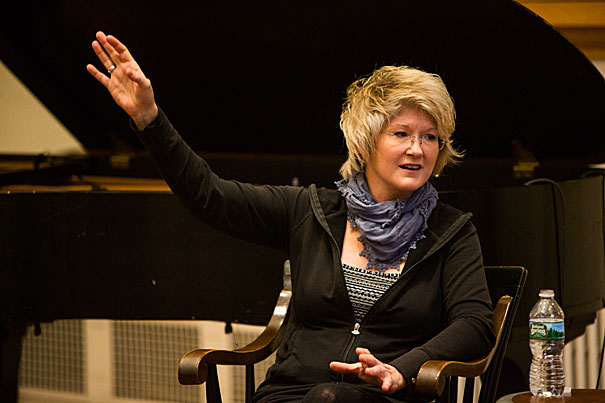 "It's true there still aren't many women in jazz, but on stage the gender barriers fall away," said Gerberich, a junior who is concentrating in anthropology. "I'm glad I'm able to be an example and a representative for women in jazz. I also hope to inspire other women who feel like they're out of place and to show it's possible to cut through boundaries, enjoy jazz and not worry about gender differences."
Gerberich, who grew up in Wilbraham, Mass., idolizing Ella Fitzgerald as well as Gerry Mulligan, fell in love with the sax at an early age, saying the brass instrument matched her vivacious personality.
"It tends to be a more prominent instrument in jazz. I'm Italian. I have a very loud voice, and I have a lot of energy," she said.
Though she originally played classical saxophone, she joined her elementary school jazz band at age 11, drawn to the energy with fellow musicians and the audience.
"In jazz you really get a visual of the audience engaging with the music. For other styles of music, there is less audience interaction," said Gerberich, who was one of two women in the 2013 National Association for Music Education's All-National Jazz Band. "I love the personal touch that comes through jazz and the unique style that each musician contributes."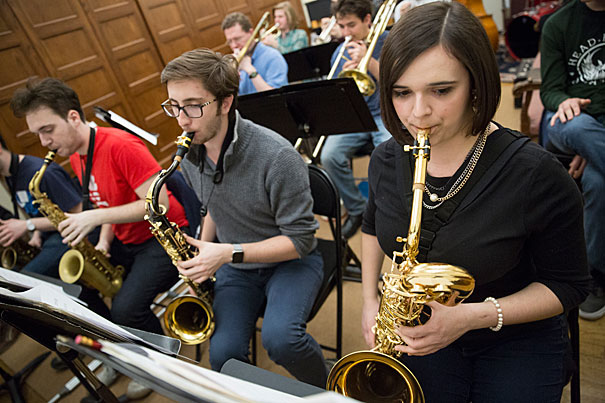 Talents like Gerberich make Ingrid Monson, the Quincy Jones Professor of African-American Music and African and African American Studies, hopeful for the future, and she ticked off names of prominent contemporaries such as Esperanza Spalding, Patricia Barber, Diana Krall, and drummer Terri Lyne Carrington, who received a scholarship to the Berklee College of Music at age 11.
"I think we're at a cultural turning point," said Monson, pointing to a progressive shift in society that she hopes will create more opportunities for women in music. "I've been fascinated by the Black Lives Matter movement, which was founded by queer black women. Its mission statement includes transgender people, and you see in the movement people taking that seriously. Also, Beyonce's "Lemonade" video album brought women and girls to the center of the future of social justice. There are more people speaking up, and this is happening in jazz too."
Monson, who will interview Wilson on Wednesday at the Leverett House Library Theatre, said many women in jazz still feel "caught between their love of jazz and the way their gender is often considered out of place within it."
"Many cultural signs work against you. There's a way in which a man playing a saxophone is cool or more manly. With women, it's the opposite effect," she said. "The ethos is if you have enough talent you're going to be fine, but it takes a certain type of woman to do this."
Wilson will speak Wednesday at 4 p.m. at the Leverett House Library Theater. On Saturday, she will perform with the Harvard Jazz Bands at 8 p.m. at Sanders Theatre. Tickets are available for public purchase here.