In a visit to Harvard Kennedy School Wednesday, Ohio Gov. John Kasich urged Americans to seek common ground to make politics and government work more effectively.
"We're all focused on [President] Trump," said the longtime political leader, who was first elected to the Ohio state Senate at age 26 and served nine terms in Congress. Instead, he said, Americans should focus on their neighbors and on one another.
In conversation with Center for Public Leadership co-director David Gergen as part of the John F. Kennedy Jr. Forum, Kasich discussed issues ranging from tax structure to education policy. He also spoke earnestly and passionately about the current political climate and the need for more cooperation. Kasich, who last year sought the Republican nomination for president, cautioned his listeners against narrowing their ideas to support only one party or political figure.
"Keep your minds open," he suggested to students and others in the room. "You're too young to make up your mind that you're this or that or something else. If you're not open, you're just making choices that mean you're cheating yourself."
Describing the tax plan unveiled by the Trump administration earlier in the day as a "not properly balanced package," Kasich said, "There's no way you can cut all these taxes and then say, 'OK, everything will be paid for.' That's like Christmas." Kasich said he thought the journey to restructure the tax system would be a long one. "There will be people who express concern about the debt," said Kasich, who chaired the House Budget Committee while in Congress. "We do need a lower corporate tax rate," he added.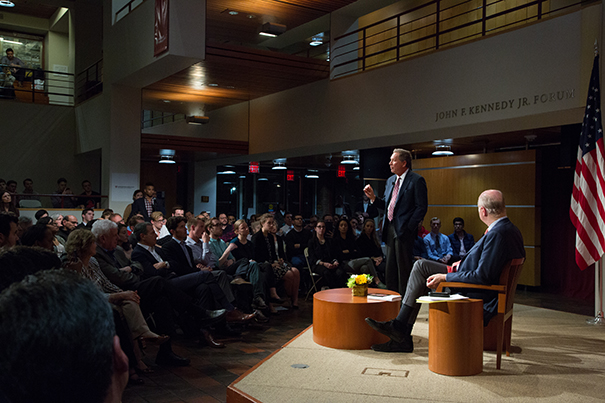 One of the country's most immediate concerns involves the state of the education system, which Kasich says is failing to provide many Americans with the skills, resilience, and creativity to meet the economy's future employment needs.
"You can't take a coal miner and just say 'Tough,' or say, 'By the way, I'm going to make America great, and we're going to open all the mines [again],' " Kasich argued. Instead, he suggested, the country needs to offer new modes of education, including competency-based learning and new forms of online training. "This whole education system needs to change, or I will personally be part of intermediating it, because it's not working," he said.
He also called for Americans to embrace change. "Change keeps us young," he said. "It's all about innovation. This world is so exciting, and we have to grasp it." He urged his listeners to remain open-minded and prepare for the coming shifts in the job market. "We've got to get ahead of this," he said. "This is a tsunami coming our way. You can either wait until it hits, or you can begin to prepare."