In jazz, it doesn't matter how well you play the notes: You can't know where you're going until you first know where you came from.
The jazz tradition demands attention to the masters, especially those willing to hand down their wisdom to the next generation.
One of the premier jazz musicians working today, vocalist Cassandra Wilson knows just how much she once benefited from "the elders," and now she wants to pass along what she can.
Wilson's signature contralto is rich and smoky, distinctive for how it insinuates seamlessly into pop, R&B, blues, classic rock, reggae, bossa nova, country, spirituals, and traditional African styles. She's now at work on a project of Sean-nós songs, an ancient vocal tradition unique to southwestern Ireland.
While she's found great success in jazz, Wilson, a two-time Grammy winner, is not interested in arbitrary musical categories and labels, a view evident in her relentless commitment to exploring the common threads that bind roots, folk, and world styles of music.
"I just love music. I try not to make judgments about it," she said during a talk Wednesday afternoon with Ingrid Monson, the Quincy Jones Professor of African American Music, where she spoke of music's healing power and its ability to foster emotional connections. "I feel the same way Duke Ellington does. There's only two types of music: good and bad."
Wilson has been at Harvard this week sharing her expertise and experiences in music with students, as well as rehearsing and performing with them as part of the Jazz Master in Residence program. Launched in 1980, and supported by the Office For the Arts at Harvard, the program brings jazz luminaries to campus to work intimately with student musicians. Past masters include the legendary drummer Max Roach, saxophonist George Coleman, and pianist Geri Allen.
On Saturday, under the direction of conductor Yosvany Terry, Wilson will perform with the Harvard Jazz Band at Sanders Theatre as part of the University's ongoing Women in Jazz celebration.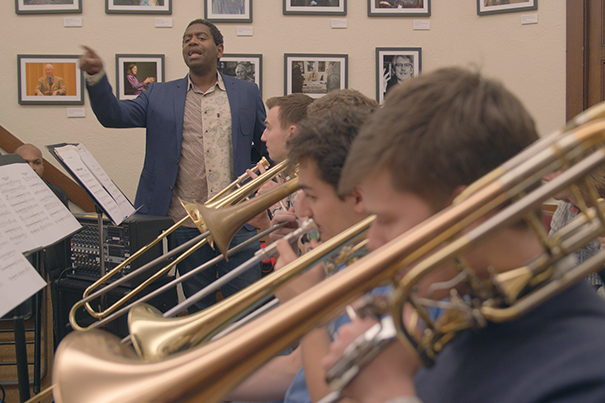 Wilson first broke through in 1988 with "Blue Skies," a fresh take on standards. Her 1993 release, "Blue Light 'til Dawn," brought even wider success. It included the popular original "Sankofa," along with inventive interpretations of blues and rock classics from Robert Johnson and Van Morrison. In 1995, "New Moon Daughter" followed a similar template, earning critical acclaim and topping the Billboard charts. She was a featured vocalist on "Blood on the Fields," the 1997 epic about slavery by trumpeter and composer Wynton Marsalis, which was the first jazz work to win a Pulitzer Prize.
Wilson, 61, never took vocal lessons, learning instead by listening to, talking to, and playing with many of the greats while living and working in New York in the late 1970s and '80s.
"I was very fortunate to catch the tail end of an era," she told The Gazette. "There were a lot of clubs that were still open in Harlem and we would just get on the trains and go from downtown to uptown and there would be lots of jam sessions. I was able to sit at the feet of the masters to really get that kind of education that you can't get in a school."
She counts trumpeter Miles Davis, as well as singers Abbey Lincoln and Betty Carter, as among her earliest, most important influences, and cites Thelonious Monk, Bill Evans, and Joni Mitchell as some of her favorite composers. Her most recent recording, "Coming Forth by Day," is a tribute to the songs of another giant, Billie Holiday.
But jazz is more than studying and trying to emulate your musical heroes.
"Everybody transcribes Charlie Parker's solos," she said. "Even if you're a vocalist, you should be able to do that. You should be able to hear music and write it down and you should be able to sing it. That's the natural way that you go through learning the tradition. But the point is to find your own voice. That comes by way of listening to the people you admire," and then turning inward to draw from one's personal history, identity, and artistic vision.
A native of Jackson, Miss., where music was an important part of everyday life, Wilson said that history still deeply informs her work. And while her sound is steeped in the traditions of blues and jazz, musicians can sometimes underestimate the complexity of what's going on when they start jamming with her, she said.
Related
"You have to get my music in so many ways, it's not just about running down some [chord] changes," Wilson told Monson. "It's about finding the groove and understanding what's happening texturally. That's what makes it really complicated."
Though performing encourages individual creativity and identity, it also demands thoughtful communication and a sense of community.
"You cannot be a good improviser if you're not listening to the people around you. It's very much a democratic process even though you're standing alone … in that moment, you're saying something hopefully that will add to the whole" in order "to create something bigger than just you," she said.
Wilson said she doesn't automatically discourage those seeking advice about a career in jazz, even though the music is no longer as popular as it once was. But she also notes it's a very difficult road — less a career than a calling.
"I think you're always setting yourself up for heartbreak when you choose jazz, regardless of what era it is. It just comes with its own baggage, because of the nature of the music. And it pushes you. You have to be very strong in order to do this," and not expect fame, she told The Gazette.
"You choose it because you have a longing and you're searching and you also feel some sort of connection with that tradition. I think it's really a noble pursuit and I would encourage people who are strong and thick-skinned, yes, pursue it — because there's always someplace else to go in this music. I don't believe I'm the last."
Saturday, 8 p.m.: "Women in Jazz: Celebrating Cassandra Wilson," featuring the Harvard Jazz Bands with special guest Cassandra Wilson, at Sanders Theatre, 45 Quincy St., Cambridge. Tickets available at the Harvard Box Office.