After months of private meetings and public hearings, Neil Gorsuch, J.D. '91, was sworn in this week as the 113th justice of the U.S. Supreme Court. Appointed to the U.S. Court of Appeals for the 10th Circuit in 2006 by President George W. Bush, M.B.A. '75, Gorsuch was confirmed by a 54-45 vote in the U.S. Senate last Friday that was cast almost exclusively along party lines.
Senate independents and most Democrats, still smarting over Majority Leader Mitch McConnell's refusal to consider President Barack Obama's nominee of last year, Judge Merrick Garland '74, J.D. '77, filibustered Gorsuch's nomination. That move prompted Republicans to change Senate rules so that Supreme Court nominees need only a majority of 51 votes to be confirmed, rather than the traditional 60.
Guiding Gorsuch through the confirmation process on Capitol Hill was Kelly Ayotte, who was a U.S. senator from New Hampshire from 2011 until January. A Republican, she narrowly lost her seat in November to Democratic Gov. Maggie Hassan in one of the more closely watched 2016 races. Just a day after Gorsuch's swearing in, Ayotte is now at Harvard Kennedy School talking to students about seeking elective office, leadership, and the opioid crisis as a spring fellow at the Institute of Politics (IOP) and a visiting fellow at the Belfer Center for Science and International Affairs.  
Ayotte spoke with The Gazette about the contentious confirmation process and her experience in shepherding Gorsuch during the last few months.
GAZETTE: Justice Gorsuch has been confirmed, but only after a dramatic political standoff that many say will profoundly damage the Senate for years to come. How do you feel about the way the confirmation played out?
AYOTTE: First of all, having been the counselor or "Sherpa" for Justice Gorsuch, he had an impeccable background [and was] eminently qualified to serve on the Supreme Court — of course a Harvard Law grad, like many of our Supreme Court justices. But from my perspective, it's disappointing that he was filibustered and unfortunate, and I wish that didn't happen. But in terms of his confirmation, I think that he certainly deserved confirmation. My former Republican colleagues, as you know, all of them voted to change the rules. I think many of them didn't want to have to do that, [but] felt that if such a qualified nominee like Justice Gorsuch was going to be filibustered, that they weren't really left with much choice. And so, that's why you ended up with a 50-vote threshold in the end. I have no doubts that Justice Gorsuch is exceptionally qualified to serve. He had a broad array of support, frankly, across the political spectrum, including people like Neal Katyal, who was President Obama's former solicitor general, and people who had worked with him had nothing but very good things to say about his qualifications.
GAZETTE: It was widely thought that you were brought on to foster bipartisan support for his confirmation. Are you disappointed that there weren't more Democrats and independents who supported his nomination?
AYOTTE: I think I was chosen because I do have good relationships. I was very bipartisan in the Senate, and I have good relationships across the aisle. My role was to help him through that confirmation process. We met with almost 80 senators, and we had 81 meetings overall. That requires someone who can walk into each Senate office and comfortably introduce the judge to the senator and also be present to help with any kind of information that the senator needs. And having someone come in whom the senators know and have worked with is, I think, helpful. That's traditionally why they have a former senator do that process. In terms of the rule and where we are in the Senate, unfortunately, from my perspective, the fact that someone like Justice Gorsuch would get filibustered told me that probably anyone this president nominated would get filibustered. So that's sort of where we ended up. But I'm very pleased he ended up on the Supreme Court.
GAZETTE: Do you understand why Democrats felt they couldn't support Gorsuch? Many complained that he evaded answering questions about his views on many landmark cases and even his own decisions.
AYOTTE: I thought that was really hollow, because if you go back and look at all the confirmation hearings going back to Justice [Ruth Bader] Ginsburg and even President Obama's nominees to the Supreme Court, he applied the same standard that prior nominees have. You're very restrained in terms of what you can answer. First of all, he's a sitting judge on the 10th Circuit, so even if he weren't confirmed, he'd have to go back to the 10th Circuit and hear many matters again that could potentially come before him. But also, just like prior Supreme Court nominees, as Justice Ginsburg said, "No hints, I'm not going to give you a preview about where I may rule on particular cases." So to me, that was somewhat of a hollow criticism in the sense that it really wasn't any different from how prior nominees have handled themselves.
GAZETTE: Was it wrong not to give Merrick Garland a hearing?
AYOTTE: I happened to be running for office during that, and in the United States Senate, and so, I did support the position that — I met with Judge Garland — I did support the position that with a presidential year the people should weigh in by electing the next president. I think they did. I understand where my former Democratic colleagues were upset about what happened, but you really have to say that this was an issue in the election. People made a decision on who they wanted to elect as president. They knew the Supreme Court was a big issue in the election. It certainly was in mine and others across the country. The people spoke, and President Trump got elected. And frankly, he put out a list in advance of who he might nominate, which was very unprecedented, and Judge Gorsuch was on that list, of course, so there weren't really any surprises there.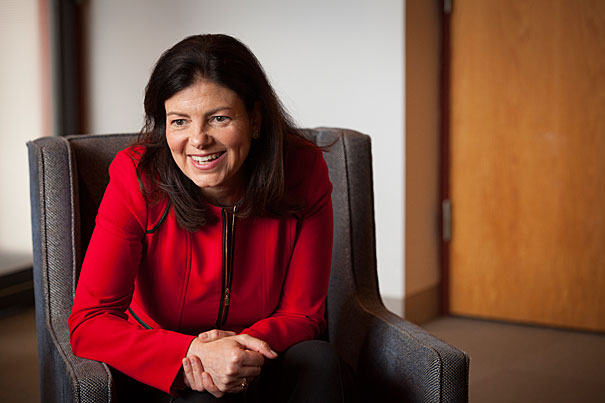 GAZETTE: Given the premium President Trump places on loyalty, were you surprised to get the call for this important task? Why do you think you were asked? 
AYOTTE: I was absolutely surprised. I think there's no secret that I've had my disagreements with him in the past. But we are on the same page when it comes to Justice Gorsuch because that was an excellent nomination on his part. I was surprised to get the call, but I've been honored to be able to help such an excellent nominee and now justice on the Supreme Court, and especially to get to know him personally.
 GAZETTE: Tell me about taking Justice Gorsuch around Capitol Hill to meet privately with senators. Were you involved in the hearing preparation process?
AYOTTE: I was at every meeting. But not only that, I was involved in the preparation process. This has been a real refresher for me in constitutional law. I do have a legal background. Being involved in the moots of the judge, preparing him for the Senate hearings. I was very involved in that and throughout the entire process.
You have people who are involved in the moots who are from White House legal counsel; they helped organize them — but also a lot of the judge's friends. He's got a lot of former clerks and people who are legal experts who essentially ask him questions. That's a pretty typical preparation process for anyone who is coming before the Senate hearing, for frankly any nomination, not just the Supreme Court. It helps to think through what each senator might be interested in.
GAZETTE: Who asked the toughest questions behind closed doors? Can you say?
AYOTTE: I really don't want to say. (Laughs.) Let me just say there were some tough questions asked, and obviously he can handle any question. He was well prepared.
GAZETTE: What coaching did you give him, if any?
AYOTTE: I gave him the advice, which I think is the best advice, of "be yourself," because he's a very nice person. He has two teenage daughters; he's active in the outdoors. Having gotten to know him eight to 10 hours a day, I just thought it was really important that people get a sense of who the person is. I thought that was important beyond the legal issues.
GAZETTE: So that folksiness is genuine? 
AYOTTE: That's him. People obviously foremost look at someone's qualifications, but they want to know who is this person that we're putting on the highest court of the land.
GAZETTE: Do you think you might ever run for office again? You have had a whirlwind last several months.
AYOTTE: Yes, I have! There has not been a vacation. I don't know what the future holds, but it's been really a privilege. I've spent about 20 years in public service, and it's been a great privilege. I'm glad to be here with the students at the IOP, who are incredibly capable and energized. I hope many of them decide to serve and to be part of trying to make a difference.
This interview has been edited for clarity and length.