What do the gold-plated skeleton of a wooly mammoth, an immersive art history class, and a pack of monogamous mice have in common?
Plenty, it turns out, and those similarities can teach us about our past, our present, and our future, according to two Harvard experts who discussed the overlapping approaches to their cutting-edge work in the fine arts and genetics at a Feb. 16 Miami event organized by the Harvard Alumni Association.
In the hourlong conversation, held at the Faena Forum before a crowd of more than 400 Harvard alumni and friends from Miami and beyond, Hopi Hoekstra and Jennifer Roberts said the humanities and the sciences share key goals and processes, including a steadfast commitment to the kind of close observation that can inform how we see, appreciate, and interpret the world around us.
The faculty exchange, moderated by Susan Fales-Hill '84, formed the centerpiece of the latest gathering in the Your Harvard series, discussions sponsored by the Harvard Alumni Association throughout The Harvard Campaign that take place around the world and bring members of the global Harvard community together to connect with one another and with Harvard scholars and experts across a wide range of topics and research.
Roberts' mantra, "just because you've looked at it doesn't mean you've seen it," is the central tenet behind her class "The Art of Looking" a humanities frameworks course in which she asks undergraduates to spend hours in front of a painting of their choice at the Harvard Art Museums absorbing as much information and detail about the work as they can.
"At first the students are alarmed by this assignment," said Roberts, Elizabeth Cary Agassiz Professor of the Humanities. "They think they can't possibly see three hours worth of information on a flat surface. But it's an inspiration for them to go through the process because they quickly realize how much they hadn't seen in their habitual glance or scan of the work."
Pulled in all directions by access to endless flows of information, contemporary students aren't accustomed to paying such close attention to things, said Roberts. In looking at one work for hours at a time, they learn to see "what they didn't see the moment before, and the moment before, and the moment before. And so it becomes a kind of iterative exercise for them and it's a skill that has to be at the core of all of the humanities, I believe."
For Hoekstra, an evolutionary geneticist, Alexander Agassiz Professor of Zoology, and a professor of molecular and cellular biology at Harvard, "science starts with an observation." Hoekstra, who studies the molecular basis of adaptation in wild mice, said one of the first things she does when someone new comes to work in her lab is ask them to simply watch the mice.
"It allows you to deconstruct that behavior, which gives us insights into its component parts, allows us to think about the genetic changes that make it rise to those behaviors."
Observing mice in the wild, said Hoekstra, offers up "that connection between the organism and the environment that you just can't read in a textbook, you have to be out there, in the field."
Among the mice she studies, Hoekstra has found that certain groups behave in two very different ways. She and her colleagues have noticed that some mice like to have as many partners as they can with little familial responsibility, while others are monogamous homebodies who prefer to stay put and to be actively involved in raising their offspring.
"In recent work we've been able to identify a gene that contributes to these differences in male parental care. … The first question is: Does it have anything to do with human behavior? And if it does, what do you do with that information?"
"What is the rapport between mice and humans," asked Fales-Hill, an author, writer, and television producer.
Humans share a surprising number of genes with mice and even fruit flies, said Hoekstra. What differentiates us "is the way those genes are expressed and where and when they are expressed."
"So at the genetic level we are incredibly similar to mice and I think there are certainly several behaviors that you can make analogies about," she continued, "but I think [once] we really understand the neurobiological underpinnings of how those behaviors work, then we are going be able to say at a different level how similar those are."
Leveraging the unique setting, Roberts encouraged attendees to engage in a close inspection of the nearly 10-foot-tall gilded mammoth skeleton across the street in the garden of the Faena Hotel, a provocative product of artist Damien Hirst, who encased the sculpture in a giant glass and gold-painted steel box.
"When I look at that piece … I see this as a question that has been posed to everyone who sees it about the meaning of extinction and the passage of time."
"What art can do," Roberts added, "is take something from the past, detour it into our current habitat and create a defamiliarizing set of new questions that make us think more deeply about the present."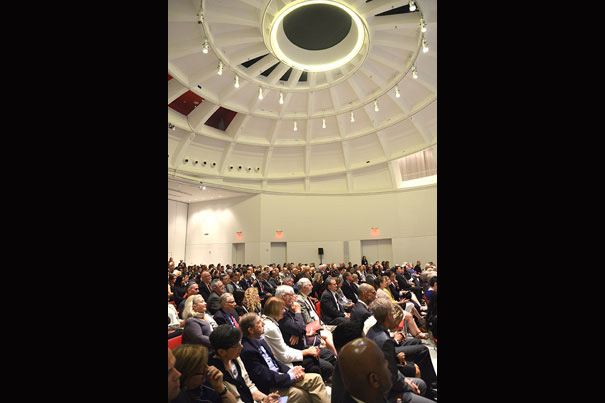 The wooly mammoth suggested aspects of Hoekstra's work. A close examination of DNA from the bones of a wooly mammoth preserved for thousand of years in Siberian permafrost has revealed the long extinct creature shares the exact gene mutation as the mice studied by Hoekstra, which leads to a change in the pigmentation of their fur.
The discovery, she said, "raised the possibility that mammoths also came in multiple shades of color."
Following the faculty discussion, President Drew Faust outlined her vision for Harvard's future. Promoting inclusion, community, belonging, and diversity at Harvard has been central to her presidency, as has the ongoing support of critical scientific research that tackles pressing challenges such as cancer and climate change, and her steadfast commitment to the arts.
Faust outlined Harvard's continued relevance to and impact in society today, as well as the many ways the University — through its students, faculty and alumni — will continue to make important contributions in coming decades. She began by listing the 12 Oscar nominations that had gone to films with which Harvard alumni had been directly involved.
"Matt Damon, a member of the class of 1992, was nominated for 'Manchester by the Sea,' which he co-produced with Chris Moore, class of 1989," Faust said. "Clark Spencer, who graduated from the College in 1985 — with a concentration in history — and from Harvard Business School in 1990, was nominated in the Animated Feature Film category for 'Zootopia.' Natalie Portman, class of 2003, was nominated for her portrayal of Jackie Kennedy in the film 'Jackie.'"
"La La Land, written and directed by Damien Chazelle, Harvard 2007, was nominated for a whopping 14 Academy Awards, including two songs in the best song category written by Justin Hurwitz, class of 2008, who met Chazelle when they were classmates," she continued. "Hurwitz was also nominated for best original score, as was Nicholas Britell, who graduated phi beta kappa in the class of 2003, for the score for 'Moonlight,' the achingly beautiful film set here in Miami."
(An important footnote: On Feb. 26, "Zootopia" won the Oscar for best Animated Feature Film, and "La La Land" took home six trophies, including Best Director for Chazelle, and Best Original Score and Best Original Song wins for Hurwitz. "Moonlight" won Best Picture, Best Supporting Actor, and Best Adapted Screenplay awards.)
Beyond what the nominations said about the talents and successes of these particular Harvard-trained artists or the qualities of their films, Faust argued that the tally of honors also showcases the continued importance at Harvard of the arts and humanities, which foster, among other things, picking up on the theme of the earlier discussion, what she called "the art of noticing."
"Noticing: that is what I want to talk about for a few minutes tonight because it is at the core of what universities are about," Faust said. "At their best, universities cultivate the art of noticing, in teaching our students to notice — to see differently— or in pursuing research, which is the art of noticing. Socrates' 'examined life' — his ultimate goal for education— is in its essence about noticing."
Faust told the alumni gathered in Faena Forum, a spiraling amphitheater designed by Dutch architect Rem Koolhaas, a former Harvard Graduate School of Design professor, that their Harvard time had developed their ability to notice things large and small, and to see the world in fresh new ways.
Harvard, said Faust, has "woven its way into us, become a part of us. It shaped who we are, what we see, what we notice."
Together, she continued, "we can enable Harvard to set an example, and signal the world about why universities not only matter, they are essential as centers of discovery, of progress, of possibility. These are the purposes of global research universities. Together we must continue to explain them, to defend them, and to achieve them so well that we continue to survive and to prosper, and to notice."
Fort Lauderdale resident and Harvard Kennedy School alumnus Kris Meyer M.P.A. '15 called the event a great opportunity for the local Harvard community to connect and a chance "to take some of the ideas that we heard from President Faust and our speakers back out into the community and continue to be Harvard in the world."
Your Harvard: Miami was co-hosted by the Harvard Club of Miami and the Harvard Black Alumni Society of South Florida. The next Your Harvard events are scheduled for Singapore later this month, and for Minneapolis-St. Paul in June.