MIAMI — Shaunte Butler's mother never missed an opportunity to remind her daughter of the pivotal importance of a strong education.
"She always told us, me and my brother, that college was the key to success and a better life," said Butler, who took that sage advice and ran with it. The Miami native graduated with a degree in neurobiology from Harvard College in 2014 and is now a first-year student at Yale Medical School.
Butler returned to her old high school Thursday along with Harvard President Drew Faust, one of the nation's strongest advocates for getting a college education. Faust and Butler urged a rapt student audience at Miami Northwestern Senior High School to keep the goal of higher education firmly in their sights.
"Higher education encompasses more kinds of experiences, and more kinds of different experiences, than there are people in this room," Faust told the crowd in the school's library media center, "and there is a place for every one of you," whether at community college or the Ivy League or some other institution.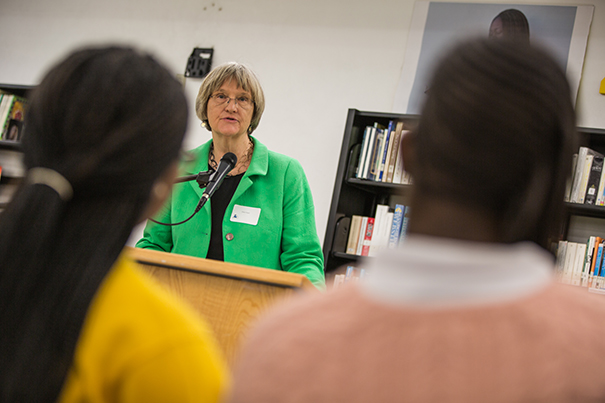 More than 100 students, teachers, and administrators from Miami Northwestern and nearby Booker T. Washington High School, along with city and regional officials, gathered to hear from Faust, Butler, and members of the Harvard Black Alumni Society of South Florida.
In her remarks, Faust encouraged her listeners to believe in themselves, to commit to the goal of a higher education, and to share their plans with others. "Write it down, say it out loud, tell your teachers and coaches, tell your friends and your family — tell anyone and everyone who will be supportive of your aspirations," Faust urged.
Finding an encouraging mentor, someone who can help students identify their strengths and refine their ideas, is a critical part of preparing for college, added Faust, as is understanding the financial aid process, preparing for the SAT or the ACT exams, and staying "organized every step of the way."
It's not an easy process, said Faust, and there probably will be moments of doubt and even the desire to give up. "But you can and you must choose otherwise as well. You must choose to keep going. The only person who is completely in charge of your life — of your successes and your failures — is you."
Faust's school visit was planned with help from Harvard Law School graduate Marilyn Holifield, J.D. '72. A member of the Harvard Black Alumni Society of South Florida and the Harvard Club of Miami, Holifield has mentored high school students and helped at college information sessions at public schools in Miami-Dade County.
Holifield said the event was a chance "for Harvard to see the context of talent in an inner-city school, and to allow students to be inspired by the fact that Harvard cares enough to come down and spend time here, not only with the students, but with the teachers."
In her remarks, Faust relayed key points that she has made to high school students around the country for years: College education leads to higher incomes, lower unemployment rates, better access to health care, and, above all, the broadest range of life experiences.
She said that college "will give you the freedom to understand yourself differently, to see your life in the context of other times and other places."
College, Faust said, also opens up a world of new ideas and fresh perspectives. "You will learn to engage people with a wide range of viewpoints, to agree and disagree with them as you learn to question and reconsider your own point of view," she said. Attending college also will "encourage dreams that you have never dreamed."
In concluding, Faust said that not only do students need college, but colleges need them, along with the range of experience they can bring to campus.
"You have extraordinary gifts, and two extraordinary institutions that are nurturing them. And I encourage you to share those gifts by continuing your education — and building on what has been given to you here, to reach out more broadly to wider worlds and new places, educating others as you educate yourselves and build your futures."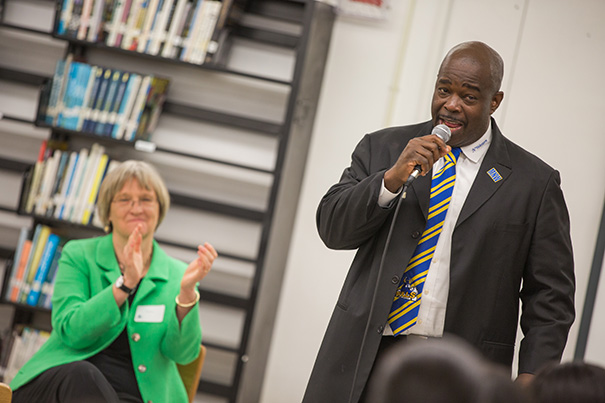 The visit also served to highlight the accomplishments of Miami Northwestern's principal, Wallace Aristide. As assistant principal beginning in 2006 and principal since 2011, Aristide has worked hard to create a culture shift at a school that before he arrived was prone to internal problems and poor state ratings.
During his tenure, Aristide has made increasing the school's graduation rate and college prep his top priorities. In the past several years, the graduation rate has risen from 54 to more than 85 percent. In 2013, after years of receiving near-failing or failing assessments from the state, the school was awarded an "A" rating. In 2016, graduating students received $9.5 million in financial aid and 600 college acceptance letters.
Butler said the encouragement of the school's teachers and mentors provided the support she needed to apply to Harvard. "I didn't think it would be worth it for me to apply," she recalled, "but a lot of my teachers encouraged me to kind of go beyond my self-doubts." After medical school, she hopes to work to reduce health disparities between income groups.
The day began in the school's college resource center, where a large, pastel-colored map of the nation hangs on the wall and is plastered with yellow notes denoting the names of Miami Northwestern graduates and the colleges they attend. Faust's visit was an important boost, said Aristide, adding even more to his students' "commitment, dedication and inspiration. They are going to be on fire for this."
Faust's visit included a tour of the school's art gallery, where she spoke with student artists and viewed their work, and a roundtable discussion with teachers on topics that ranged from financial aid to college preparedness and retention programs.
Faust's remarks left a strong impression on student Gaelle Manuel. Dressed in dark green scrubs that identified her as part of the school's medical magnet program, Manuel said Faust had deepened her desire to attend college, where she plans to study medicine or English.
The sophomore summed up the day's theme simply: "Aspire to greatness."